As chef de cuisine at Jamonera in Philadelphia, Lindsay McClain is a rising star in the culinary world. Meet the Bucks County native who used her creativity and food savvy to win Food Network's Chopped and maintains a healthy reverence for Iberico ham.
This time, it started with a very plump cantaloupe.
It was one of the rare days last summer when Lindsay McClain wasn't working as chef de cuisine at Jamonera in Philly, a Spanish restaurant on 13th Street. Sixteen of her family members got together for a cookout, and they planned to just do easy—burgers and dogs on the grill. But, then her uncle saw the Lancaster melon McClain brought alone, and, in a foodie family, there are unspoken rules about cantaloupe that ripe and delicious (it must be paired with prosciutto, a thinly sliced Italian ham).
By the time she came down from a shower, her uncle had rounded up the prosciutto from the store, and while he was at it he grabbed some ribeye steaks that looked too good to leave behind. "Then I look in the sink, and there was shrimp defrosting from my grandmother's freezer. I said, 'I thought we were just doing something simple,' but it turned into this humongous, elaborate meal," she says with a wry smile. "I brought a bunch of stuff from my garden, so we had a huge salad, the prosciutto, the cantaloupe, the ribeyes, and we still ate the burgers and hot dogs. That was how I grew up and how my family is all the time—to this day, everything revolves around food."
McClain, who is now 31, first started cooking at age 12 each Tuesday and Thursday night when her mom worked. "On those nights, we would always have Burger King or Denny's for dinner. Eventually, I didn't want to eat fast food, so I just started cooking for my sister and brother and my dad," McClain recalls. "I would call my dad at work and ask him to pick up certain ingredients. On the nights when he couldn't, I would look on BettyCrocker.com, which allowed you to put in what you had available in your fridge or pantry, and it gave you recipes you could make with those ingredients."
Despite a clear talent and appetite for cooking, just about everyone she knew advised against becoming a chef, citing the long hours and a mangled social life as reasons to choose something more sensible. But 3 weeks into to her marketing major at Indiana University of Pennsylvania (IUP), McClain began scouring the school's website for an alternative. She immediately switched gears, changing her major to hospitality management and enrolling in IUP's culinary school on a branch campus in Punxsutawney, Pa. McClain soon found she had the tools to become a chef and work in the rugged, fast-paced, and often messy restaurant industry—an unflappable nature, unrelenting work ethic, and passion for creative cooking.
She once again felt at home in the kitchen, but McClain's [senior year?] internship at Emeril's New Orleans Fish House at the MGM in Las Vegas was her first major challenge. "When I first walked in. There were two hot lines and a cold line, and I was like, What did I just get myself into? But then I just went for it. I started off 2 weeks in the butcher room; a cold room where they do all their own butchering, sausages, everything like that. Then I had 2 weeks with the saucier. I did pastries. Then switched to nights, and then they rotated me through the stations at night too," McClain says. "By the time I left there, I was pretty well rounded."
The restaurant industry is definitely male-dominated. But that's never been a problem for me because I am really good at my job.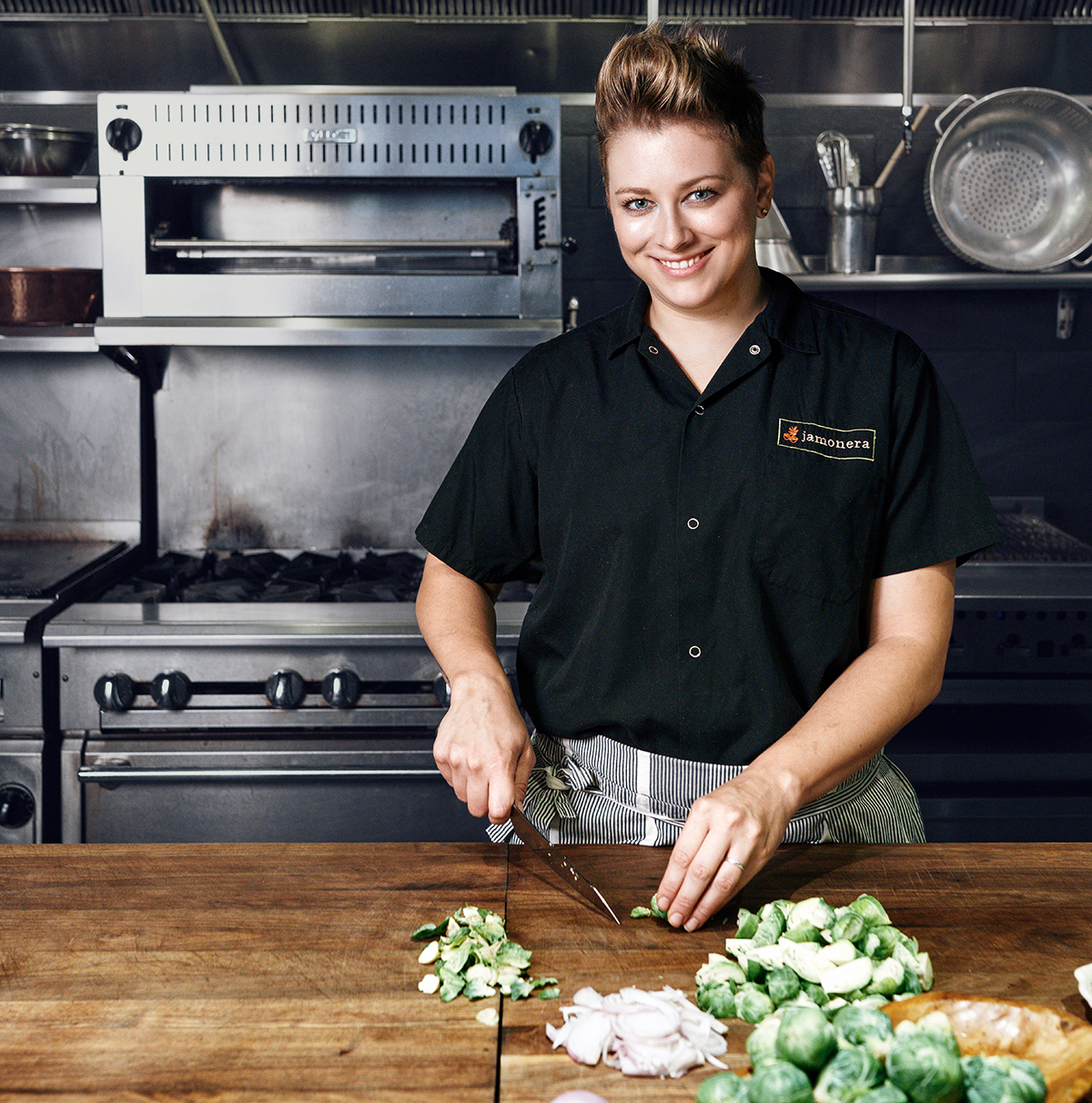 Make the Perfect Paella
Paella is a fantastic choice to impress and feed a crowd, but it can be intimidating to get the timing and flavors just right. Here are Chef Lindsay McClain's secret ingredients to getting the Spanish favorite just right.
Get Wild About Saffron
Saffron is a spice that not only gives paella it's beautiful yellow coloring, but it also gives it the sweet but subtle earthy flavors that no paella can live without. Many grocery stores don't carry saffron, so plan ahead and order it online or at a specialty spice shop!
Rice, Rice, Baby
Calasparra rice is a super-absorbent, short-grain rice. Arborio rice is commonly found in your local grocery store and is a fine substitute here. When cooking short-grain rice for paella, be sure not to stir the rice and release the starches, as this will make it gummy.
Crave Crusty
Socarrat is from the Spanish word "socorrar," which means to lightly toast. It's what makes the crispy bottom of a paella and is what keeps people coming back for more! Specialty paella pans are made very thin to help achieve this craveable crust, but if you don't have one, you can cheat a little with a non-stick pan.
Recipe:
¼ cup extra virgin olive oil
1 cup diced red bell pepper
1 cup diced Spanish onion
1 clove minced garlic
1 tsp paprika
½ tsp saffron
1 T salt
1½ T black pepper
1½ cup calasparra or arborio rice
3 cups vegetable or chicken stock
1 lemon, juiced
1 cup crushed tomatoes
Optional:
½ pound cleaned shrimp
1 pound chicken, diced
2 links chorizo, diced
How to make:
In a medium-sized pot over medium heat, cook onions, peppers and garlic in olive oil. Add paprika, saffron, salt, pepper, rice, chicken stock, crushed tomatoes, and lemon juice. Leave uncovered and bring to a boil. Once rice mixture comes to a boil reduce to low heat and cook until all the liquid is absorbed. Let rice cool completely.
In a non-stick pan on medium heat cook your shrimp, chorizo, chicken, and remove from pan. Coat the bottom of the pan with olive oil and spread the rice out in a thin layer and cook until you begin to see the edges browning. This may take 5-10 minutes, but let it be! Once the edges have browned, fold in your meats and seafood and enjoy!
Taking It Up a Notch
Right from the start, the dream and drive to run her own kitchen was fierce—McClain wanted to make it happen by the time she was 25 years old. After spending 6 months in North Carolina cooking at a country club and living with her longtime boyfriend (now husband), Dave, while he finished college, she returned to Las Vegas, working at a bistro off the Strip. That's when she was enlisted to help open Milos, a Greek restaurant in the Cosmopolitan, a resort casino that opened in 2010.
She quickly discovered that Mediterranean cuisine suited her cooking style and flavor profile. "I love the simplicity of Mediterranean food—it lets the ingredients shine, and at Milos everything was top of the line. The fish was so fresh I think one time, one of the gills was still moving. It's really hard to get langoustines in fresh and alive, and we had them," McClain says. "We had a 20-foot fish display that we built twice a day. It was loaded with fresh fish, and people would come up, pick the fish they want, we'd weigh it, take it back to the kitchen, clean it, and cook it up."
For the first time in her career, McClain had the chance to be creative on a daily basis, coming up with halibut specials each day. After 2 years in Vegas, McClain wanted to move back to her Pennsylvania roots, and she answered an ad on Craigslist for a chef opening at Barbuzzo, one of the six 13th Street gems owned and run by restaurant pioneers Marcie Turney and Valerie Safran, a married couple who is credited with reinvigorating the Gayborhood in Philly. "The night before my interview with Marcie, I went online to look up the restaurant, and I was like, wow, this is two chicks, and they own a lot of stuff. That was cool to me because it's not the norm in this industry, and it was a big appeal. I've been at 13th Street ever since."
McClain became a line chef when Turney and Safran opened Jamonera in 2012, working under Paul Lyons, who lived in Spain before moving to Philadelphia and helped her delve more deeply into the nuances of Spanish cooking. She also worked under another talented chef, Nikki Hill, who went on to open a restaurant called La Copine in Joshua Tree, Calif. with her partner. And then, less than 2 months before her 25th birthday, McClain was named chef de cuisine at Jamonera, fulfilling her dream of running her own kitchen.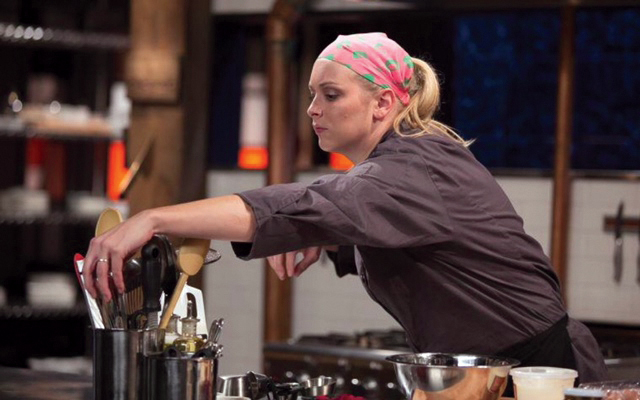 Chopped Champ
Despite her culinary acumen and her creativity in the kitchen, at 25, McClain still had a lot to learn about being chef de cuisine, skills that only come with time and experience. "Working the line and managing people at the same time, watching what someone else is cooking while you're cooking, I didn't realize what that would be like. Over the last 5 years, I've learned that if a rep doesn't deliver something, the world's not going to end. The restaurant will open the next day. As long as we still have the Jamon Iberico, it's all fine."
While the Iberico ham might be the holy grail at Jamonera, McClain has learned to work with just about any combination of ingredients under the sun, thanks in part to being a contestant on the popular Food Network show Chopped in 2014. The show pits four chefs against each other, requiring them to cook an appetizer, entrée, and dessert with four oddly paired basket ingredients (think green mustard greens, kumquats, duck breast, and black garlic). She and her sous chef both applied to be contestants and were accepted just a month apart. With help from the Jamonera staff, the two of them practiced for their appearances on the show together, waiting as the cooks would make 7-11 runs, picking up weird ingredients for under $40.
The practice proved to be invaluable because she actually had a game plan with some of the combinations she ended up with, including fish and chicken liver. She also handled the trickiest basket with ease, turning the pink lemonade powder, Brussels sprouts, chilies, and tahini into roasted Brussels sprouts with bacon and a pink lemonade vinaigrette with tahini. "It was an awesome experience. I just I had fun with it. I knew they were going to put me up against three men, so that was no surprise. I knew I would make it to the finals, too."
Ultimately, judges Alex Guarnaschelli, Aaron Sanchez, and Geoffrey Zakarian gave McClain their winning votes, and she won $10,000, which helped her and her husband Dave (and her Great Dane, King) move into a new house in Willow Grove, Pa.
There was some initial press after the show finally aired 8 months later, but McClain mostly revels in the chance to create innovative menus at a restaurant she believes in. But the time may be coming soon when she and Dave (and their new Great Dane puppy) want to grow their family, and McClain knows the schedule isn't always the most conducive to raising kids. "There are not a lot of women I've met who are working as chefs and having children," she says. "That's definitely what has prevented us from having kids. We've been married for 6 years, and everyone's always biting their nails, waiting to ask the question. If we want to have kids, we've just got to bite the bullet and do it."
But beyond growing her family, McClain still has career aspirations, including spending at least 10 days in Spain and spending at least one night on an Iberian pig farm. Loftiest of all, however, McClain plans on owning her own restaurant by 40. Whether she'll be rolling sweet, juicy cantaloupe in salty prosciutto or putting an edgy spin on a Mediterranean classic, those who know her best wouldn't dare come between McClain and a goal, especially in the kitchen.