Built on the premise that making personal connections is a little easier over a few pints of good beer, Tess Hart created a model for a community brewery where the planet and the people matter as much as the brew itself.
Tucked into the Cerveceria Austral in Punta Arenas, Chile, in 2014, Tess Hart found herself being a little more outgoing than usual, albeit speaking to the locals in Spanish. She was there with her husband, Bill Popwell, traveling through South America before they both started business school at Yale University. It was there, at the southernmost brewery in the Western Hemisphere, a favorite spot that's been operating since 1896, that the couple really took notice of what was happening around them. People were connecting, celebrating, and opening up. They were there for more than a drink—they wanted a story.
That night, Hart planted a flag in an idea for a brewery back home in the States, one that would coalesce around the concept that community and a sense of curiosity would be driving principles as much as the beer itself. "After that trip to that brewery, we started thinking, Wouldn't it be amazing if we could create a space like this, but have it so rooted in its community and so intentionally inclusive of people who aren't being invited into these spaces yet? We thought if we could build on this idea that beer brings people together and that there's an open-mindedness in these spaces, it could become a space where really interesting connections and conversations start to happen that otherwise aren't happening and that can make our community stronger."
In a notebook she brought on her trip, two words live on one of the pages, written on that very day. TRIPLE BOTTOM. "The idea was to create a triple bottom line business in which beer, people, and planet were equally important," Hart says.
Five years and many miles from the Chilean brewery, Tess Hart became co-founder and chief executive officer of Triple Bottom Brewing Company on Spring Garden Street in Philadelphia, less than 15 miles from where her life began.
The idea was to create a triple bottom line business in which beer, people, and planet were equally important.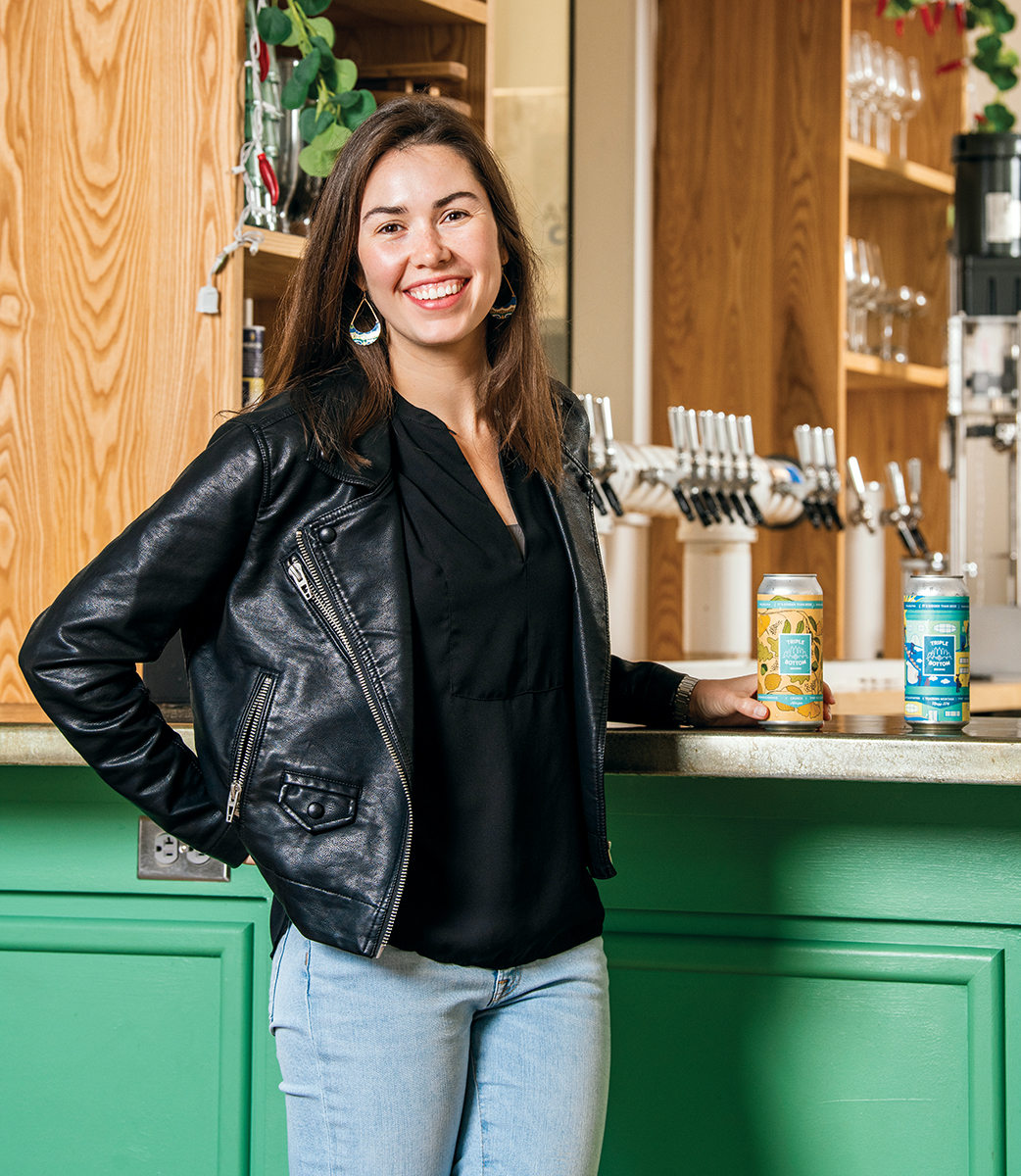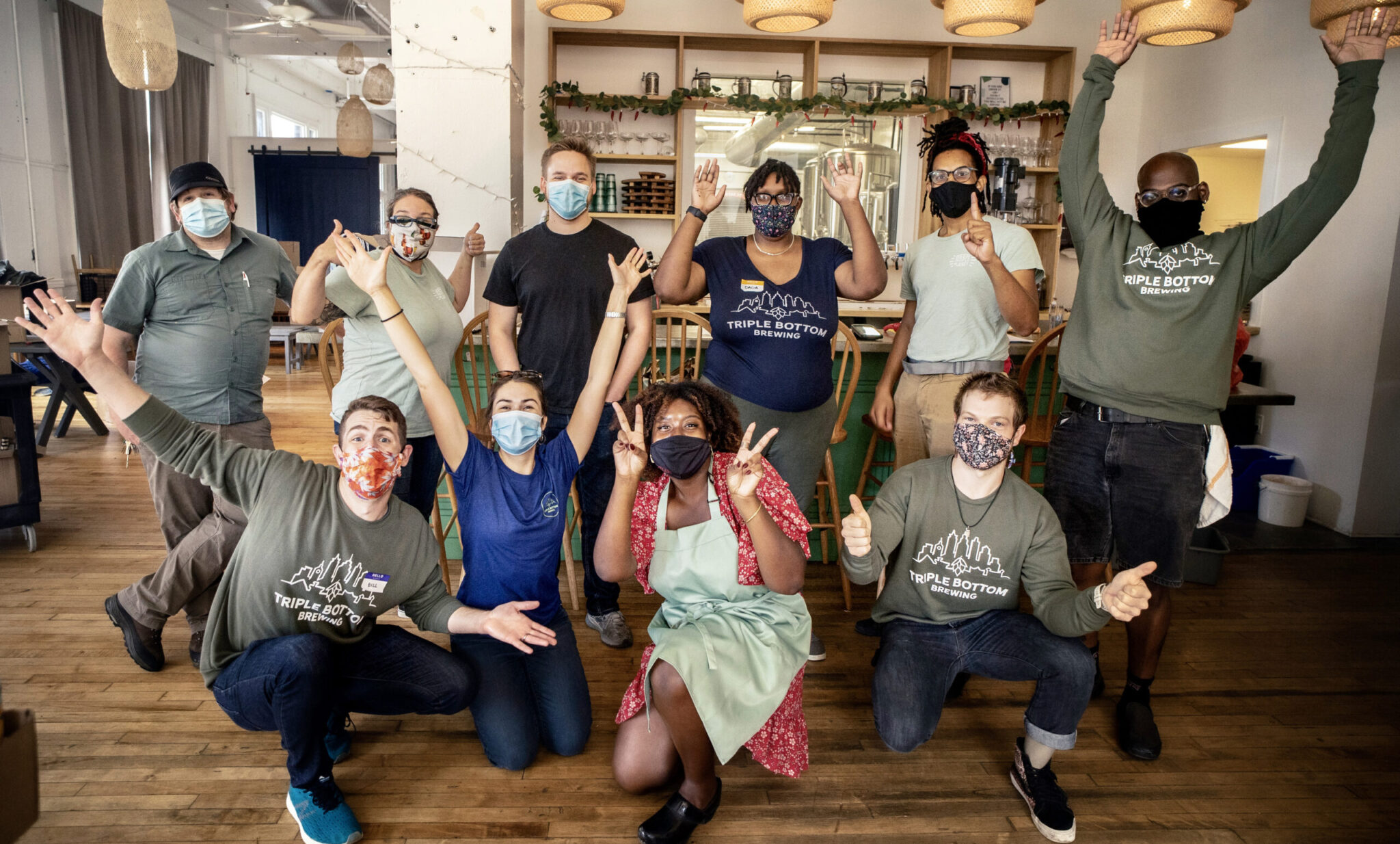 Build a Socially Conscious Business
Anchor yourself in the knowledge of why your mission matters.
At some point, things will get tough. You'll be tempted to cut corners—because straying from your mission might be easier at a certain moment. Building relationships and devoting time to learning and listening before even getting started can help root you in a deeper understanding of how your mission will impact your community and will equip you with both tools and knowledge, as well as the personal drive, to stick to your values.
For us, this anchoring meant working closely with nonprofits in Philadelphia who provide support to people who have experienced homelessness or incarceration. Our partners helped us understand the challenges, traumas, and systemic barriers that our team members might have encountered so we could build a culture that responded to and supported these experiences.
Make sure all founders and financers are on board with your goals.
Building a social impact business can be more profitable and sustainable long-term, but those rewards may take more time to realize. Every entrepreneur wants to paint a beautiful picture of what the future holds—it's that picture that drives us forward. But we also need to be realistic and transparent about the challenges we might encounter, so that all of our partners in our vision
Build a team that's all in.
Pursuing a social mission requires everyone's buy-in. As a fair chance business, we have a team with radically diverse experiences working side by side. Sharing space with someone so different from you is not always easy, so we make sure to communicate expectations from the very beginning, so nobody is surprised. This starts with our job descriptions and interviews and continues through training and ongoing team development.
Be curious about new ideas.
Staying true to your values doesn't mean maintaining a strict path forward. Be open to learning new things that may help bring your vision to life in important ways. Our team has been a wealth of new ideas for us, and their input has led to new programs and policies core to our business.
Your product has to stand on its own.
An authentic mission is a powerful introduction to customers, but ultimately that story has to be backed up by a product that people care about. We are in the beer business, and we have devoted tremendous care and creativity to ensure that our beer stands out, with or without the story behind it. We hope that people feel good choosing our beer because of our mission, but we need people to return to our beer—again and again—because it tastes amazing.
—Tess Hart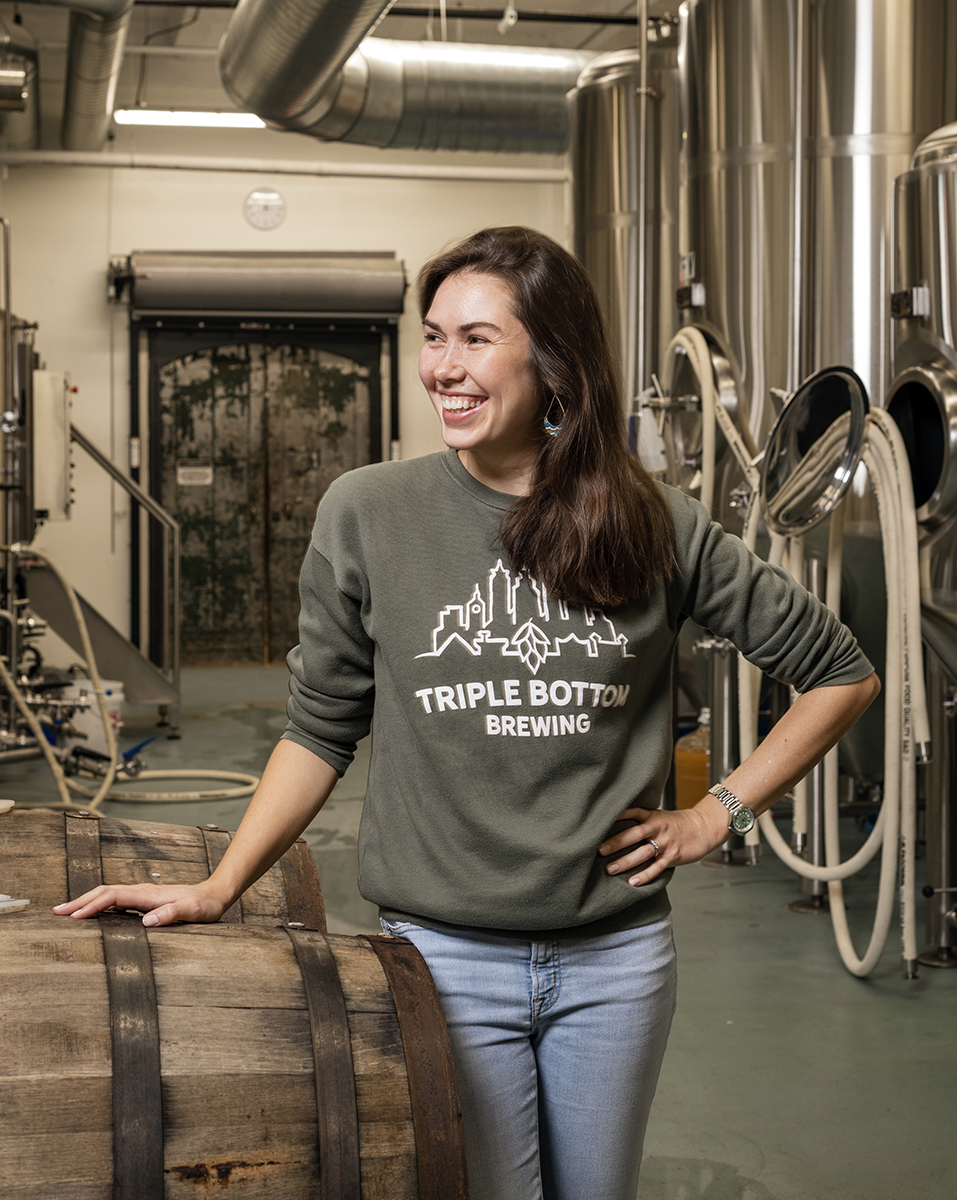 Crafted With Love
Having studied political science at Brown University as an undergrad and worked in Washington, DC, for then-Senator Carl Levin, Hart knew she wanted to pivot to another field. So, in the fall after her trip to South America, Hart headed north to Yale to study environmental management and business.
In one of her classes, she was tasked with pitching a business model for a nonprofit or social enterprise. The words still etched in her notebook began to jump off the page. "I'd been doodling business plans for Triple Bottom during my accounting class. I couldn't seem to put the idea down, but I hadn't really talked about it with anyone because it felt crazy. But for this opportunity in class, I decided I would try it and see what people thought."
Her professor assigned her a team of students from the business school, international development, and the environmental school. She shared her idea for Triple Bottom with them, wanting to make sure she had buy-in from the team before they dug in. "I suggested we pick a city together and change it to be something they all wanted to be a part of. They were like, 'This is your dream. We're going to make it happen.' Together we wrote the first business plan for Triple Bottom Brewing in Philadelphia, and we pitched it to the class."
The concept resonated incredibly well with the class, mainly because of the simple beauty of the idea: making a product people love (beer) in a space for people from diverse backgrounds to come together in a way that creates jobs for people who are otherwise excluded from the mainstream economy. "At that time, Philly had the fastest-growing millennial population of any major city in the United States, but it also had the highest poverty rate, and it just struck a chord. It was simple: I buy a beer, and I'm doing good for my community."
From there, Hart never really looked back.
The Brew Crew
Hart and Popwell spent the summer of 2016 in Philly, talking to people and meeting with nonprofits in the area to learn about how they supported people experiencing homelessness, those who have been incarcerated, or other often-ostracized groups in society. The couple began talking to potential brewers and connected with Kyle Carney, a brewer with a special affinity for lager who was looking for a change after 4 years in Escondido, Calif., at Stone Brewing. "He was looking for a business that had integrity and values but was still really committed to making great beer," Hart says. "We ultimately decided to do Triple Bottom together."
Later that fall, the team launched a crowdfunding campaign and set out to find the best location for the brewery, which proved to be the most persistent challenge. "Breweries have very specific needs in terms of the type of space they occupy. We wanted to build a taproom and not a distributing brewery, so we needed to be close enough to the customer base," Hart explains. "That was a long process with leases almost being signed and then falling through. Eventually, we found this space that had been artists' studios on Spring Garden, and it felt like the right place."
The more they learned about the Spring Garden location, the more it felt like the right home for Triple Bottom. They began to view Spring Garden as representative of the divide they were trying to bridge of the vastly different life experiences in Philadelphia. "We felt that right here on that divide could be the perfect way to connect with lots of different people, and we signed our lease in spring of 2018, a year after I graduated from grad school."
Hart also set about finding the best nonprofit partners to support the Triple Bottom mission and establish a fair chance employment channel to staff the brewery. They landed on three—Mural Arts Philadelphia, Project HOME, and the Youth Sentencing & Reentry Project.
While she worked on building the team and the brand and secured all renewable energy (wind power) for electricity, Kyle Carney brewed a ton of beer, working hard to create signature brews and offering a little something for everyone, including lagers, IPAs, stouts, porters, Saisons, and more. Hart worked hard to source products responsibly but without sacrificing quality.
The team opened Triple Bottom in the summer of 2019 and worked around the clock to get everything up and running, promote the brewery, and work out the kinks. Just as they were about to exhale in early 2020, the world suddenly changed. "The first 6 months were so hard, and then we were like, OK, take a breath. I think we've got this. The next week, it was like, Here comes a global pandemic. Oh, boy," Hart says. "COVID hit us at a time that was both particularly difficult and also particularly fortuitous. On the good side, we were still in the scrappy start-up mode of figuring things out day by day. We pivoted really quickly."
Hart reached out to other like-minded local businesses and met at Triple Bottom on the Tuesday after everything shut down in March. They brainstormed ideas on how to stay afloat, and they came up with a concept called Joy Box. Subscribers to Joy Box received a box to their front door with their favorite local items, including beer, ice cream, cheeses, and coffee. The idea turned out to be a lifeline and helped Triple Bottom get their heads around delivery channels and methods that they hadn't yet had to consider. COVID also accelerated other aspects of the business, including canning and distributing beer, which will be a huge advantage when the business can return to a more familiar model in a post-COVID world.
But, like so many businesses, Triple Bottom is struggling to stay afloat without sacrificing its ideals. "We're still committed to paying our team a fair living wage when they do work, but we had to reduce shifts. We offered company subsidized health insurance for everyone, full-time, part-time, as they were starting to come back to work," she says. "We are just trying to maintain the values that we built this with as we navigate this really challenging time."