After her little brother was killed in Iraq in 2007, Ryan Manion's life was forever altered. She began working on the legacy foundation her mother created in his name, which is growing across the nation to support veterans and offer a model for what true courage looks like.
Between Camp Lejeune, NC and Doylestown, Pa., where Ryan Manion and her brother, Travis, ultimately landed 11 years later, her family had zigzagged the country from places like Crofton, Md. to Monterey, Calif. and then back east to Alexandria, Va. As a Marine Corps Colonel, Manion's dad was stationed at half a dozen bases while she and Travis were growing up, which meant the two of them—just 15 months apart—were built-in best friends. "Travis was that person for me, he was more than just a brother," Manion says. "I knew we'd be moving to a new place, a new school, but I had Travis, so it was ok."
They maintained that closeness throughout their young lives, straight through high school—Manion at Central Bucks West and Travis at LaSalle College High School—and into college. In 2000, Manion left to major in English at Widener University and play lacrosse, while Travis entered the Naval Academy in Annapolis. A year later, while Manion sat in an English class, she got a frantic, early-morning call from her mom, letting her know the World Trade Center had been attacked and fearing for the future in which her son and husband would end up in active duty and at war.
Sure enough, by 2005, Travis was deployed to Iraq for the first time. "I wasn't super nervous for him. It felt like that was just what everybody did at the time. You go to Iraq. I didn't know one person who had been killed in Iraq or Afghanistan," Manion recalls. "Clearly, men and women were giving their lives, but I had no connection to any of them, so it felt very removed for me. When he was there for his first deployment, he was very accessible. I could email him, and he'd email me right back."
While Travis served in Iraq, Manion was running a clothing store called Pale Moon Boutique in Avalon, NJ. She had an eye for fashion, and her store had great success, pretty much out of the gate. Two years later, she decided to open a second location in her hometown of Doylestown. She was newly a mom to her daughter, Maggie, working in her Avalon store, finalizing lease space, and gathering inventory.
Meanwhile, the day after Christmas 2006, Travis headed out for a second deployment to Iraq, but this time was very different. He was asked to join a group of 12 marines who were going over to train the Iraqis. Prior to leaving, Manion noticed conversations between Travis and her father were hushed, and he warned his sister that communications would be limited. Manion's husband took him to an Eagles game and joked with him that maybe he should push him down the stairs, so he wouldn't have to return to Iraq. His response was simple. "If I don't go back, then somebody much less prepared is going to go in my place. If not me, then who?" he responded.
Travis looked like he was totally committed to his mission before he left for Iraq, but Manion began to feel a sense of dread. On one of their few phone calls during the 4 months he was deployed, Manion says Travis was withdrawn and distracted. He deflected any discussion about what he was doing, focusing instead on her new baby and impending business growth.
Then, on April 29, 2007, Manion was just lifting her pen to sign the lease on her new retail space in Doylestown when her phone began buzzing in her pocket. It was her mom, who was watching her daughter, Maggie, while she dealt with the paperwork. When she called a second time, Manion answered.
"All I could hear was inaudible screaming. I thought maybe my daughter was choking. I asked if they called an ambulance, and they said, 'Just come home," she recalls. "When I got there, my dad was with another colonel on the driveway. I asked where the ambulance was, and he said, 'Your brother was killed in Iraq.' I collapsed in the driveway and started to scream."
I've learned that grief will challenge you, disrupt you, and change you, but we have the power to ensure that it leaves you stronger than you once were.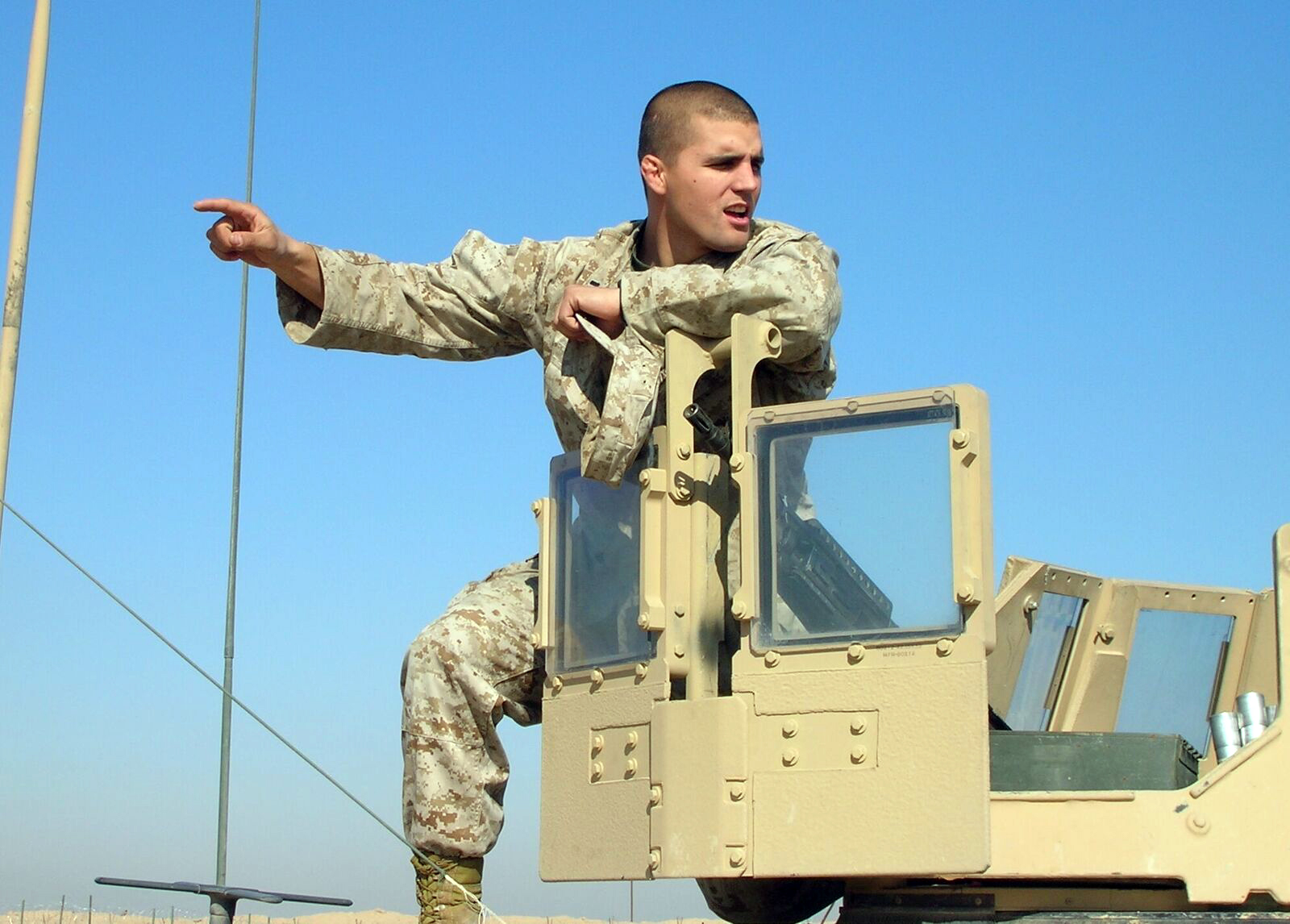 "If Not Me, Then Who?"
For about a month, Manion could barely function, overwhelmed by her grief. She couldn't care for her daughter, barely eating or sleeping. "I couldn't do anything. I slept in my parents' bed in between them for a week. I stayed in the same red Marine Corps sweatshirt," Manion says. "I would go to sleep, and then when I woke up in the morning, as soon as I opened my eyes, I was hysterically crying because I realized this is real."
Once Manion was able to absorb it, she learned how her brother died, a series of actions that earned him a posthumous Silver Star, awarded for actions during the Global War on Terror. He was on a patrol that had intel on the location of a sniper, and while they were looking for him in a suspected insurgent house, they were ambushed. "The medic was hit, and Travis ran out and pulled him back to safety. Then another marine was hit, and Travis pulled him back to safety, and then they were covered from three sides. Travis exposed himself to the enemy a third time with a grenade launcher, and that's when he was hit," Manion explains. "He was the only one to die that day, probably because he exposed himself. I guess it's weird to say, but I felt a sense of pride."
Despite the fact that she had ordered thousands of dollars of merchandise to fill her store in Doylestown, it quickly became clear that Manion wasn't going to be up for running it. "When I opened that store in September, there was a ton of people at the grand opening, but I felt so flat," she says. "After what my family had experienced, it felt somewhat insignificant in the greater goal of life."
She continued running the store for a year, while her dad ran for Congress in 2008, and her mom began building the initial infrastructure for a 501(c)3 nonprofit organization in Travis's honor. But what Manion imagined would be a hyper-local organization that awarded scholarships and offered support to veterans quickly began to grow into something with much larger potential and scope. When the Travis Manion Foundation became sustainable enough in 2009, her mom needed to hire an executive director, and Manion threw her hat in the ring, despite the fact that she would take a substantial pay cut. "I remember sitting in my office, secretly typing up a cover letter to my mom about why I wanted that job."
At the time, the Travis Manion Foundation (TMF) consisted of a small office and just a few employees, headed by Manion's mom. But almost as soon as she started, she knew she found her calling. Having carved out a mission to support families of the fallen, returning veterans, and to play a part in creating the next generation of "Spartans," the symbol reflecting TMF values, the skeleton staff began growing at a remarkable pace, first locally and then more broadly, until the Manion family encountered another shocking detour.
During a summer trip to the beach in 2011, her 55-year-old mom took her 2-year-old daughter on a ride and ended up with what she thought was a sprained wrist. Once the doctors took some scans, they referred her to an orthopedic oncologist. She had bone cancer, but that's not where it started. "They did a PET scan, and they could tell the place of origin was the lung. But that was actually the smallest place where she had cancer," Manion says. "It was a tiny tumor in her lung, but it was all over her bones. It was in her brain. It was everywhere."
They diagnosed her with stage 4 metastatic lung cancer, which would likely take her life within 8 months. "The next day, my mom was back at TMF office on State Street working. She was like, 'Yeah, I've got cancer, but we gotta keep going.' And she just put her head down on what we were doing here."
Her mom died 8 months later, 5 days before the fifth anniversary of Travis's death. Since then, Travis Manion Foundation has grown to become one of the largest national veteran-serving organizations with 50 staff members, operating out of eight regional headquarters and providing opportunities to more than 14,000 veterans and families of the fallen to successfully transition and develop a strong community. "This organization is so much bigger than one person, as rightfully Travis would want it," Manion says. "This is about honoring all of our fallen heroes and teaching their legacy of character to the next generation. By serving others and being part of the TMF community, our members improve not only their own well-being but also improve everyone around them."
Despite the size and scope of the organization now, Manion never forgets where this all began—with her brother, who was a flesh and blood man with flaws but also a mighty heart. "When we were young, did we fight? Yeah. Did he annoy me? Yeah. But I genuinely looked up to him, and he was always setting the example," Manion says. "He was definitely not your typical kid, teenager, or adult. He was very driven. But he was also a blast. So, I try not to idolize him too much, but he really was a pretty amazing guy."