Open water marathon swimmer Grace Van Der Byl explains the total-body benefits of swimming.
Feel like a kid anytime you're in a pool, lake or ocean, happy to be swimming, and in a better mood (and, starving) afterward? There's a reason—a few, actually—why. Aside from torching 500-650 calories an hour (hence, the post-swim hunger pangs), swimming both in the pool and in open water has body-benefits ranging from decreasing back pain, asthmatic symptoms, and anxiety, to increase muscle mass and skeletal integrity in older age. And because it's a low-impact activity, swimming is something you can do to stay fit and healthy from your childhood through your golden years … and who doesn't want to feel like a kid when finishing up a swim, even into your 70s?
Low Impact, High Payback
Unlike running and other land-based activities, swimming's low-impact nature makes it so easy on joints and good for muscles from your feet to your fingertips that it's often recommended for people with arthritis and other chronic conditions. As reported by the Harvard Medical School Family Health Guide, the added resistance of water allows vigorous workouts with little chance of injury.
The result? "Swimming gives you longer, leaner muscles," says Grace Van Der Byl, marathon swimmer and swim coach in San Diego, "and it allows you to do some strength work without any real damage."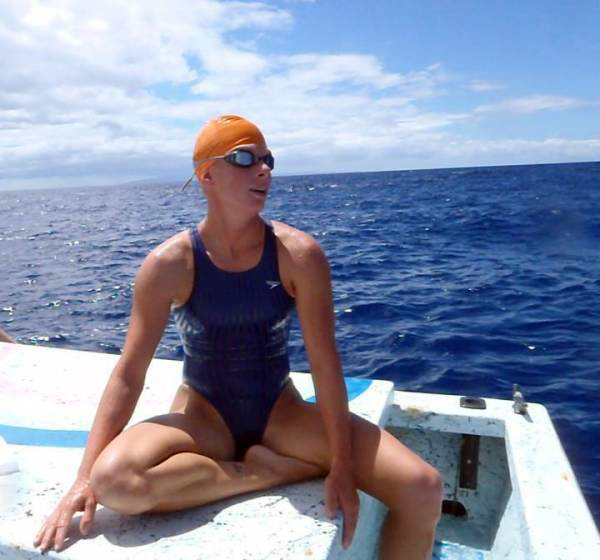 Whole-Body Health
Swimming has major health benefits beyond losing weight and creating lean muscles.
A 2014 study overseen by Magni Mohr at the University of Copenhagen showed that high-intensity swimming improves cardiovascular health for women with mild hypertension. And another study proved 12 weeks of swim training improved maximal oxygen consumption by 10 percent.
A 2009 Turkish study proved that water-based exercises help musculoskeletal disorders, including low-back pain, while a 2006 Swedish study found that exercising in water reduced back pain in pregnant women. The Centers for Disease Control and Prevention (CDC) recently published a study proving hydrotherapy gave subjects with rheumatoid arthritis health improvement.
Add to that lowered blood pressure and cholesterol levels, and improved cardiovascular health as measured by the Cooper Clinic in Dallas, and it's hard to beat swimming.
Then there's the happiness factor. A 1992 study showed that swimming improved the mood of both men and women, and a 2007 study showed that, especially in subjects suffering from fibromyalgia, swimming alleviated anxiety while decreasing depression and improving mood.
Getting Your Feet Wet
Whether you're a seasoned swimmer or looking to get started, Tara Martin, an emergency medicine physician, former Princeton University swimmer, and open-water record holder, recommends finding a local masters swimming group. "Swimming masters not only makes the workout go by quickly," she says, "but it's also social and fun."
Swimming outside the pool gives you a break from turning at the wall every 25 or 50 yards and gives you the added feeling of accomplishment gained from covering tangible distance.
If you're hoping to do some open-water swimming, but fear an appearance from Jaws, seemingly aggressive reed grass or careless motorboat drivers, look online for organized group swims. "Sometimes masters groups do sessions in open water," says Martin, "but just doing a web search for open-water swim groups in the body of water near you will usually produce results." Going with people can alleviate fears.
Whatever your swimming goals may be, know that you'll be improving your health on many levels the moment you dive on in.