Sports writer Dana O'Neil was a Villanova basketball beat reporter for the Philadelphia Daily News for almost a decade before moving to ESPN in 2009. So, when the team hit a buzzer-beater to win the championship in 2016 after a 31-year drought, she seized the moment.
Sports Illustrated called it the 5 most exciting seconds of 2016. With 4.7 seconds to go in the NCAA College Basketball Championship, an almost inconceivable shot from the 6'1" University of North Carolina guard Marcus Paige was so spectacular ("his legs splayed like he was riding a bicycle") that the camera panned to the legendary Tar Heel Michael Jordan in the stands, who raised his fists over his head in triumph. Paige's 3-pointer knotted the game at 74 apiece, giving his team a very good chance to go to overtime with underdog Villanova, the Philly-based squad that hadn't won a national title in 31 years.
But in a blink, the kid from Langhorne, Pa., Ryan Arcidiacono, executed a play called "NOVA." He pivoted from a few defenders and dished the ball to 6'6" forward Kris Jenkins who buried a shot as the game clock expired. The team went berserk, and a satellite shot of the Villanova faithful from their home gym showed absolute pandemonium. But beyond the players, coaches, and fans, there was another life changed with Jenkins' game-winner that you couldn't see on television.
Behind the scenes in the press room, watching all this unfold, was Dana O'Neil, then a 48-year-old ESPN NCAA basketball reporter who had been a Villanova beat reporter for the Philadelphia Daily News for 8 years, since head coach Jay Wright first got the job. "I covered them through all of their ups and downs. I just knew that program so well," says O'Neil, who lives in Newtown, Pa. "So, after that crazy buzzer beater, I was paralyzed because I thought, I'm supposed to know this team better than anybody in this room. I'm supposed to write the most epic game story in the history of all mankind. That was a lot of pressure to live up to."
While O'Neil was still on the court doing post-game interviews with players and coaches, a colleague grabbed her arm and told her she should write a book about the team and the season leading up to the title run. She told him a book was the furthest thing from her mind, but the idea stayed with her. "I thought, If I walk into Barnes and Noble and somebody else wrote a book about this game, I'm going to be pretty upset because that's my book."
She reached out to some of her respected ESPN colleagues, like baseball writer Jayson Stark, for advice, and from there everything moved with lightning speed. "I didn't shop it around. I didn't have a book agent. I wasn't looking to retire. I was just looking to challenge myself," O'Neil says. "I proposed a book in April. I agreed with a publisher in May. I started doing interviews in May and June. And I wrote 78,000 words [holed up at my mom's house on Long Beach Island] by August 28."
Her book, Long Shots, was published in 2017, chronicling the journey leading up to the championship and the unforgettable game that decided it all.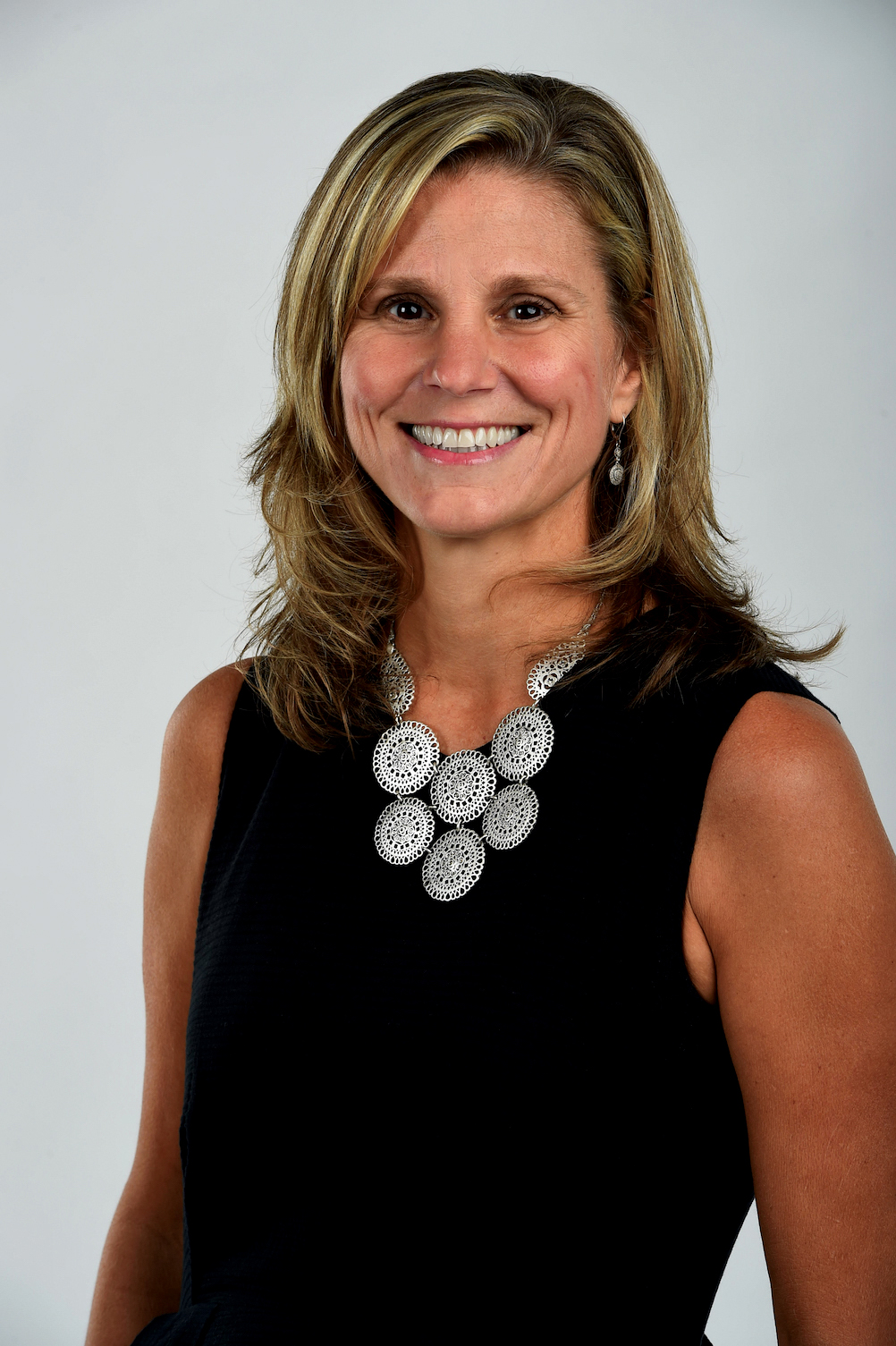 My theory has always been, if my name is on top of it, I'm going to be proud of what's beneath it. I want people to respect me, but I don't care if they like me. I try to treat people decently and not to burn them.
Pick and Roll
From as far back as her memory stretches, O'Neil's dad was a huge New York sports fan. "He was in a slow-pitch softball beer league, and when I was in second grade, he taught me how to score the book," she says. "I took it so seriously, that I computed ERAs and averages for my dad's slow-pitch beer league. Her mother was an English teacher, and when O'Neil's high school composition teacher encouraged her to write, she found she was a natural.
So, when she chose journalism as her major at Penn State, despite her initial intention to focus on business, she naturally gravitated toward sports and earned her stripes at the school paper, The Collegiate. "I covered men's gymnastics, and I had all this access because no one else covered them. I was at practice all the time. I wrote all big feature stories," she recalls. "The Daily Collegian actually sent me to the NCAA Championships, which is pretty tremendous when you think of this little student newspaper sending me to Nebraska. They didn't win a team championship, but one of their pommel horse guys, Mark, won a championship, and I got to write about it. And I thought This is so epically cool."
Whether O'Neil was covering men's gymnastics or something more high profile, like football, she found she just loved to write, and The Daily Collegian presented her with plenty of opportunities. She was one of several women to cover sports at the paper, but the landscape was vastly different after college. "There were more women at my paper in college than there ever were in my professional career," O'Neil says. "I was the only woman on the sports staff at almost every newspaper stop I made after that. At The Trentonian, it was a mostly local staff. These guys had been covering sports forever. They could have been awful to me, but they just weren't. Jim Davis, who was the field hockey writer, and legendary sports writer George O'Gorman—they were just wonderful to me."
Throughout her career, she dealt with locker room incidents and people calling her honey plenty of times, but on the whole, O'Neil says she was treated fairly and given plenty of opportunities because she wrote well, worked hard, and demonstrated integrity in her reporting. Sources trusted her. Editors liked her work. "At The Trentonian, I covered Little League Baseball, and I wrote it like I was writing the World Series. I loved it. I didn't care. I didn't think anything was beneath me," O'Neil says. "I talk to college kids now and I tell them, 'Don't think you are above writing anything, because you're not. Treat your work like it's your name.' My theory has always been, if my name is on top of it, I'm going to be proud of what's beneath it."
Star Power
O'Neil loved her job at the Philadelphia Daily News covering Villanova men's basketball. She started on the beat the same year Jay Wright was hired as head coach 2001, and she covered them through all of their ups and downs in the early years of his tenure.
But then ESPN offered her the kind of job she couldn't turn down—the opportunity to be a college basketball reporter. "Even my sports editor was like, 'You have to go.' ESPN was a learning experience in a late part of my career. But it's just a machine. You are a small cog in the wheel. They make sure that you know that you are a very replaceable cog," O'Neil says. "There were times there that I was asked to write things that I didn't want to write or have an opinion about something that I wasn't comfortable having an opinion about," such as molestation accusations against Syracuse associate head coach Bernie Fine.
While O'Neil was laid off from ESPN last year, she says the experience to work at the center of the sports universe gave her the opportunity to get to learn from some incredibly talented people, to learn the entire NCAA sports landscape and to showcase her work nationally. "Working there made me better because I worked with some amazing people, and they let me write really big stories. It's easy to see the bad stuff, but it was a good time as well as a rotten time at the end. But nothing's perfect."
But something else happened while O'Neil was at ESPN. Villanova became relevant. They started to win. They made a Final Four appearance in 2009 before winning the championships in 2016 and 2018. While the team came into the 2017-2018 season as favorites, 2016 genuinely surprised O'Neil.
Looking back, she says they had the ingredients to win it all. "They were tough, and they liked each other, which sounds really silly. But they really did like each other. They were really good, grounded kids. There was no ego on that team," she says. "To me, the quintessential play of why that team won the national championships is because Ryan Arcidiacono made a pass, not because Kris Jenkins made a shot. If Ryan is a selfish player who wants the glory, it probably doesn't go in. That epitomized everything that that team was about and everything about they won."
She says the 2018 team had a similar make-up—a collection of talented, selfless players who didn't get hung up on the stat sheet. They worked hard, played smart, and defended well, a strategy O'Neil employed in her own 25-year career as a sports writer, which has covered the gamut, from Little League and horse racing to the Final Four, Super Bowl, World Series, NBA Finals, and NHL playoffs.
Last July, O'Neil started working for The Athletic, an online start-up that offers sports coverage on an international, national, and local scale, with reporting from renowned writers and editors. And so far, she's loving her new job.
"It's been amazing. They have reaffirmed the belief that people want to read. We write. We don't type lists and 200-word reactions to a monkey climbing up a tree. They don't want crap. They want good stuff. I have been so proud. I just had my year-end review, I said, "I'm prouder of the stuff I've written in the last year than I have been in a long time. And that means something."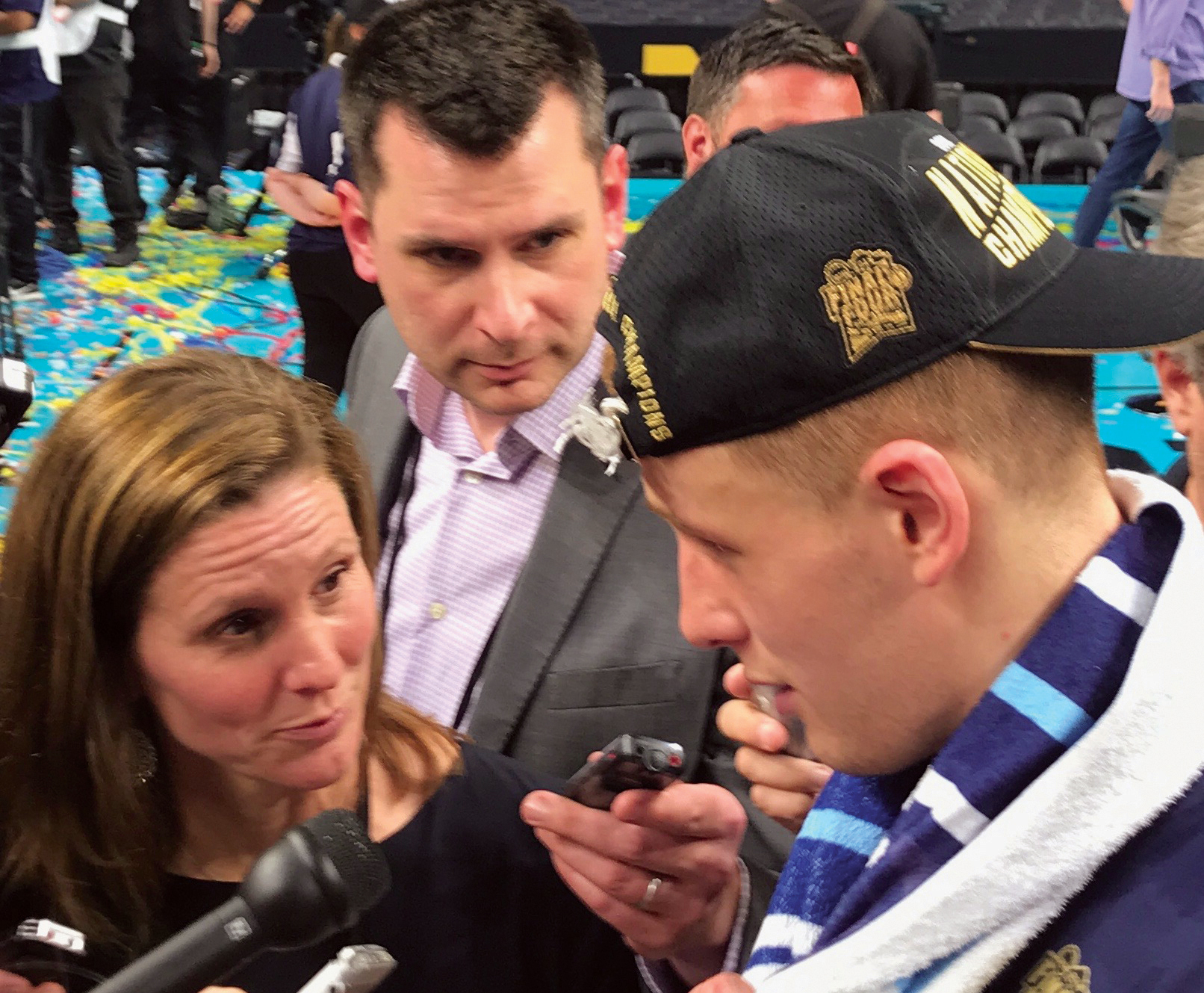 In Her Own Words
This is an excerpt from Long Shots: Jay Wright, Villanova, and College Basketball's Most Unlikely Champion
By Dana O'Neil
Just as CBS announcer Jim Nantz shouted, "For the championship!" on the national television broadcast, setting up the would-it-or-wouldn't-it-drop drama of the final shot, Mikal Bridges made his first step up from the bench and onto the court.
The freshman decided he didn't need to wait to see if the ball would score or miss; he'd already made up his mind. Bridges boldly moved toward what he anticipated would be a buzzer-beating celebration before the ball even slipped through the net. As his teammate Jalen Brunson spread his arms wide, holding back what could be a premature court storming, Bridges threw his hands in the air and caution to the wind. He hesitated for maybe a half second after taking that first step but then immediately sprinted, the first bench player to reach Jenkins in the celebratory scrum.
"One of our coaches goes, 'That's good! That's good!'" Bridges said. "I looked and I saw it and I thought it looked good, too. I was already running on the court when it went in."
In sports, there is nothing more exciting than the dramatic finish—the walk-off home run, the Hail Mary pass, the overtime-winning goal, and, of course, the buzzer beater. Joe Montana's touchdown pass to Dwight Clark in the 1982 NFC Championship Game still lives on as "The Catch," just as Bill Mazeroski's Game 7 World Series bottom-of-the-ninth homer continues to resonate more than 50 years since he launched it.
The NCAA Tournament is built for such heroics, its win-or-go-home design injecting anxiety into every game. No surprise, then, that it's nearly cornered the market on last-second drama. From Bryce Drew's dramatic hook-and-ladder winner for Valparaiso, to Christian Laettner's turnaround jumper for Duke, to Mario Chalmers' overtime-forcing three-pointer for Kansas, to Lorenzo Charles' putback for NC State's stunning title win, there's a reason it's called March Madness.