It's the year of the woman. We're speaking out and breaking barriers like never before. What you wear can speak volumes, too.
Fall. The word itself signals movement and change. And change is exactly what we're seeing in fashion this fall—a season of choices, a season when no one trend has emerged as a game changer and contrasts abound, with the fashion pendulum swinging from ultra-tailored menswear, to high-shine metallic dresses to neon-bright puffer jackets. Fashion often mirrors what's happening in the world, so it's no surprise that fashion might seem a little chaotic right now. But here's the good news: There no set rules to follow, more options than ever, and the trends could not be more divergent.
That kind of flexible fashion can be very empowering. Why not step out of your comfort zone and into a few of the trends we're seeing this season? After all, it's the year of the woman. We're breaking barriers and having our voices heard like never before. Why not in fashion? Here are some of the fall trends that are getting a lot of attention.
LOVE LEATHER
We love it because it's soft. It's chic. It's sexy. Need we say more? And pleather is so sumptuous, it's hard to tell the difference between faux and the real thing anymore. This season there are a few leather pieces we're lusting after: The midi pencil skirt that hugs the body in all the right places, with or without the slit. The trouser pant, long and full. Pair it with a black turtleneck, and it will quickly become your go-to outfit, I promise. And the fan favorite, the moto jacket. It still says, "I'm with the band," but this season it is more refined. Our love affair with leather continues.
TRY A FRESH COAT
Oversized. Deconstructed. Those are the buzzwords for fall's most coveted coat.
Have you ever struggled to find a coat to wear over a sweater or jacket? Problem solved. No wonder it's one of the big stories for fall. Do make room in your closet.
GET SPOTTY
Everyone is wild about animal prints, especially leopard. It's a fashion staple, but never has it been this dominant, popping up in every category you can think of. Go head-to-toe leopard, if you dare, or tread lightly by pairing a leopard blouse with your pencil skirt. You'll still be on-trend but in a more subtle, sophisticated way.
BACK TO THE '80S
Like it or not, what was known as the "decadent decade" is now in the fashion mainstream. Everything '80s is big, bright, or both! Neon colors, shoulder pads, oversized, boxy, blazers, high-waisted pants, ruffles. And the "power suit" is back, this time in unexpected, pastel colors. Think Dynasty, and suit up!
THE BEAT GOES ON
And as if the '80s revival wasn't enough, the free-wheeling spirit of the '70s is making a comeback, with suede patchwork vests, crochet sweaters, macramé, and the shearling jacket, a perennial favorite. Prairie dresses round out the bohemian vibe. Janis Joplin would approve.
LET IT SHINE
It's the color of the season. The new neutral. But in metallic, it really shines. And if you think shine is just for evening, think again. Sequins and lame are coming in from the dark and can work night or day. Not quite ready for a high-impact, silver-sequined pantsuit? It could still be your time to shine.  A shimmering, silver blouse and tailored trouser could be just the thing to wake up your fall wardrobe. Shine on!
MAD FOR PLAID
There was a hint of plaid last season. But this season it seems designers can't get enough of it. Tartan plaid, glen plaid, even buffalo plaid, once reserved for the great outdoors, seems to be everywhere. In a nod to the '90s, the yellow tartan plaid, worn by Cher in Clueless, is making its mark. As if!
GO BIG (With Earrings) OR GO HOME
The last thing you put on might be the first thing they notice, if it's this season's shoulder-grazing earring. Go for the gold with bold geometric shapes or get whimsical with feathers. The longer the better.
STEP INTO STILETTOS
After several seasons of the block heel and ballet flat, it's time. The stiletto is feminine and fierce and, nothing, nothing is more leg-flattering.
THE BELT BAG
AKA, the fanny pack. Yes, I said fanny pack. But this isn't your oh-so-functional/no-frills bag. This is the it accessory of the season. Wear it at the waist or even across the chest for ultimate fashion credibility.
FROM THE BOOT
So many choices, so little time. The sky-high, over-the-knee boot or the bootie, this season in velvet, leopard—even plaid! And the newest entry—the slouch—is now taking center stage. You'll see it everywhere, including in your closet.
WRAP IT UP
Found on the handle of a handbag, around the head or at the neck, bandana-style, the scarf is definitely back. Tie one on, and add color and style to any outfit.
Fashion should be fun, and trends should be exciting to follow. So, explore everything this season has to offer. With virtually no rules to follow, there's never been a better time to let your fashion flag fly!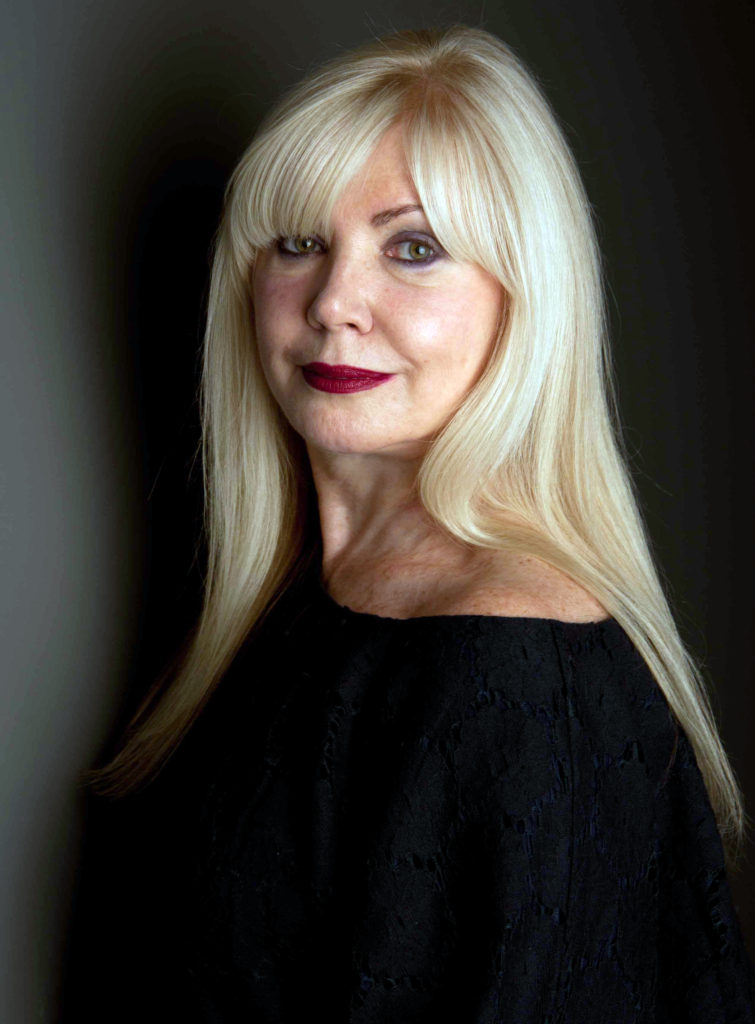 My Fall Favs
Six things that inspire, delight, or just make my life better.
MAKE-UP ESSENTIAL
Stila Matte'ificent Lipstick in Framboise. It's the perfect shade of berry, and I've tried quite a few. Some women can't live without mascara. For me, it's lipstick. Available at Ulta Beauty Stores and Ulta.com
GUILTY PLEASURE
The donuts at Pretty Bird Coffee Roasters in Yardley. Yummy best describes everything on the menu, but the donuts are other-worldly.
7 S Main St. Yardley; 267-714-2800
THE SKIN SAVIOR
Maelove Anti-Oxidant Serum. All serums are not created equal, and this one proves it. With Vitamins C and E, plus Ferulic and Hyaluronic Acid, it hydrates and brightens your skin. And it's cruelty free, vegan, and at $28, it's affordable. maelove.com
THE PERFECT BOOT
The Iconic Stuart Weitzman 5050 boot. A favorite for 25 years, it's the boot I plan my outfit around. Pricey? Yes. But style and comfort don't come cheap. stuartweitzman.com
THE DIY MANICURE
Essie Gel Couture is the closest thing to a salon gel manicure, without the price or UV lamp. Lots of shades to choose from, but Sheer Fantasy is my favorite. The top coat extends the life of your manicure and adds tons of shine. essie.com
HIDDEN TREASURE
There are so many hidden treasures in Princeton, but the Prospect House is at the top of my list. Take a stroll through the campus, then head to Washington St. and take in the history, architecture, and the fountain, tucked in a scenic garden. Prospect House, Washington St., Princeton
princeton.edu/prospecthouse