The world may know Athing Mu as one of the most promising young athletes on the planet, a record-breaking track star, a world champion, and a gold medal-winning athlete. But in Trenton, we call her ours.
If you live somewhere in the vicinity of Trenton, NJ, chances are you've heard of Athing Mu. But no matter where you live, her name likely crossed your newsfeed when, at 16 years old, the Trenton native broke the U.S. indoor 600 m and world under-20 best record, not to mention handfuls of other high school, collegiate, and age-group world records.
Then last June, just after her 19th birthday, the middle-distance runner turned pro and signed a monster deal with Nike. Quelling any conceivable doubters, Mu followed that by setting a record at the U.S. Trials in the 800 m, punching her ticket to the Tokyo Olympics with an exclamation point. Even with the uncertainty around the games, which were in doubt until just weeks before the opening ceremonies because of COVID-19, Mu took her first Olympics in stride, setting the track and field world aflame with her 800 m run, which broke the U.S. record and earned her the gold medal. (Mu's win was the first in the event by an American runner since 1968 when Madeline Mims won in Mexico City.)
During the 800 m, Mu led from the beginning of the race and never looked back, crossing the finish line in 1:55:22, three strides ahead of her nearest opponent. But Mu's expression didn't split into her signature face-splitting grin until she realized her teammate Raevyn Rogers had grabbed the bronze and would be up on the podium alongside her. After the race, track and field analyst Ato Boldon sang her praises on the broadcast, saying, "She shrugged off youth and inexperience and delivered a virtuoso performance. I think it's safe to say the United States is not going to wait another 53 years for another gold medal. Miss Athing Mu from Trenton, NJ, has arrived, and there's so much more to come from the new 800 m queen."
It was a struggle at times. There's not many South Sudanese people in Trenton. None at all really. But the community is tight. Whether it's having the same teachers, running on the same team, everyone knew who we were, and that's how we were as a family.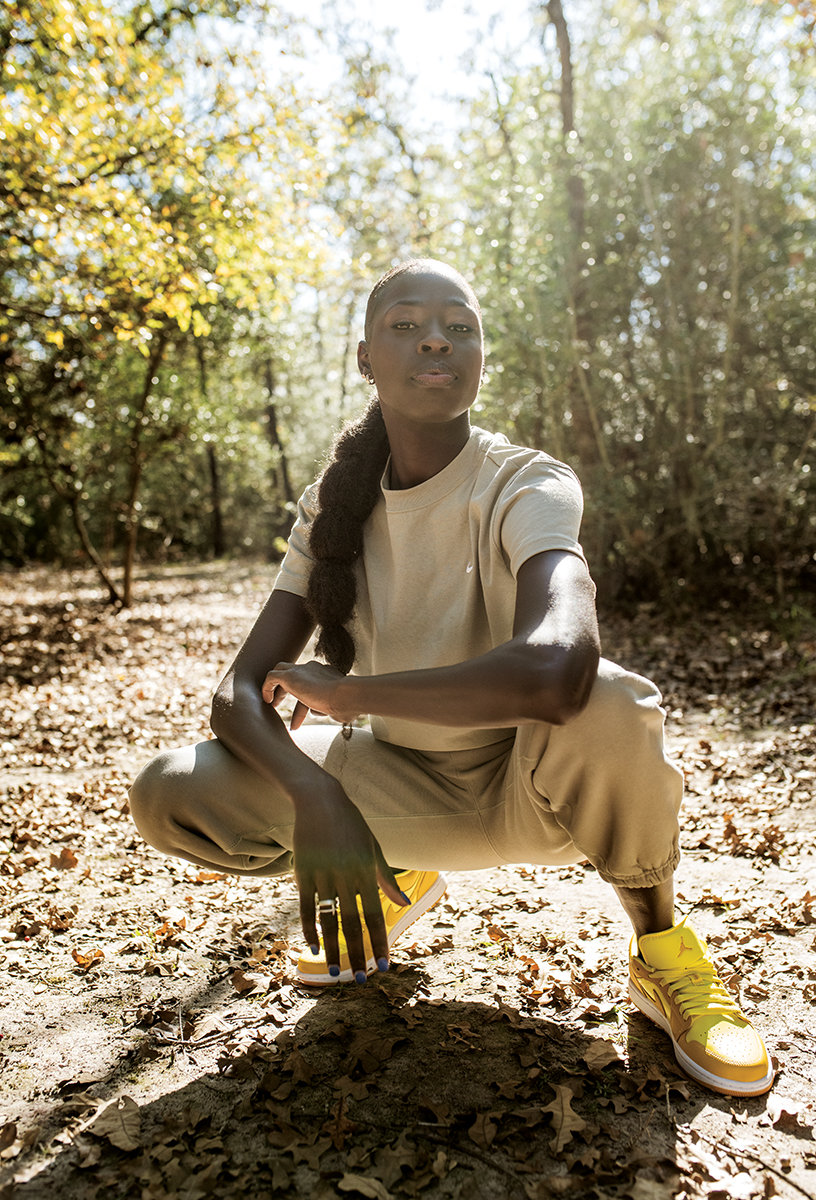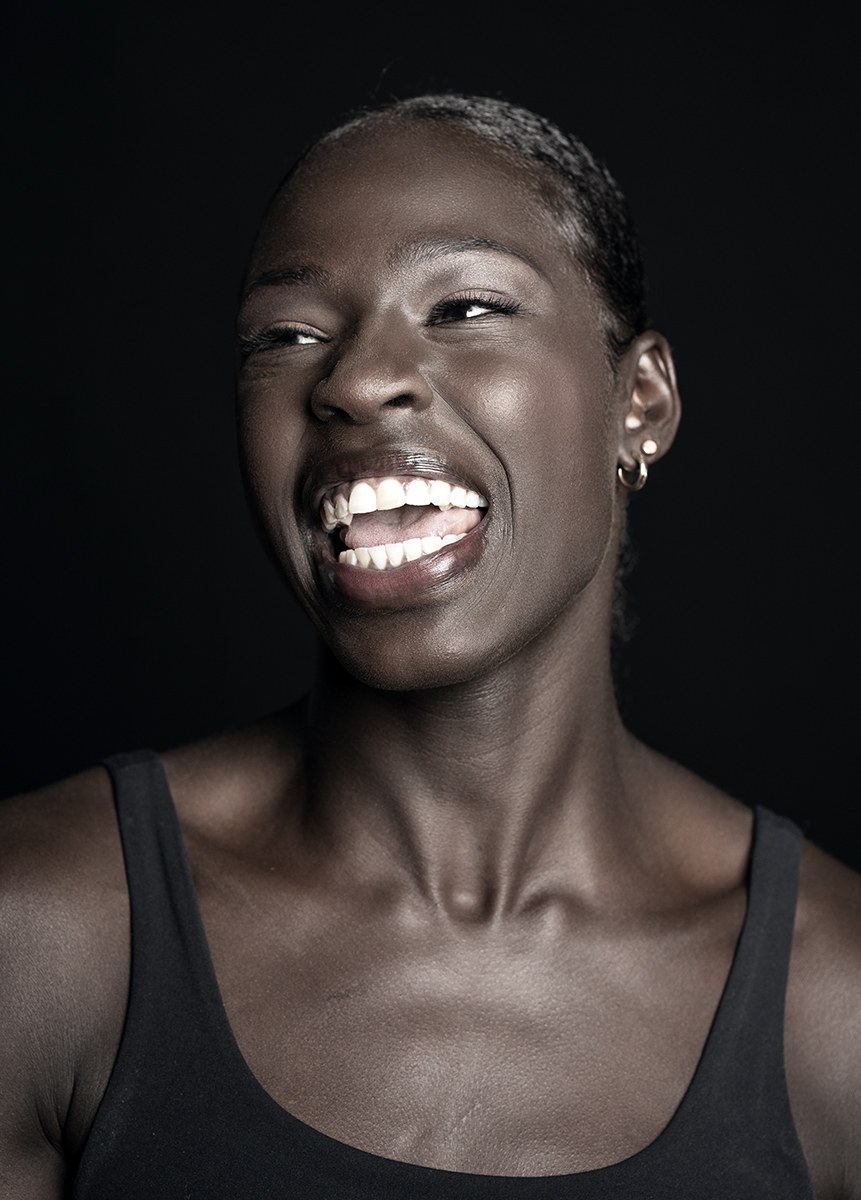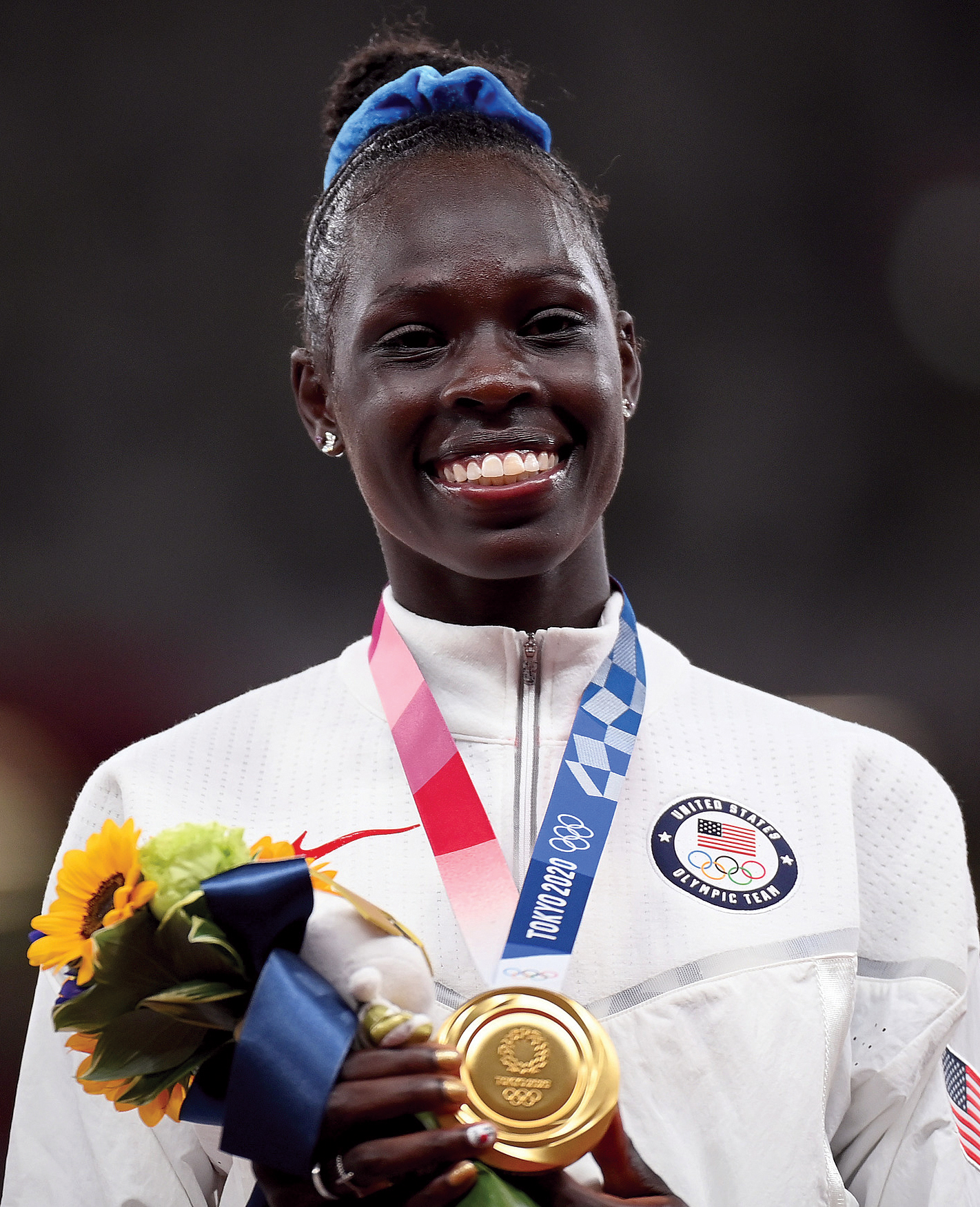 Quick Off the Blocks
Ranging in age from 29 to 17, Mu is the sixth of seven kids. She was the first in her family born in the United States, after they fled from South Sudan. They settled in Trenton to be near loved ones, and although they didn't have much financially, Mu describes her family as being "very tight-knit. We were always with Mom and Dad, at church on Sundays, and we all went to school together."
Mu began running when she was 6 years old, leaving mouths agape when she first raced at the Trenton Track Club. In a FloSports film about Athing Mu, her older brother, Deng, gleefully tells the story of the day it all began. "Me and a few friends were walking by the high school and saw a bunch of kids playing on the track. We walked in while they were having practice and we raced on the track a few days in a row. Athing followed and she started running without realizing she was doing it. The track club noticed. The coach went up to my brother and said 'Who is this girl? I want her on my team.'"
The Mus struggled to make ends meet (her father is a seafood processor in the Pacific Northwest, while her mom works in a warehouse). "It was a struggle at times. There are not many South Sudanese people in Trenton. None at all really," Mu says. "But the community is tight," Mu recalls. "Whether it's having the same teachers, running on the same team, everyone knew who we were, and that's how we were as a family."
Mu started running with the Trenton Track Club at 6, coached by Bernice Mitchell and Al Jennings. She went to Trenton Central High, although she didn't run for the school's track team. Instead, she stayed with Mitchell and Jennings, who guided her through her young career. After Mu's performance at the Tokyo Olympics, Mitchell told the Trentonian while shedding tears of happiness: "I'm so excited for her. I'm so excited for the city of Trenton. I'm so excited for Coach Jeninngs. And I'm so excited for New Jersey. To watch her run around that circle and win a gold medal gives you a feeling you can't describe. It's just amazing what 'little momma' has done."
Running on Empty
When she was 16 and broke the U.S. indoor 600 m record and world under-20 best record, the running world took notice. "That's when I had my first chance to go pro, after I won the 600 m USA title. But I knew that I was too young. I knew that I was missing a lot of things in my life at that time, and I was doing it kind of on my own," she says. "Of course, I wanted to go pro because that's a dream of mine. But at that point in time, I just put my mental health first. That was right for me."
In the spring of her senior year, after Mu had chosen Texas A&M from among seven schools that were heavily recruiting her, the COVID-19 outbreak threatened not only her plans but also Mu's love of the sport. "Going through the pandemic made me question if I wanted to keep running. During that time, I wasn't really training with my coach. I had to go out there by myself, and I felt like everything just disappeared. I literally forced myself to go out there," Mu says. "When the Nike and New Balance Nationals ended up being canceled, I was actually relieved. I didn't even want to go. I was like, 'Wow, do I want to continue doing this? Do I feel like running and competing?"
In May 2020, just months before she intended to move to College Station, Texas to begin training at Texas A&M, Mu spent time with her family at her sister's house in North Dakota and she was able to hit the reset button and reconnect with herself and her goals. "I just took time to think. That made everything a lot better, just because I was with people I love and people who love me. I grew a lot in my faith during that time. I think just being in a new environment gave me time to get back to myself."
Now, at a time when some of the most prominent athletes, like gymnastics great Simone Biles and tennis star Naomi Osaka are taking time away from their respective sports to focus on their mental health, Mu's self-awareness seems even more crucial to building a strong foundation. "I love track and field, but I never want to make it a thing where I'm doing this because my life depends on it."
Medal Mentality
In June 2021, as a freshman at Texas A&M, Mu won the 400 m National Title and anchored the 4×400 Championship Relay Team, setting collegiate records in both events. Less than 2 weeks later, she signed a contract with Nike as a professional athlete. For Mu, with a successful collegiate season under her belt, it felt like the right time to go pro. "I was at peace with myself and I wanted it to happen," Mu says. "I think being at A&M and realizing I'm here because I have a scholarship and I'm here because I'm blessed with this gift and I'm good at it. I can't take this for granted. I'm obviously here for a reason."
Immediately after signing with Nike, Mu competed in the U.S. Olympic Trials in Eugene, Ore., which Mu says was a grueling 2-week stretch. "The Trials are definitely something you just have to get yourself through. It takes a bigger toll than even the Olympic Games," Mu explains. "I had to wait a week until my races; I watched two of my teammates compete and not make the team. But I just took it round by round."
The enormity of the moment didn't hinder Mu's performance—she won the women's 800 m and setting an Olympic Trials record of 1:56.07. However, despite her gold-medal-worthy performance, COVID-19 created uncertainty for athletes around the world as they waited to find out whether the Olympic Games would start on time or at all. Once again, Mu took it all in stride. "My whole mindset just changed from the summer of senior year to college, with just being a lot more optimistic and realistic at the same time. I'd gotten to this point mentally where I was up for whatever happened. I felt like, if there's no Olympics, there's nothing I can do. What are we going to do about it, cry or something? We'd just have to move on," Mu says. "I knew the world wasn't going to stop forever. There's the 2024 Olympics coming up, the world championships, and plenty of other things to look forward to. So, there's no reason to be upset."
But on July 23, the Opening Ceremonies of the Olympic Games in Tokyo commenced, and Mu competed in her races according to plan. The shadow of COVID-19 meant that athletes could only be accompanied by three people, so Mu's family and friends watched her races from home. On Tuesday, August 3, Mu won gold, as her family gathered at a watch party in Trenton. The video of their reaction, which aired during the original broadcast of the race, showed dozens of loved ones yelling for Athing Mu, leaping into the air, and pumping their fists in pure ecstasy.
Mu says she saw those videos and loved every second of them. "The thing is that this is new to all of us. This has not happened to anybody in our family, not even on any type of spectrum," she says. "A lot has happened within my career. They've always been there, watching me, supporting me, and helping me through it. They're watching me grow. I'm basically the baby of the family, and from the moment I was born, started running track, and up until this moment, they've been rooting for me.
"Just being in this moment and actually watching something like that happen at the Olympics is surreal, but it's also realistic at the same time because they knew what I am capable of."
And now we all know.