The Capital Health Institute for Urban Care was created to advance the health and well-being of the residents of Trenton. But for the staff, that means spending each day working to help the members of our community who are most in need of a helping hand, a second chance, and someone to believe in them.
When Aanisah Williams was shot in 2011, a wound that threatened her life, doctors prescribed Percocet to help her keep the pain in check. The Percocet turned out to be a catalyst for addiction—mainly to heroin—that cost her almost everything, including her three children.
For almost 6 years, Williams hung on by her fingernails, barely managing to care for herself and her now 9-year-old daughter. But in 2019 she became pregnant with her second child, her 3-year-old daughter, and the addiction completely overwhelmed her. "I felt trapped. I felt like there was no way out besides death," Williams says. "I tried to get clean, but I thought that I could do it on my own. I didn't have the insight that I have now about addiction being a disease."
That's when the New Jersey Division of Child Protection and Permanency (DCP&P) removed both her children from her care, sending the oldest to live with her father and her younger daughter to stay with Williams's dad and stepmom. Then, last spring, Williams had a third daughter. When she gave birth at Capital Health – Hopewell, she disclosed to the staff that she had used drugs during her pregnancy. As a result, DCP&P intervened again with an emergency removal of her new baby, who fortunately didn't show any physical or cognitive side effects from the drug use. With help from a Capital Health case manager, Williams enrolled in a program called For My Baby and Me, one of the flagship grant programs run by the Capital Health Institute for Urban Care that provides holistic care and the resources to achieve motherhood and recovery upon delivery. The For My Baby and Me program, which coalesces the services of five local nonprofit organizations, offers medicated assistance treatment for substance use disorder with the goal of recovery, maintaining sobriety, and supporting motherhood.
Williams was moved into temporary housing at HomeFront, a New Jersey nonprofit that provides housing for women and families in need. "The baby was 4 days old when I left her to go to HomeFront. I had a C-section, and my milk had just come in—it was horrible," Williams recalls. But as painful as it was, for the first time in more than a decade, she had unwavering support. "To be honest, without [For My Baby and Me], I'd still be out on the streets, overdosing or dead," she says. Instead, Williams has been clean for 7 months, and if she continues to follow all the steps and benchmarks set by DCP&P, she will have the chance for reunification with her three girls.
I've learned so much about this vulnerable population and the challenges they face. They are the forgotten. People who are dealing with homelessness, poverty, substance use, the uninsured, and the undocumented—they're grouped together and left behind.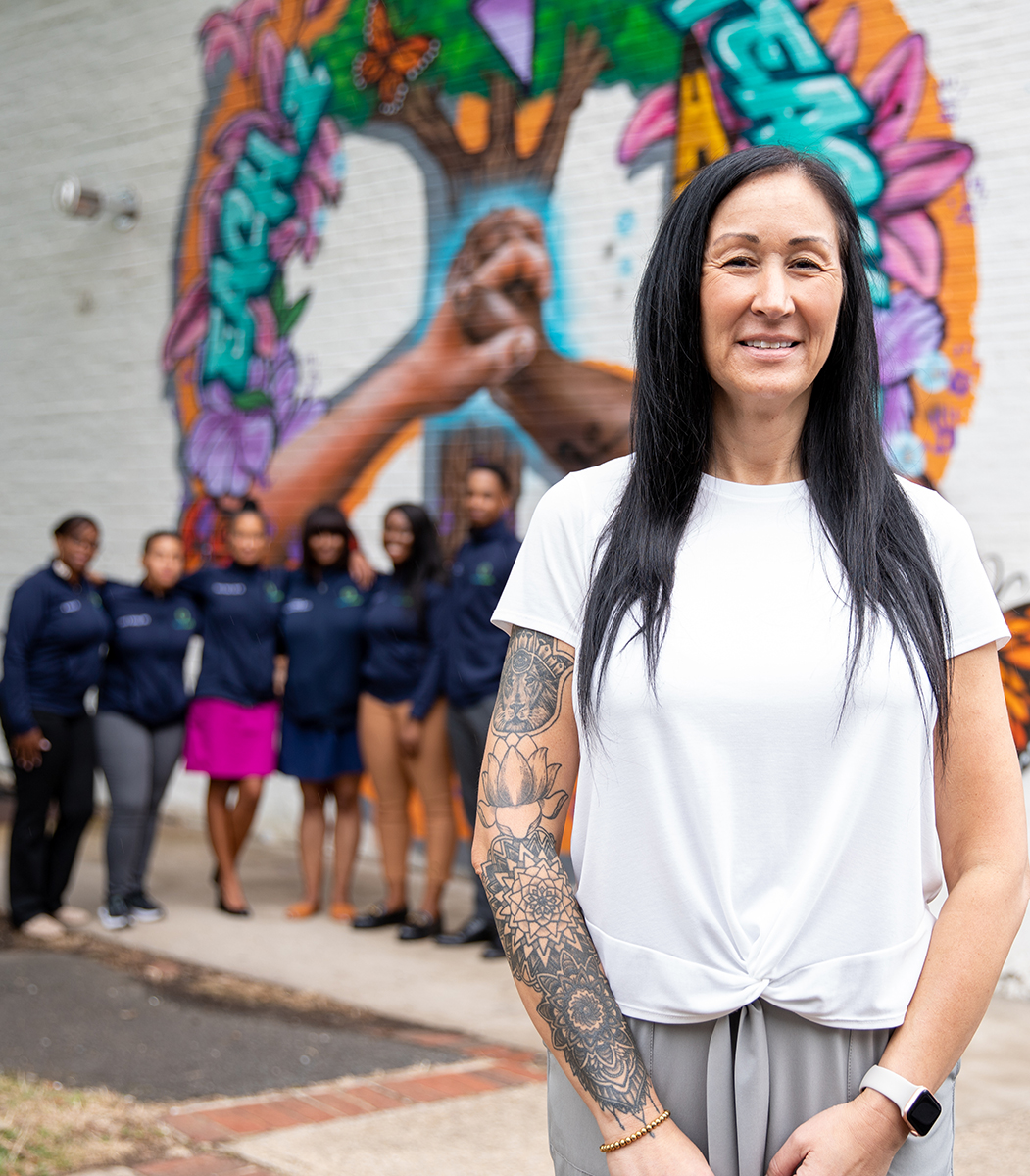 I'm so passionate about For My Baby and Me. Here's why.

By Stacey Negron, MSN, RN
As the care manager/project evaluator at For My Baby and Me (FMBM), I see it every day. This is so much more than just a program—it's about hope. Upon engagement, the young women we help are dealing with various levels of trauma, full of fear and doubt; many with the belief that life has failed them. It fills my heart to see these young women heal from the inside-out and feel empowered to want for themselves. I often shed tears reflecting on the young ladies I have embraced in celebration of reaching personal milestones and victories. I love thinking about their smiles and the pride on their faces as they boast about how far they have come or when showing off their healthy babies.
No, not every woman is ready when they come to us, but we provide resources and support with compassion while they are with us, with hope that one will return when they are ready to take that journey.
The overall goal of the For My Baby and Me program is providing young women with holistic care and the resources to achieve the desired outcome of motherhood and recovery upon delivery. When infants are placed away from the mother the goal is reunification, providing the mother time to heal and the tools to believe, desire, and trust that they can maintain sobriety and foster motherhood and independence.
For My Baby and Me is funded by the New Jersey
Department of Human Services. For more information, call 609-256-7801 or visit formybabyandme.org.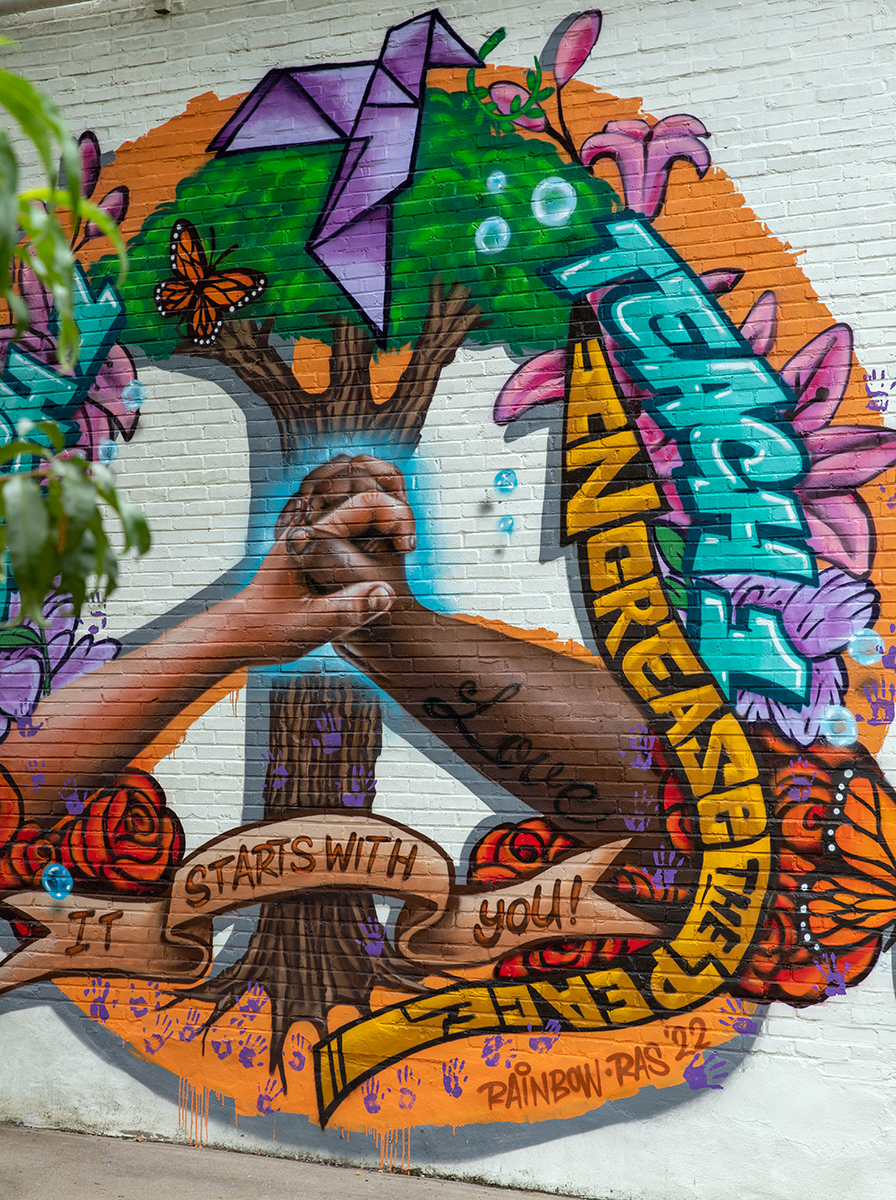 Muralist Leon Rainbow (LeonRainbow.com) worked with the Institute for Urban Care staff and clients to design and create an anti-violence/peace mural at the Isles Youth Institute at 33 Tucker St. in Trenton.
Connecting the Dots
People like Williams who are left behind, forgotten about, and cast aside are the same people at the heart of the work undertaken by the Capital Health Institute for Urban Care. "[Misunderstandings about] drug use is a huge bias that we face all the time in our work," says Kim Watson, RN, the program manager at the Institute for Urban Care. "They're the ones who need the most support in the community. They're the ones who need the most protection. But they're ostracized. The truth is it could be anybody in that situation, so I just approach everyone with compassion and understanding and have some empathy when someone is dealing with something. You don't know what that person's going through."
About 5 years ago, the Capital Health Institute for Urban Care was created out of necessity. Seeing that so many Capital Health patients were suffering from societal disparities that left them out in the cold, Capital Health President & CEO Al Maghazehe charged Eric Schwartz, MD, the executive director of the Institute for Urban Care, with creating a plan to support disadvantaged patients beyond the walls of the hospital. "I started working on this in 2017, and I came up with three main pillars for the Institute for Urban Care, which included chronic disease, maternal child health, and behavioral health and substance use disorder," says Dr. Schwartz. "This program is relatively unique, certainly in New Jersey and potentially throughout the country. Our goal is to bridge the gaps in care and support and eliminate barriers to positively impact patients."
To achieve that, the Capital Health Institute for Urban Care works closely with 15 collaborative partners, unifying their efforts to help individual patients improve their circumstances. "It's crucial for us to know the ins and outs of that robust network of community partners," Watson says. "That's why our grants are created to utilize our community partners and build those collaborations so we can bring all those stakeholders to the table, introduce them to each other, and foster relationships."
Double-Edged Sword
One of the things that Dr. Schwartz loves about this project and about working at Capital Health is that the City of Trenton is relatively small, as cities go—7 ½ square miles with 85,000 people. "It's a population and a community we can get our arms around and really try to make a meaningful difference," he says.
However, on the flip side, Trenton's small size also creates societal and structural inequities. "There is a challenge to equality in medical care. There isn't a lot of support for the elderly. There's not a lot of free space for youth," says Watson. "There's a challenge in limited transportation. People see the inner city as having a hub of transportation, but that isn't really the case. We find that a lot of our patients are unable to get to appointments because ride share companies don't necessarily want to come to these areas."
There's also significant food disparity, especially a scarcity of fresh fruits and veggies. That problem was exacerbated by the supply chain challenges caused by Covid and by the soaring cost of food. The Capital Health Institute of Urban Care is working to mitigate that issue by getting healthy food to some of the most food-vulnerable patients. "We're working to get food to people in our prenatal clinic, our internal medicine residency, and our Family Health Center clinic, which has people with chronic disease and who may be underinsured."
Laser-Focused
The two cornerstone grant programs are a major source of pride, resources, and energy for the staff at the Institute of Urban Care. Beyond For My Baby and Me (see sidebar), the other major grant is a violence prevention program called VICTORY: Violence Intervention for the Community Through Outreach Recovery, which partners Capital Health with the Catholic Charities and Mill Hill Child & Family Development. In this program, victims of trauma and/or serious assault who present at Capital's Level II Trauma Center are met by VICTORY Trauma Outreach Specialists (TOS), many of whom are survivors of violence themselves. Case managers then triage to assess and address a range of crisis, safety, and intermediate needs, and alleviating barriers to services.
However, as pivotal and impactful as those two programs are, it's sometimes the little things the staff does that make the biggest impact. The day-to-day work of helping individuals flourish can mean anything from finding a safe haven out of an abusive situation to acquiring documentation so they can receive financial support. In one case, they assisted in putting up a headstone for a family that wouldn't have had one for a lost family member.
In another instance, Watson helped get a man who was suffering from mental illness and homelessness into the Rescue Mission to give him a reprieve from the elements. She asked him what the one thing was that he needed most. "He told me it was shoes—all he had was slippers. I promised him I'd bring them to the rescue. I looked through all the secondhand clothes for size 14 men's shoes, but I couldn't find them, so I went to a local store to pick them up. He called me the next day and told me how grateful he was," she recalls, tearily. "He said, 'I didn't think you were going to come back. It really meant a lot to me that you brought me those shoes. I just really appreciate you.' It was a small gesture, but it meant so much to him. I don't think I'll ever forget that."