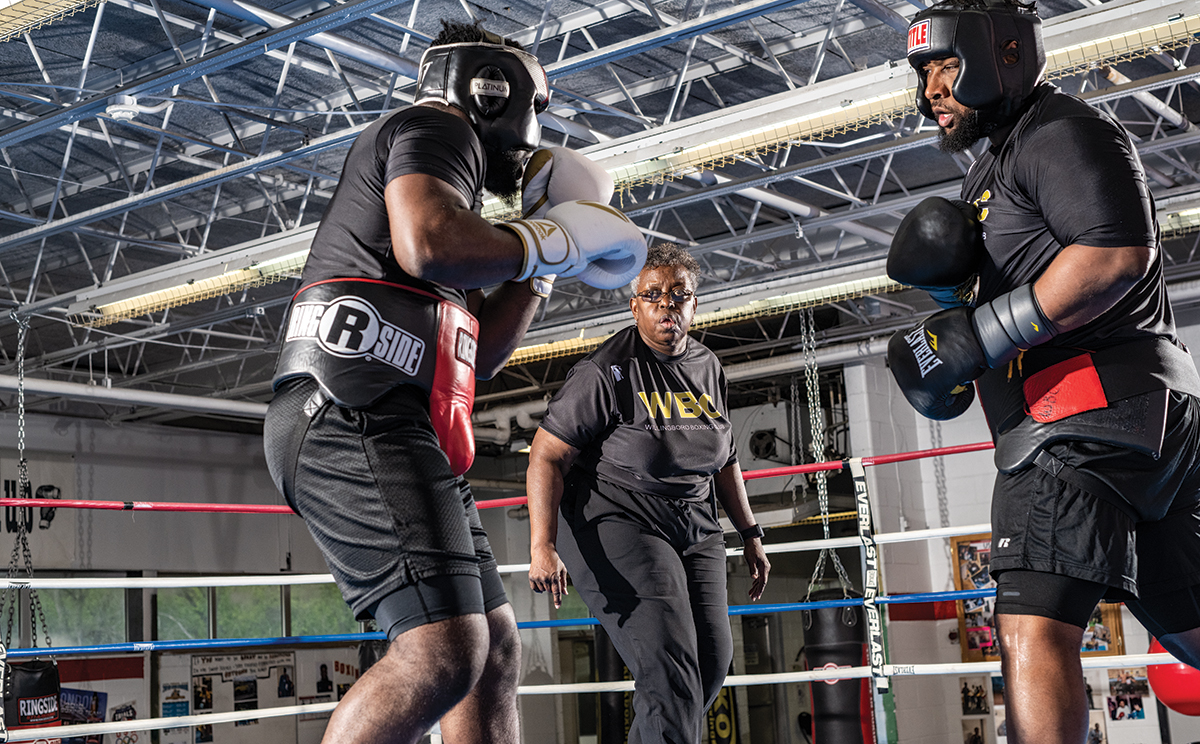 In a career that's lasted more than 40 years, Gloria Thornton-Peek has coached boxers from beginner level to Olympic gold. But she's had to fight through gender bias in a wholly male-dominated world to get there.
After the bell sounds, the boxers move together around the ring, throwing gloved fists into each other's headgear with exertive grunts, some fast and warning, others with more force. Shadowing her athletes is 5'4″ Gloria Thornton-Peek, who at 69 shuffles along with them as they spar. When they move, she moves, her eyes trained on them, shouting out periodic reminders to slip right and left or deliver a combination.
Inside the ring in her Burlington County, NJ boxing center, a formerly dank, cluttered garage gym which she painstakingly trans-formed into a top-notch boxing facility in 2017, Thornton-Peek is in her fifth decade coaching amateur athletes from beginner to Olympic level.
As the first USA Female International Boxing Coach, she coached Claressa Shields to the first gold medal won by a woman in the sport. Over the years, she's trained middleweight champ Jermain Taylor and Andre Ward, who retired with an undefeated record, as well as thousands of boxers whose lives she's changed for the better.
In all that time, neither the fact that she's a woman in a man's sport nor her titanium knees could keep Thornton-Peek from doing what she loves, what she believes she was born to do. In many ways, what she was raised to do.
Growing up in a family of five kids, Thornton-Peek tagged along with her dad as often as possible, despite her mom's pleas for help in the kitchen. She'd wake up at 5 a.m. to fish with him on the creek by their house in Geneva, NY or help him disassemble and reassemble his beat-up green Dodge. But best of all were the Friday night fights. "I would sit and watch the matches with my father, and to me they looked like gladiators. They were graceful and powerful. I loved it," she recalls. "I was constantly shadow boxing around
the house."
However, it was her first trip to see a ballet performance—The Nutcracker at Radio City Music Hall, with her Girl Scout troop—that sealed her passion for boxing, as she drew a connection that others couldn't necessarily see. "As I watched the male dancers, I immediately thought about the gladiators and the boxers," Thornton-Peek says. "In my mind, I was able to superimpose the boxers on the male dancers. Both are sculpted, both are graceful in their movements, and both are very powerful. The difference is in the outcome of the artistic expression. I knew then and there that boxing was going to be a part of my life."
I wanted to box so desperately because I couldn't. I put that drive into coaching. I turned it all around, and it filled me.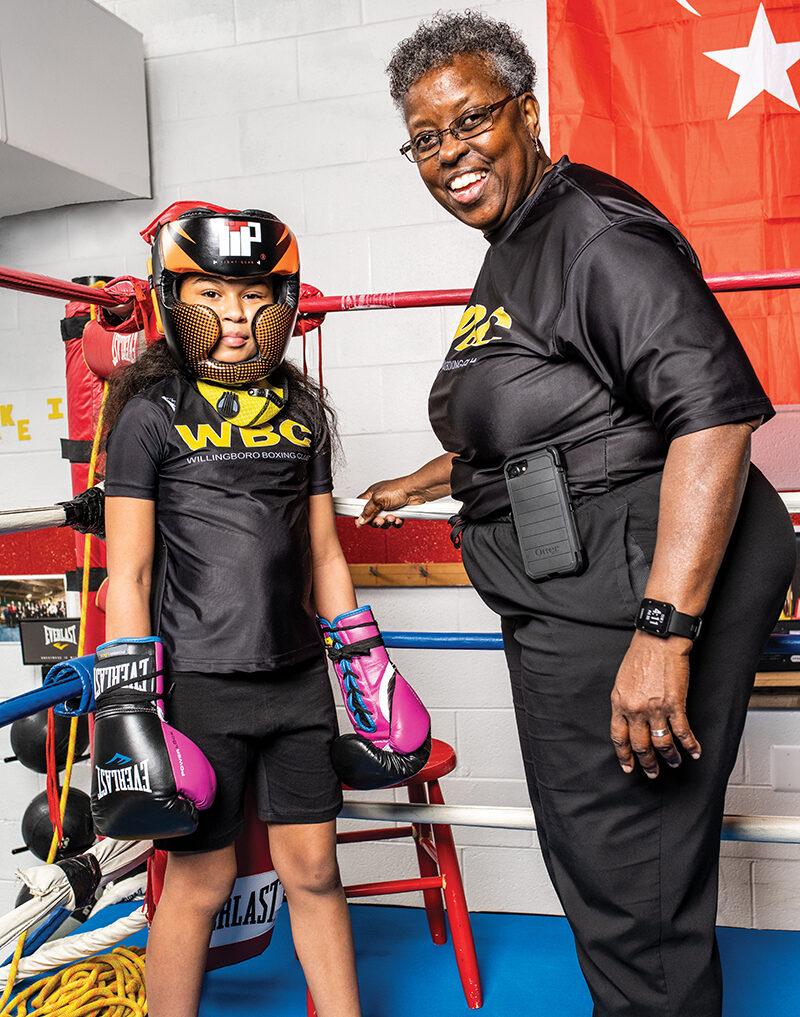 Boxy Lady
Gloria Thornton-Peek coaches girls like Iris Johnson at her boxing gym at the JFK Recreation Center in Willingboro, NJ.
Keys to Being an Unforgettable Coach
1. It's not about you.
If you let your ego get in the way, you can easily forget that your job is to help your athletes develop into the kind of person they need to be to excel in life.
2. Love what you do.
You cannot really succeed if you don't have a passion for the sport.
3. Coach first.
You are a teacher, and you can never forget that.
4. You have to be willing to work with all kinds of people.
I've worked with kids who have autism, for example. You can make a difference for your athletes, no matter how good they are when they first walk through the door.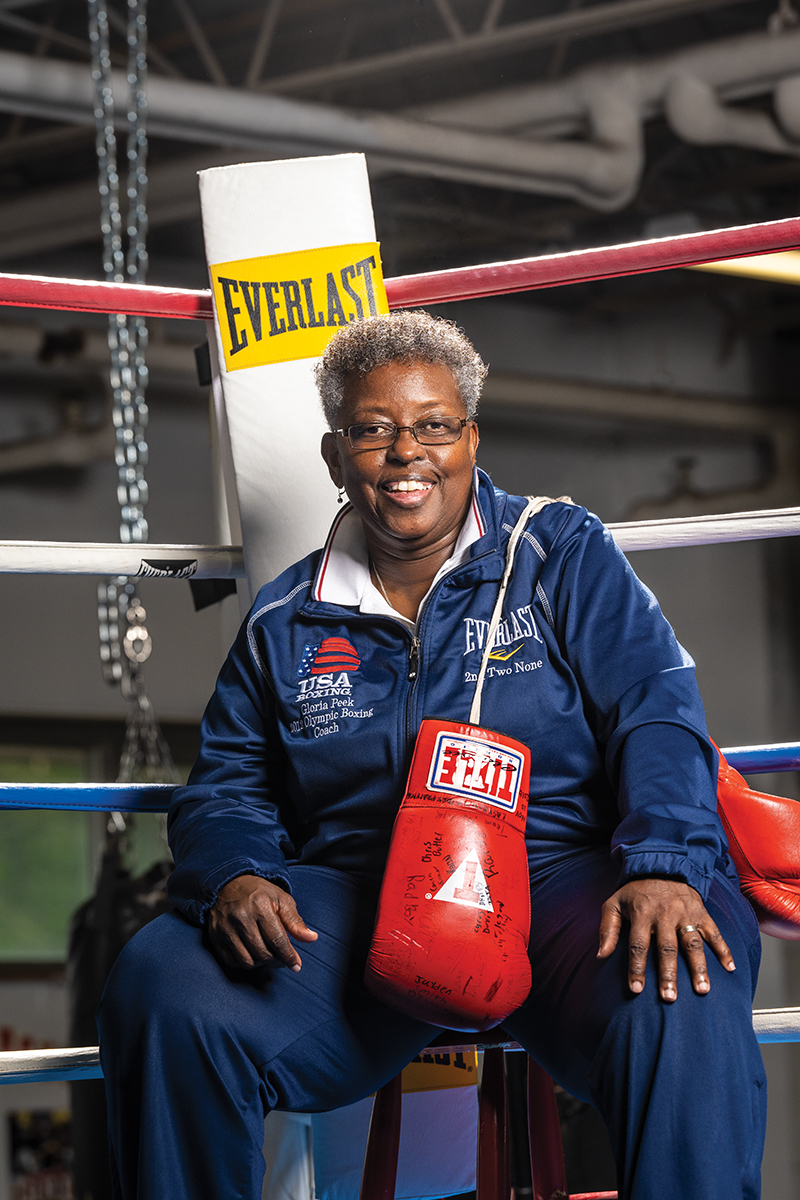 I had the nerve to step into the arena of the last great domain of men.
Rules of the Gym
• No profanity: If you curse in the gym, it costs you 25 push-ups. You need command of the English language.
• No sagging: You can't wear pants to the crack of your butt—it's disrespectful.
• No fighting with each other outside the ring.
• I don't coach bullies.
• I'll hug you whether you did a good job or a bad job.
Round 1: Outside the Box
After high school, Thornton-Peek joined the U.S. Navy in 1974, where she led her platoon to a first-place distinction for unity. When she was stationed in Pensacola, Fla., she decided she wanted to learn to box, despite the fact that most of the other boxers at the gym let her know she didn't belong. "I was able to get some of the old salty dogs to give me some of my basic training in boxing. But it wasn't easy. When I first went in, I would hit the bag, and they would laugh," she recalls. "I had a really tough day one day, and when I punched the bag it flew off the hook and hit the floor. Everybody stopped and looked at me, like, Did she knock that bag off? Maybe we should teach her a little something."
After her stint in the Navy, she went back to school in New York to attain an Associate's and Bachelor's degrees and then began working with the Girls and Boys Club in Rochester as assistant executive director. Almost right away, she knew she wanted to incorporate a boxing program for the kids, but she still didn't know enough to teach it. She searched for the perfect instructor, one who had the skills but also embodied her strong work ethic and would help her build a safe haven for the children. She wanted to create a family environment that was structured and disciplined. "In the Navy and in life, I've learned there's only one way to the top no matter who you are or what you do: Hard work, dedication, and sacrifice," Thornton-Peek says.
She went to gym after gym in search of a boxing coach who would be an extension of herself, but she came up empty. Finally, she decided to commit to learning to coach the sport. The only problem was she couldn't find a gym that would teach females to box.
One day, she went into a gym a few miles from work, which was run by two brothers. "When I walked in, they were playing dominos, and they didn't acknowledge me. Finally, I went up to them and said, 'Come on guys. I'm here to learn to box.' They were like, 'We don't coach women. USA Boxing says no.'  I said, 'I don't care about that.' But they were laughing at me."
She convinced them to give her a chance. She jogged over from work the next day and was assigned a young guy to work with, whom she had no idea was a ranked fighter—or a lefty. "They showed me how to wrap my hands and step, but they didn't teach me slipping, weaving, catching, or punching. After 2 weeks, they said, 'You did so well that you're ready for your first sparring.' I said, 'No way, I'm not ready,'" she recalls. "But they pulled this nasty rubber mouthpiece out of a pot that was on the floor and shoved it in my mouth. They put old, smelly headgear on me and old gloves, and I got in the ring."
Thornton-Peek took a beating from the southpaw. Every time she swung, she took a punch, and by the time they were finished, her lip was bloody, her right eye swollen shut, and her nose three times its size. But she had a presentation to give later that day, so she grabbed her backpack and ran back to work. "The next day, I ran back to the gym. They were playing dominos, and I said, 'I'm back, and I'm going to keep coming back until I learn how to beat his butt. I pointed at the south paw and said, 'I'm going to get you,'" she says. "They were shocked that I came back, but they looked at each other and said, 'Okay, we'll train you.'"
Round 2: Fancy Footwork
Thornton-Peek kept training with the men, and as her boxing skills improved, she developed her own coaching style and boxing ideology. She connected with AAU Boxing, which eventually became USA Boxing.
She studied every aspect of the sport.
She opened the Montgomery Boxing Club in Rochester and ran it with an approach that was often unconventional, which sometimes meant she had to fight to build trust with her athletes. For example, she incorporated dance into her boxing program, which rankled plenty of her athletes. "I asked one kid if he could dance, and he said, 'I'm not here to dance.' I said, 'If you want to become a boxer, you've got to become a dancer.' I used anything in the community I could to teach my boxers. I took them to performances. I took a group of kids to see The Nutcracker," she says. "They wanted to fight me tooth and nail, but it's about introducing them to the world in ways that help them and save them."
In 1983, Thornton-Peek started working for the New York State Juvenile Corrections, a job she held for more than 20 years. She ran a unit of about 30 kids, and she utilized boxing as a means of teaching important life skills. "Those kids were no different than the ones I was working with on the streets," she says. "They didn't have a strong family structure. They were able to take what I was teaching them and internalize it and utilize it in the ring."
Her goal became a natural extension of what she saw at work and in the gym—she wanted to teach at-risk youth life skills through boxing. And along the way, something else happened. Her athletes—many of whom still call her Mama decades later—started to win. Her team was invited to tournaments in Canada, initially because they were thought to be easy prey. "We started going to those tournaments and winning the matches and categories like Best Boxer," she says with a grin. "Then we started to dominate, and they stopped calling. I created champions at the different tournament levels."
One of her boxers, Tim Nolan, a Thornton-Peek boxer who went on to open the Fight Factory in Rochester, credited her with so much of what he learned. He told the Democrat & Chronicle newspaper, "She was always instilling confidence and preaching education. She'd say, 'Do what you have to do in order to do what you want to do.' Little quotes like that. She wouldn't let us say the word 'quit.' That was like a curse word."
Round 3: Total KnockOut
As Thornton-Peek's coaching footprint grew internationally, her opportunities became more abundant, even though she was still a rarity as a woman in boxing. However, despite her hard work and increasingly successful record as a boxing coach on the international stage, she was repeatedly passed over by USA Boxing to coach the Olympic team. "I was traveling the world coaching so many teams. They passed me over because they didn't have the courage to step outside the box and have a woman coach the Olympics," she says. "In 2004, I was in the top three coaches, and I thought I'd get it. Nope. In 2008, I was again the top two or three. They knew I was supposed to go, but it didn't happen."
When the coaching selections were coming up for the 2012 Olympics in London, Thornton-Peek was focused on coaching at her gym, then in Norfolk, Va., and on international tournaments. But then the International Olympic Committee decided to include women's boxing. For the first time, the United States would send women to compete. "Still, I wasn't expecting a whole lot. I knew my name was there. I got a call from the director of USA Boxing. He asked if I was still interested in coaching the Olympics. I said, 'Quit playing with me.' He said, 'You're coming.'"
The U.S. Olympic boxers were entitled to select whom they wanted as lead in their corner. Besides being the choice for several of the men, two women boxers chose Thornton-Peek, including Claressa Shields, a middleweight from Flint, Mich. "There was no doubt in my mind that she was going to do well. We already had a bond. Her abilities were there, but I needed to guide them a little bit," Thornton-Peek says. "The woman she was fighting was a strong, older Russian woman. Claressa likes to go out and throw a lot of punches. I needed her to jab and move, but not get in a tit for tat. In the third round, I said, 'Throw them hands. I'm going to put my feet up and watch.' The bell rang, and she just went crazy on this girl. She won easily. That was our first gold medal, and she won it again in 2016, which was our first back-to-back gold."
In 2016, Thornton-Peek moved to New Jersey with her wife, Robbie Thornton-Peek, not feeling 100 percent sure where her career would take her next. But she found an opportunity to turn a space in the JFK Recreation Center in Willingboro into another impressive boxing gym. After breaking down walls and emptying out boxes and equipment, she polished up the boxing ring and installed a row of heavy bags, a section of speed bags, weights, exercise machines, kettle bells, and medicine balls.
Today she coaches boys and girls, men and women. And after all these years, she still thinks of many of them as her "babies." She knows she's been coaching boxing but also teaching important life lessons. "People say, you're going be 70, how long are going to do this? I say, 'That's a damn good question. I'm going to do it as long as I can physically and mentally and as long as I continue to be of service to the community and my kids. I'll do it until I can't do it anymore or the Almighty calls me home.
It's my gift.'
"At 69, it is hard sometimes coming into the gym with my titanium knees and shoulder surgery and my brain surgery in 2019. But it hasn't stopped me. I still keep coming back."