Jocelyn and her husband Barry opened one of the first CrossFit gyms in the region in 2007. After more than a decade coaching and refining her approach, she offers a brand of CrossFit designed for people of all ages, genders, and body types to get strong and stay that way.
If your first impression of the slight, smiling, ponytailed coach makes you think she'll go easy on you, you're in for a long workout. At 5'2", Jocelyn Weidner is a powerhouse and a fierce competitor. Her husband and business partner, Barry, gets a kick out of this phenomenon, which he sees all the time. "Don't be fooled," he says. "She's a beast."
Before class, she'll be chatting amiably with a few members of their gym, CrossFit Generation in Horsham, Pa. But once she calls them over to the whiteboard to explain the workout of the day, the smile falls off her face and is replaced by concentration and focus that is unmistakably that of a competitive athlete. Growing up in Maine, Jocelyn was a three-sport athlete, playing field hockey, swimming, and lacrosse and eventually playing field hockey in college. "From the very beginning, sports and athletics were a big part of my life," she says. "My father was a physical therapist, and he was always talking about the muscles and movement, so that's what I knew growing up."
Initially thinking she'd follow in her father's footsteps as a physical therapist, her first job at Elevation Corporate Health in Baltimore, where she met Barry, convinced her to switch gears. "It was my company's job to go into big corporations and outfit fitness centers, manage them, and develop wellness programming. In addition to fitness, we did programs like smoking cessation," Jocelyn says. "I realized I wanted to help people with their health proactively instead of being on the rehab side of things."
In addition to her chosen career path in fitness, working out was a significant part of her personal routine, training for marathons and exercising, sometimes twice a day. So, when she and Barry initially tried CrossFit in 2006, she wasn't sure what to make of it. First introduced in 2000, CrossFit is high-intensity interval training focusing on functional movements, utilizing strength training, plyometrics, speed and endurance training, weight lifting, body-weight exercises, and gymnastics.
Jocelyn was drawn to the logic of CrossFit with its focus on functional fitness. "Anytime you pick something up off the floor, you're deadlifting. Anytime you're sitting down on a chair and standing back up again, you're squatting. Anytime you're pushing something over your head, you're reaching for something in a closet and pulling it down. It's fully functional, and I love that aspect," she says.
But for Jocelyn, who was used to long, grinding workouts, the short-burst training style felt somewhat unfamiliar. "My thing was running long distances or being on the elliptical for an hour. That was where I came from, and that was what made me feel good. So, when I first got into CrossFit, I was kind of like, a 20-minute workout? And then what? What do I do next?" Jocelyn recalls. "At that point, I didn't fully appreciate and understand the concepts behind CrossFit or the idea of short-term, short-duration, high-intensity movement. Even though I was still young, in my late twenties, my hips hurt, my knees hurt, and CrossFit really helped me get in a great workout in a short amount of time. I soon learned to appreciate that. With CrossFit, I fell in love with that idea that fitness could be a community, and we grew our own when we started our affiliate."
I have high-motivation days and low-motivation days just like anyone else. And, just like everyone else, I make decisions every day about food and what's going to be good for me.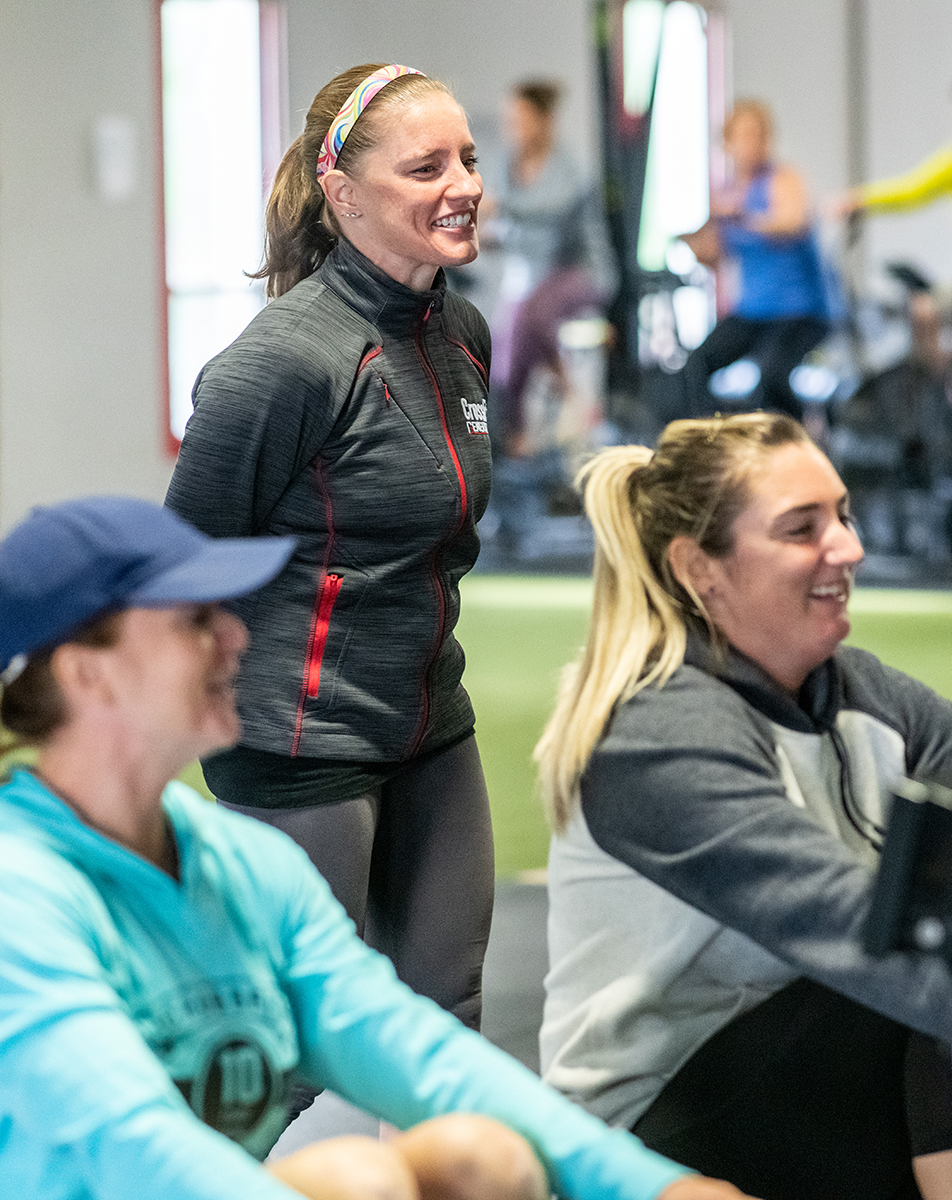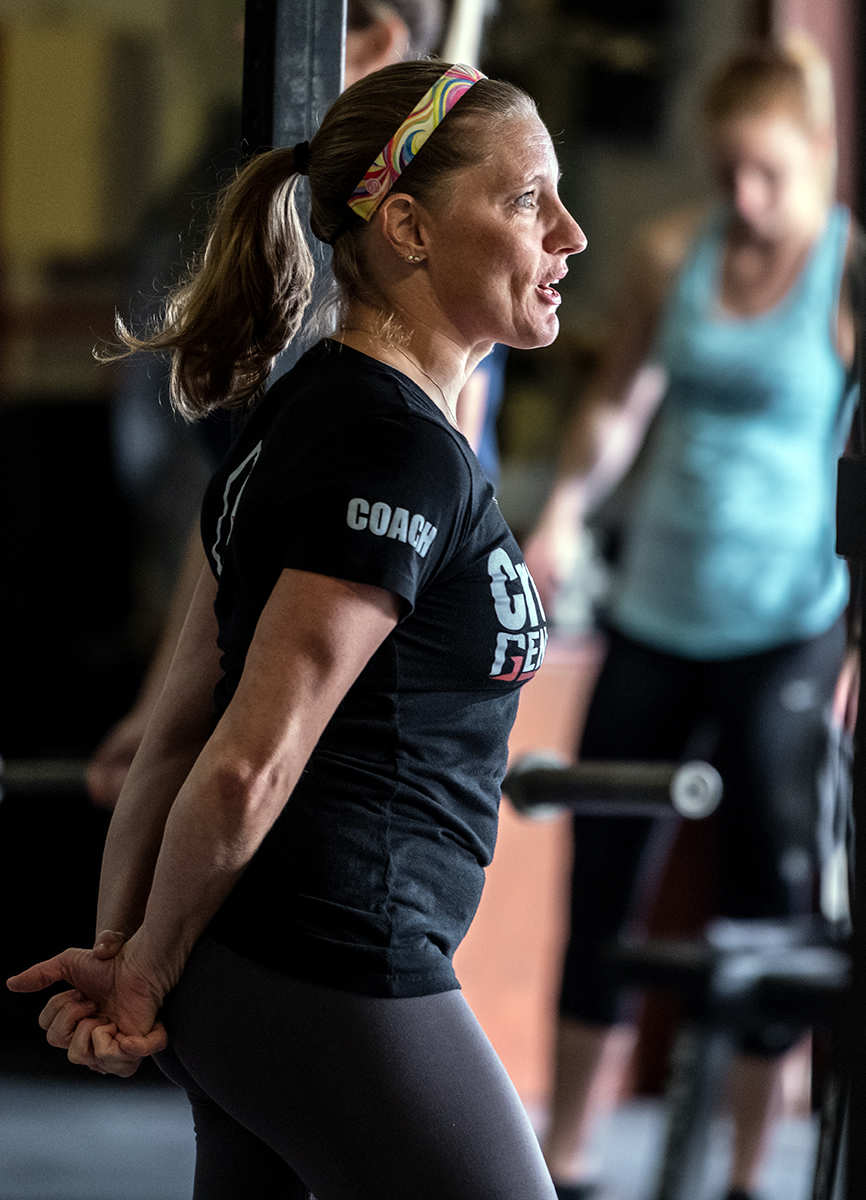 Early Adopter
In 2007, the same year as the first CrossFit Games, which took place in Aromas, Calif., Jocelyn and Barry affiliated CrossFit Generation, becoming the 250th CrossFit gym in the country. Today, their gym is in the first 100 CrossFit gyms among those still in operation. Jocelyn credits its popularity with its revolutionary approach to working out. "It was the first entity to make working out a sport, and to make it fun and competitive. Before that no one was working out to compete unless you were a competitive weightlifter or something like that. People were generally working out for a sport, or they were working out to lose weight or as a means to an end. CrossFit changed all that."
However, the aspect of CrossFit that Jocelyn and Barry adopted most comprehensively at CrossFit Generation was the scalability of the programming. "While everyone's doing the same workout each day, it's different variations of that workout. No matter what age, what ability level, or taking into account injury, everyone can get a lot out of it," Jocelyn says. "It's about high intensity, but that's relative, based on your ability."
But as Jocelyn and Barry grew their gym, CrossFit exploded from a trending fitness concept to a massive movement. While its popularity underscored that the Weidners were on track, some gyms were straying from the original concept of CrossFit. "When it started, it was this underground thing, and then it grew into something where you'd see a celebrity in a magazine talking about it or it was a question on Jeopardy, and then you knew you hit it big," she says. "As the popularity of the CrossFit Games grew, it became a more competitive sport. It started getting this reputation as hardcore, and work until you throw up. People began worrying they were going to get hurt."
Since that time, Jocelyn says CrossFit has scaled back, refocusing its attention on functional movements and nutrition for a wider spectrum of people. Since late 2018, the reputation that CrossFit is grueling, unrelenting, and dangerous for anyone other than elite athletes is beginning to wane, she says. "At CrossFit headquarters, the big push now is focusing on people who truly need the help, people who are unfit and unhealthy, and getting them to that healthy place, instead of just taking athletes and making them better athletes," Jocelyn explains.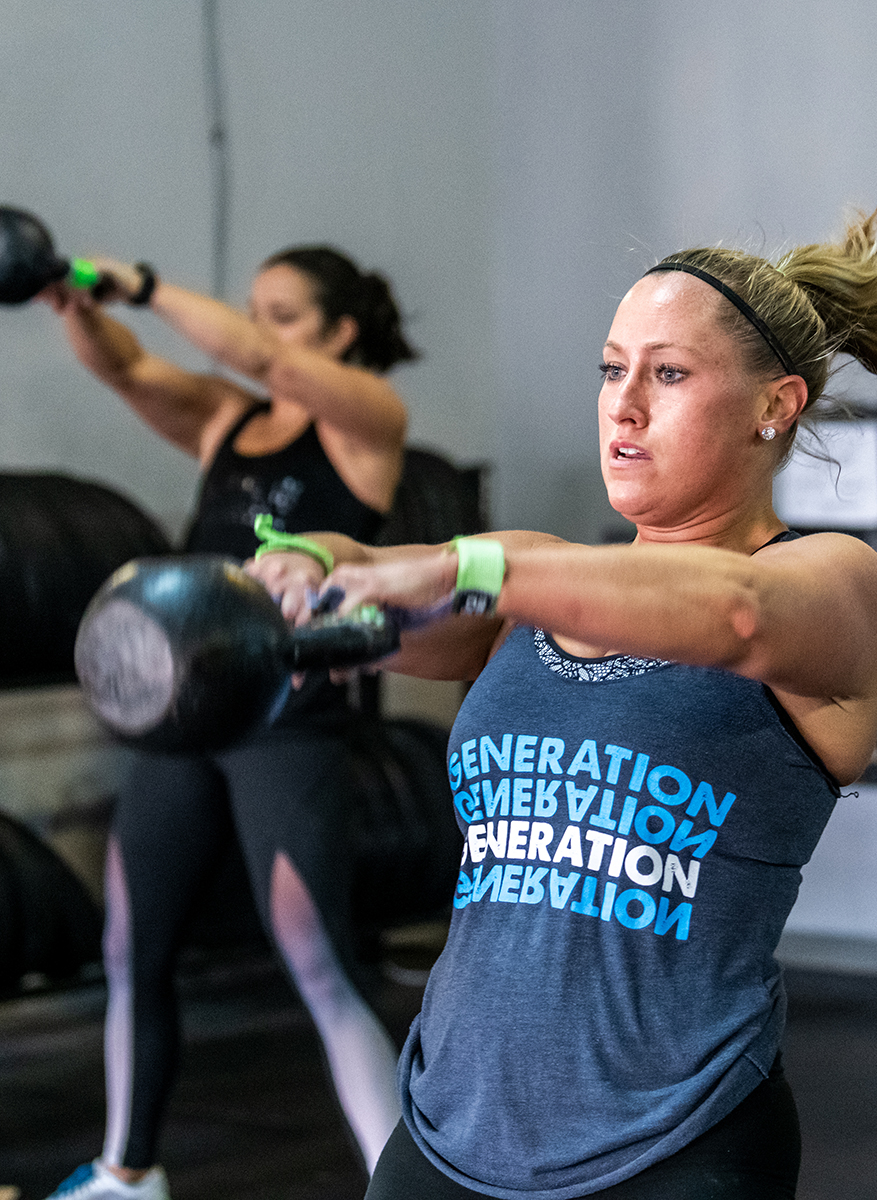 The Human Side
As CrossFit Generation grew to the 250- plus-member gym it is today, Jocelyn and Barry got married and had a daughter and two sons (ages 6, 4, and 1). But the duo still run the show, both coaching CrossFit classes alongside their eight other coaches and offering one-on-one personal training sessions. Jocelyn is a stickler about form, in an effort to help members avoid unnecessary injuries by using too much weight or performing a movement incorrectly.
Whether it's pregnancy, injury, or just a day when the need for Dunkin' Donuts is stronger than the determination to complete the workout, Jocelyn wants her brand of CrossFit to harmonize with people's everyday lives, to help them be their best selves, as opposed to just a means to an end. "I have high motivation days and low motivation days just like anyone else. And, just like everyone else, I make decisions every day about food and what's going to be good for me."
While she's passionate about helping all her members improve their fitness and overall wellness, she has a special connection to women working through their pregnancies and getting their bodies back into top form. "I've had to work through recoveries of three C-sections, so I get what it's like to start from zero and have to start over," she says. "To be able to work with someone prepregnancy, pregnancy, postpartum, getting themselves back and their bodies back is really powerful. We've had more than 20 women who have gone through that progression. That's really satisfying to me."
But overall, her passion for fitness is rooted in empowering people, regardless of gender, age, or phase of life. It's not a male/female thing. It's an individual thing. We expect our older members to challenge themselves just like we expect the members who are in their twenties to do. We service people from 6 to 60, and so regardless of age or gender, we look at each person and their fitness ability, and nothing more than that, so everyone's challenged exactly the same."
Find Your Perfect Fit
Who's the Boss?
Do your research on the coaches who run the classes and ask how or who develops the programming. Coaches should maintain their CrossFit Level 1 Certificate Course (CF-L1), or higher. Ask whether coaches have degrees in the field or other related industry certifications such as NSCA, ACSM, and NASM.
Box Vibe
All CrossFit affiliates have an atmosphere that has been established within the community. CrossFit is all about the community, so you may want to test out several CrossFit gyms in your area to make sure you find one that suits your needs.
Jump Start
Make sure the gym can deliver you a sound plan to start at the beginning with an Elements Class or work one-on-one with a trainer to learn the basics and familiarize yourself with the gym.