In February, I completed 7 marathons in 7 days on 7 continents, making me one of 169 people to ever do it. Here's what happened.
I try to think exactly how long it's been since I crossed the final finish line in Miami, my limbs slow and swollen, my face gripped into an expression somewhere between a grimace and a grin. But after preparing for almost 2 years to complete the World Marathon Challenge in February, the days back home have become a little fuzzy.
I love people's faces when I tell them about what was undoubtedly the best and worst week of my life. "Seven marathons…" (A look of surprise.) "In 7 days…" (Expression widens into shock.) "On seven continents…" (Eyes bug out and mouth falls open in utter disbelief.)
And if it wasn't for the pictures—especially the one of me at the seventh finish line, a physical reminder of the weariness, pain, emotional exhaustion, and sheer elation I felt in those final moments—I'm not sure I would quite believe it myself. One day you're in Antarctica with snow up to your knees battling 40-mile-per-hour winds in 10-degree weather, and then a week later you're binge-watching Jack Ryan on your couch in New Jersey. And you're like, Did that just happen? And you crash a little bit. You've been training for so long, and just like that, it's over.
It's quite possible that the only people on the planet who truly understand what I'm feeling right now are the 29 others who completed the World Marathon Challenge alongside me. Just like me, they willed their bodies to take 500,000 strides over 183 miles during the course of a week, across seven continents, mostly in the middle of the night. They suffered Antarctica's frost-bitten toes and fingers, only to swelter in 95-degree heat in Fortaleza, Brazil, just days later, just like me. With very little sleep and sporadic meals, they found the drive somewhere inside themselves, to keep putting one foot in front of the other until they reached the finish line, just like I did.
But here's the thing that really binds the 30 of us together. Just like me, most of them are likely poking around the Internet, trying to figure out what their next major challenge is going to be.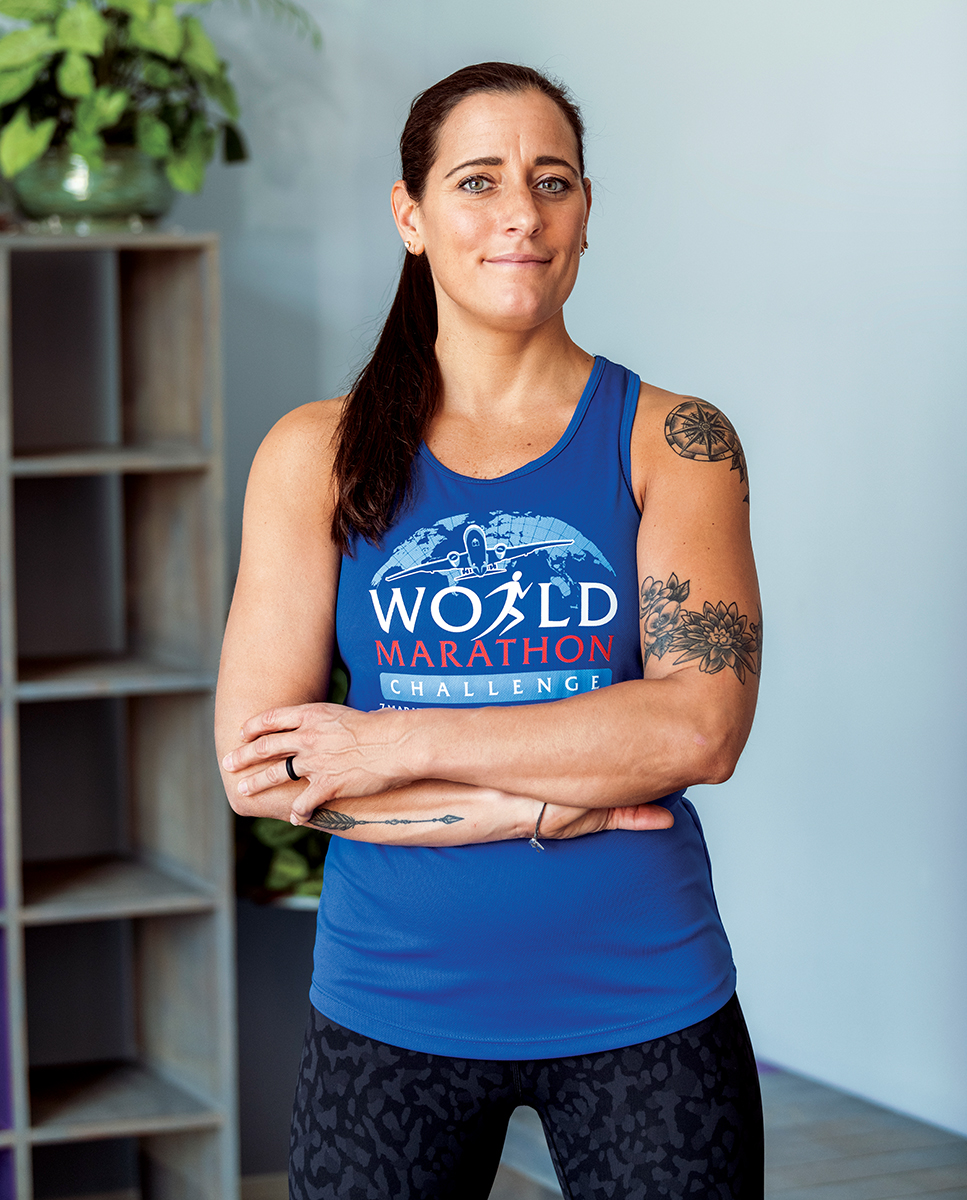 With one marathon to go, I was hurting, but I just wrapped up my swollen leg because I thought, I'm here, and I didn't come this far to only come this far, so we're going to do this. It's not going to be pretty, but we're going to get it done.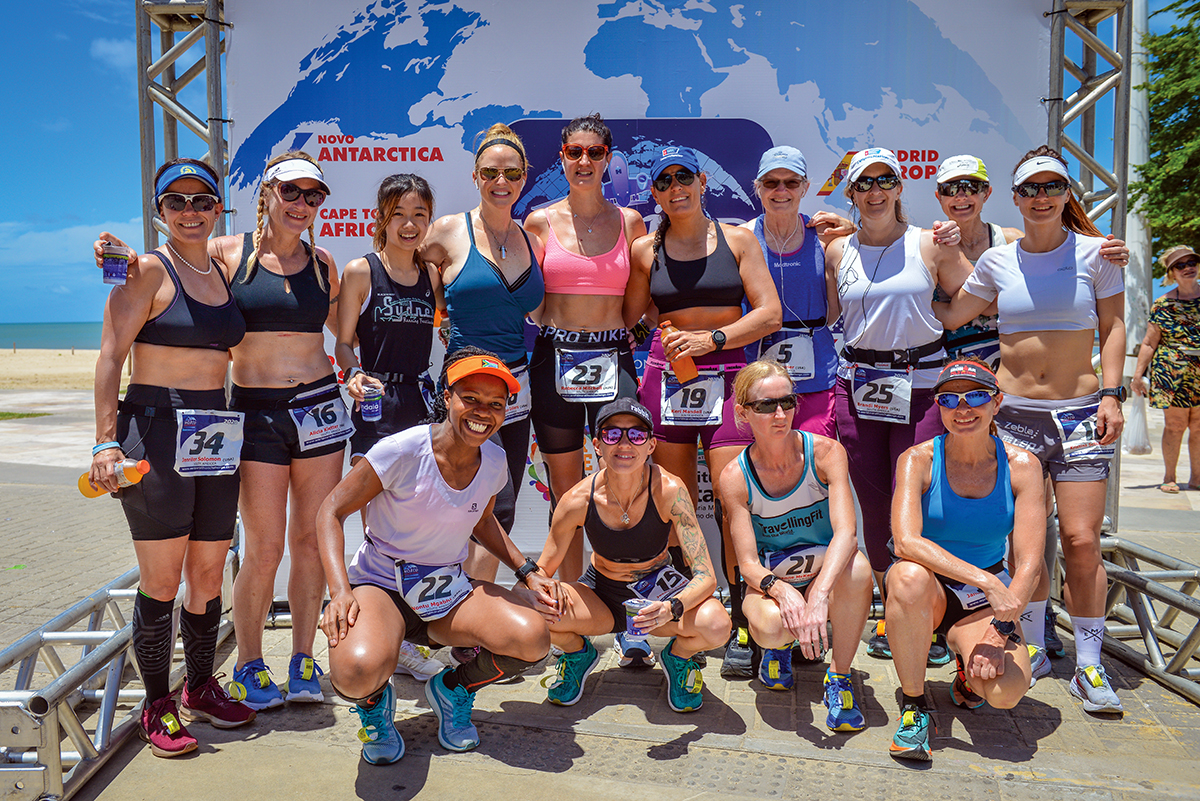 By the Numbers
7 marathons
7 days
7 continents
73 hours in the air
14 hours of sleep
3 showers
1 near-death experience on Antarctica
95–degree heat in Brazil
14 different languages
16 times zones
64 bottles of Gatorade
144 bottles of water
32 bananas
2 trips to McDonalds
What the heck did I just do?
For several years, when I told people what I was planning, they actually looked at me like I was nuts. Afterall, it was only 6 years ago that I ran my very first marathon. But to be honest, I'm getting used to people questioning my plans. About 4 years ago, when I told people I was going to leave my career in education to open my own yoga studio in Ewing, NJ, the reactions ranged from Have you lost your mind? to That's a huge mistake. But I'm pretty strong-willed, as you may have guessed. In fact, my fellow World Marathon Challengers nicknamed me The Grinder because there's pretty much nothing that can stop me—driving wind, pain, hunger, you name it.
This whole journey was really just that—a test of wills. But I was ready for it. After I lost both my dad to multiple myeloma and my step-mom to metastatic lung cancer, I knew I wanted to do something meaningful, and I when I discovered the World Marathon Challenge, I knew I'd found the adventure I wanted to sink my teeth into. I partnered up with the American Cancer Society in June 2019 and started raising money. I trained my body hard—at my high-water mark, I was running about 80 miles per week.
But the conditioning of the body to withstand nearly 200 miles of running in a week is really just one layer of this challenge. The mental part is equally as daunting and something you can only partially prepare yourself to handle. My mental fortitude and perseverance were brought to the brink in Antarctica. The race director told us it would be summer there, so we were expecting cold, but much milder than what you think of as Arctic weather. Instead, it was stone-cold freezing.
The longer we were out there braving the elements, the worse the conditions got because the snowdrifts continued to grow. During some points of the course, the snow was up to my knees. Fortunately, I wore waterproof Gore-Tex sneakers and two pairs of socks (not to mention two pairs of wind-proof pants and three pairs of gloves with hand warmers), so as long as I kept moving, I was okay. But if I stopped, it was unbearable. At one point, a bunch of us linked arms and joined together for warmth, and we took turns blocking the wind. A few other racers had to tap out because the conditions were just so brutal, but my mantra was, You will not break me. Antarctica, you will not break me.
When I finished the marathon, I had to walk the other half-mile back to the container to try to find warmth, to get clean clothes, and to find something to eat. I literally walked in and started to cry. I was like, That was the worst thing I've ever done. And everybody kind of had that reaction. There were 14 girls, and we literally all cried.
Test of Will
It took about 18 hours to get to our next stop in Perth, Australia, so I actually got a little rest during that stretch. I really pushed myself during that marathon, a little too hard (4:52:16). I wanted to have a fast race and make up for Antarctica, which took almost 7 hours to complete, but by the end my knee was in an incredible amount of pain, and I wasn't really able to walk. I kind of hit a wall, and I walked into another room to collect myself. At that point, a crow flew down right up to the window I was standing beside. I have this thing where crows make me think of my dad. The crow started cawing at me, and I felt like it was him cheering me on. When I told my husband, he said, "That's a sign. He's telling you you've got this."
That perked me up, as did the four large orders of fries and chicken nuggets I ate at the Dubai Airport, despite the fact that eating fast food is something I never do. But Madrid was next, and it nearly did me in. The marathon was on a Formula One racetrack with banking turns, so it was never really flat. I sort of felt like I was running on an angle the whole time, and after that race my ankle ballooned up. Ten hours after we finished Madrid, we ran again in Fortaleza, Brazil, in 95-degree heat. We were pounding electrolytes, but you just couldn't get enough salt into your body. We were getting a little dizzy and delirious. There's a picture of me hysterically crying after I finished that marathon. Part of it was the physical pain, but I was also very worried I wouldn't get through Miami for the final stretch.
The doctor looked at my leg. He said the swelling was from overuse (of course). "There could be something going on," he told me. With one marathon to go, I was hurting, but I just wrapped up my swollen leg because I thought, I'm here, and I didn't come this far to only come this far, so we're going to do this. It's not going to be pretty, but we're going to get it done. I had no doubt that I would finish; it was just a question of how much pain I could tolerate.
But when I think back, there were so many points when I could have made an excuse, and no one would have thought twice. The extreme weather in Antarctica and Brazil or the swollen tree trunks I had for ankles would have pushed plenty of people to tap out, but it never really crossed my mind. My husband put quotes in each of my bags to pump me up, and I remember one read, "The pain is a reminder that you are alive." At that point, I thought about what would be worse—the pain I was in at that moment or the long-term pain of knowing I didn't finish because I gave up on myself.
During that last race, I thought about my dad a lot. Maybe this sounds crazy, but along the last 2 miles, there was a crow that wouldn't leave me alone. He kept cawing at me. In my head, I thought, Okay, Dad, I'm going. I'm moving as fast as I can, and I'm going to get there.
And I did. I mopped up the blood, sweat, and tears and fueled that last run with a steady diet of guts and adrenaline.
Although I have an Iron Man coming up this summer, I'm still figuring out exactly what my next major adventure will be. I know I will be an ambassador for the American Cancer Society, and I'll continue to support the cause. But in 2 years, I'm turning 40. To ring it in right, I'm thinking I might run the North Pole Marathon. Yes, you have to overcome the sub-zero temperatures to run 26.2 miles in one of the most remote parts of the planet. Go ahead, tell me I'm crazy. Tell me I can't do it. I guess we'll see. I have a feeling I can grind it out.