Buh-bye, sweaty studios. Hello, digital fitness. Here's how more of us are finding ways to work out from home, and how to make the most of all of the on-demand exercise options.
Adi Strigl rolls out her yoga mat and sits cross-legged on two blocks, waiting to start her Thursday night yoga class at Peaceful Journeys yoga studio in New Britain, Pa. Except her students aren't trickling into the room like usual, unrolling their own mats, and talking to each other in hushed tones. Strigl is alone, iPad perched in front of her so that her students—more than a dozen of whom have all logged in to their own devices to take class with her on Facebook Live—can breathe and flow with her tonight.
"Hi, is everyone there?" says Strigl. As her students log in, Strigl sees hearts start floating up the screen. "Okay," she begins, "tonight's practice is all about grounding and slowing down. During a time like this, what else can we do?"
Strigl is streaming this yoga class during the height of the novel coronavirus outbreak—a time when gyms, yoga studios, schools, restaurants, and other public gathering places are closed. During this global crisis, moving our bodies—albeit in a different way than we're used to—is more crucial than ever, she says. "So, many of us are anxious, overwhelmed, and really losing it during these uncertain times. Exercise—and the community we create through that exercise—is such a sanity saver."
Yet, with new and constantly changing laws in place to reduce the community spread of the coronavirus, Strigl and other yoga teachers, personal trainers, and exercise professionals around the world have had to rethink how they reach their students—and the rest of us have had to change up our go-to fitness routines, too. "I know taking a class online is a very different experience," says Strigl. "But I can still feel the love through the screen."
Even before the COVID-19 outbreak forced us to ditch our go-to exercise classes, the digital fitness trend was booming. In fact, according to marketing insight firm Cardlytics, on-demand fitness spending jumped nearly 59 percent in the last year compared to just 5 percent on fitness classes and gyms. The good news is that during a time when our well-washed hands are tied and we have no other choice but to exercise at home, the online infrastructure already exists—and the options are endless.
"I think it's really important to stay open to different ways of working out right now," says Katie Peters, a Long Island-based personal trainer and owner of a boutique fitness studio, Underground Training. "It's more crucial than ever to keep moving and sweating, and to do that from home, so that we're all doing our part to stop the spread of this virus."
The Upside of WOFH
If you're used to the euphoria that follows a sweat session at your favorite fitness studio, working out from home (WOFH) may feel like a big bummer at first. But if you need some motivation to give it a try, consider these benefits:
It'll inspire you to switch up your go-to routine. Peters knows how annoying it feels to be out of a groove that's working for you. "It's so frustrating," she says, "but doing different exercises can mean you're working new muscle groups, which can lead to great results." Trying something new can also give you a chance to check out a workout that's been on your radar but you haven't gotten around to doing yet. That's what happened to Jess Kelleher, one of Peters' clients. "A friend texted me a link for a free 2-week trial of The Class by Taryn Toomey online, which is something I've been wanting to check out in New York City," she says. "It was right up my alley—so much fun, and even something I could do with my kids in the living room." 
It'll keep you on track the next time life gets cray. Working long hours to get a big project finished? Traveling for business or fun? Odds are your workout is one of the first things to get slashed from your schedule. Taking some time now to find digital-based workouts you really like can mean you've got a great fallback for the next time you have to sneak in a workout between two conference calls or in your hotel room before you and the fam sit on a beach all day.
It can put you in the zone. When you're sweating solo in your home, it can be easy to cheat—after all, nobody's watching. But if you push yourself, working out at home can actually prompt you to focus more, says Peters, because there's no chance of getting distracted by others. "For some, that silent competition is motivating—but for others, not so much," says Peters. "What I'm finding when I do virtual personal training is that there's still a lot of energy between me and the person I'm training, even through the screen. Yes, I can see you in real time and call you out if you're dogging it. But there are also fewer distractions, so it can be easier to get in the zone."
It can set a great example for your fam. If you work out on the regular, your kids already know that you value fitness. But actually seeing you pushing yourself as they walk by to get a snack or look up from their iPads is big, says Peters. "It's a signal to them that fitness is important to you, and that you value it," she says. And it might even inspire them to join in. Aurelle Genzlinger, who works out at 6 a.m. every day at GFit in Huntingdon Valley, Pa., turned to her gym's at-home workouts during the COVID-19 outbreak—and her teenage daughter has joined her for many of them. "GFit is sending us daily workouts to do at home, which has been incredible," she says. "On days when I don't work out, I find it a lot harder to hold it together."
So many of us are anxious, overwhelmed, and really losing it during these uncertain times. Exercise—and the community we create through that exercise—is such an important sanity saver.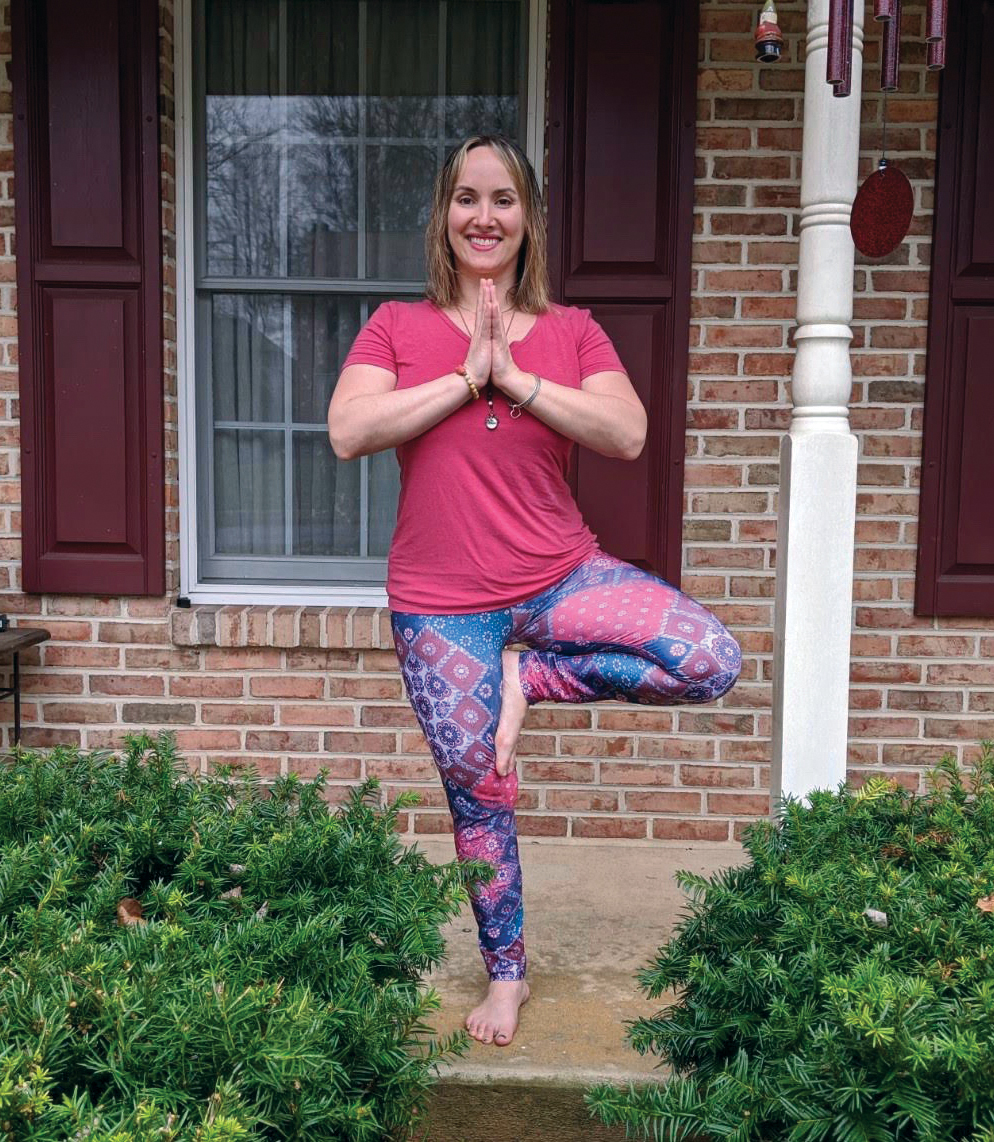 How to Create the Right Space
Put your phone on airplane mode
The ding or buzz to alert you that you've got a new text or e-mail will take your mind off the task at hand: Pushing yourself hard.
Get set up
Grab any equipment you'll need, roll out your yoga mat, put your water bottle somewhere handy, and keep a towel nearby to wipe your sweat.
Scan the space
Is there a stack of papers on the coffee table that's going to stress you out? Or a pile of unfolded laundry that's going to annoy you? Move it, hide it, or handle it before you get started so it doesn't wreck your focus.
4 Deals on Digital Classes Right Now
Orangetheory:
You can do a 30-minute workout video every day featuring some of this national chain's most popular trainers. Even better, the workouts don't require any gym equipment. orangetheoryfitness.com
Peloton:
No need to buy a spendy bike to take advantage of Peloton's app, which they're offering free to new users for 90 days. You can use the app to take spin classes using any stationary bike, or try one of their yoga, meditation, body weight cardio, or strength training workouts. onepeloton.com
Gold's Gym:
Through the end of May, you can check out more than 600 audio and video workouts for free on this app. goldsgym.com
Fhitting Room:
This NYC-based HIIT studio updates their content library weekly, and now you can try it for 30 days free. ondemand.fhittingroom.com