With the right group exercise, working out doesn't have to be such a chore. It can also help you achieve exactly what you're trying to accomplish at the gym. Here's what to look for in your next class.
We've come a long way from Jazzercise. From spin to yoga to Tabata, there are plenty of group class options now, which is good because something that works for one person may not work for another.
–Megan Sweitzer, owner of 3 Retro Fitness gyms
Music Matters
Music is important to group classes and can help pick people up the pace when the going gets tough. "The music is what takes the class on a journey," says Briehler. "We start off in the warm-up and the music's a certain tone, and then, before you know it, you're working really hard and having a great time."
Studies have shown that listening to the right songs during exercise can reduce how tired a person feels and can even increase performance levels. The question is, What makes the right song? "I try to play a variety of music when I'm leading a class," says Sweitzer. "Generally, they're upbeat songs that aren't too edgy because I need to please a variety of people." You want to make everyone happy and take their minds off what they're doing.
You don't have to dig too far into the memory box to pull up images of step aerobics, with its purple legwarmers, as the only game in town when it came to group fitness. But these days, most gyms and fitness centers are loaded with options, whether you're looking to weight-train or dance or ride a stationary bike. In fact, there are so many choices that it can be hard to determine the best class for you.
"We've come a long way from Jazzercise," says Megan Sweitzer, owner of three Retro Fitness gyms in East Norriton, Southhampton, and Holmes, Pa. "From spin to yoga to Tabata, there are plenty of group class options now, which is good because something that works for one person may not work for another." As a gym owner, Sweitzer knows the value of group fitness classes when it comes to exercising regularly and staying accountable. "Group classes help our members regularly set aside the time to exercise," she says. They can save your sanity, too. The right class will keep you motivated to stay in shape through the frigid winter months in a way that a treadmill never could.
"The members who wander around the gym not knowing what to do are the ones we lose," says Sweitzer. "I see it all the time, and I want them to find some classes they like so they'll start to come more often."
When it comes to creating her group class lineups, Sweitzer says the hardest part is figuring out how to please as many people as possible with only a few classrooms. "The early-morning people are total Type A and want to get in a high-intensity workout before heading off to conquer the world," she says. "And the ones who come in the evening are looking for fun, high-energy classes that let them blow off some steam." Her approach is to rotate through class offerings as much as possible so members can mix up their workouts even if they come at the same time every day.
While exercise variety leads to better fitness, it often also means trying something new. For most members, taking a new group class requires moving out of their comfort zone and performing unfamiliar exercises in front of strangers. "I always compare going into a new class to going on a blind date," says Michelle Briehler, personal trainer and group exercise specialist at PEAC Health & Fitness in Ewing, N.J. "You don't know what to expect at first, but if you keep coming back, you get more familiar and can start to turn up the intensity as you get more comfortable." It just takes a while to master a new set of exercises and move seamlessly in time with the music.
Even so, learning to love an exercise class doesn't mean you're going to enjoy every second of each session—or that things won't occasionally get a little awkward. Like any healthy habit, it takes time to make it stick. To give you a leg up, we asked some local personal trainers for their group exercise class recommendations. Here are their suggestions for some of the most popular ones.
Best for calorie burn
Nick Rueger, personal training manager at Retro Fitness in Holmes, Pa., recommends Tabata for maximum burn, "because of the pacing, the intensity, and how it mixes weights and cardio," he says. Tabata focuses on short high-intensity interval sets that redline your heart rate for 20 seconds with brief 10-second intervals in between. "High-intensity interval training classes are so popular because you can burn as many calories in 20 minutes as you would doing something at a lower intensity for an hour," says Briehler. "The trick is to mix up your workouts so you give your body time to flush out a little bit and recover, and then go back at it hard."
Group think:  While you can mix it up with Grit or other HIIT workouts, killing yourself doing only high-intensity intervals isn't a sustainable exercise plan. Your body needs time to recover—it's not a good idea to do intervals every day.
Best for having fun
For women who wouldn't be caught dead doing Zumba, but are still looking to get in a fun, intense cardio workout, there's Pound, a class that combines dance moves with drumming. "Using the weighted drumsticks to beat the ground and wave in the air helps build muscle tone in your upper body," says Rueger. And a good 45-minute Pound class can torch up to 900 calories without ever making you feel like you're working out.
Group think: "There are plenty of people who don't like to feel like they're exercising every day," says Sweitzer. "With classes like Zumba and Red Hot Dance, they can have a great time and still get in a great cardio workout."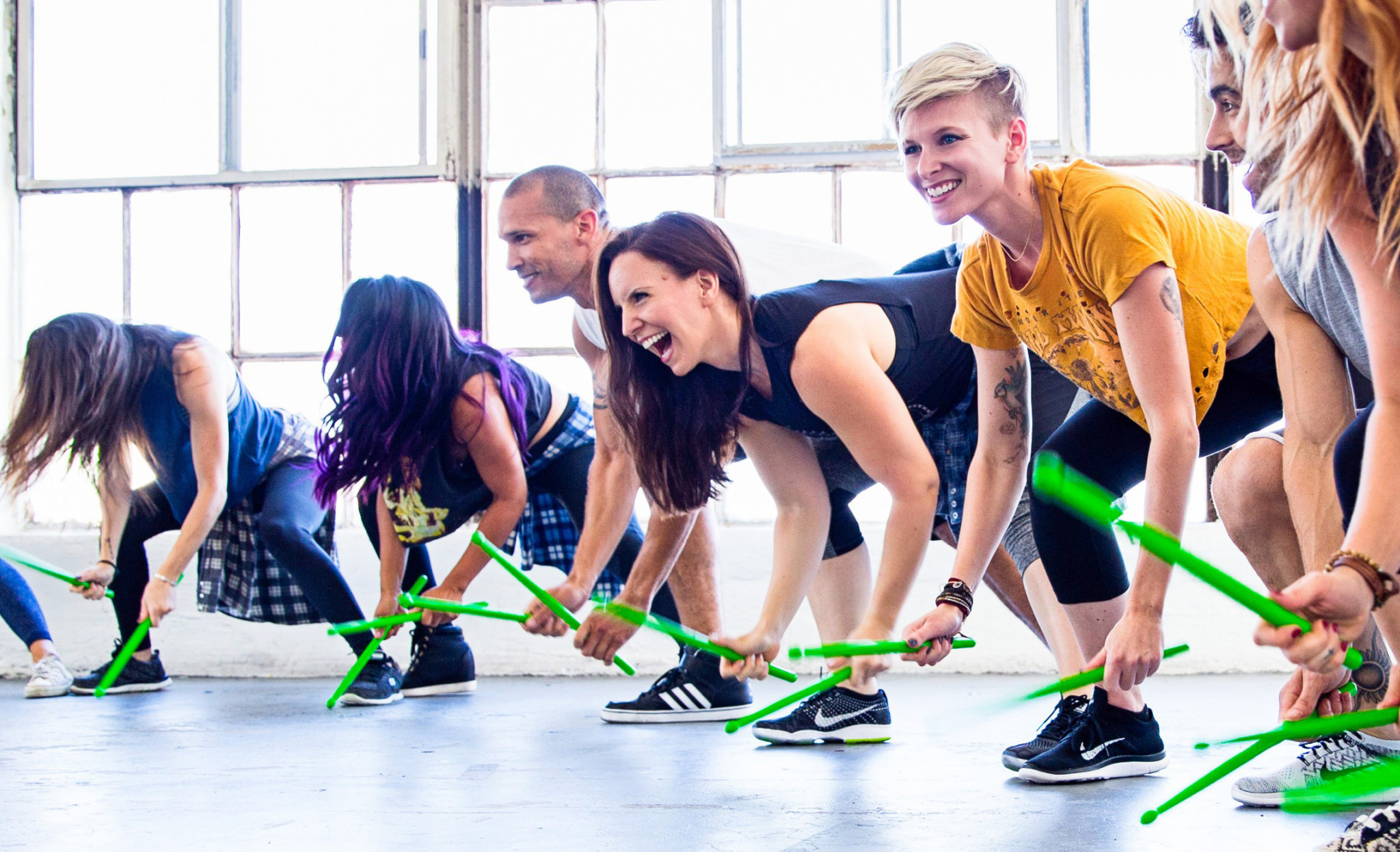 Three Things That Should Be in Your Gym Bag

As a medium-distance runner, I admit it: I'm a sock snob. And I also overheat (the puddle of sweat under my spin bike is proof). While some socks make you feel like you're wrapping your feet in Saran Wrap, these feel like you're running on pillows without making you feel too hot. I'm not a socks-and-underwear-for-your-birthday kind of person, but for Balegas, I'd make an exception. $12–15 per pair
You may have noticed the Lifeforme mats popping up in your classes lately and admired the subtle graphic lines that cross them. The mat is an investment—$140—but if you plan to bring yoga into your regular routine (which is a great idea), this product helps with hand and foot placement and body alignment. The Lifeforme mats were created by yogis, which explains why you remain rooted in place, instead of slipping and sliding, especially during hot yoga or Vinyasa. Steep price. Worthy investment. $140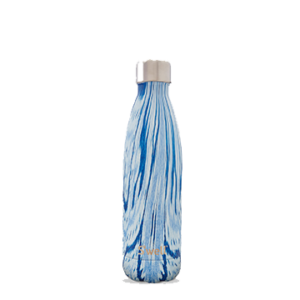 It was 98 degrees F on the beach last summer, so we packed the S'well with ice to keep the water from heating up. No need. The ice didn't melt. In fact, it still hadn't melted the next day. And if you take your S'well skiing, you can keep your hot chocolate toasty-warm for 12 hours. You can get your S'well hand-painted so you can't mistake which one is yours. Plus, no more plastic water bottles! $35–45
Best for making friends
Is there a better way to find a new bestie than to do intense interval training side-by-side as part of a team? That's the approach taken by group training classes, which foster camaraderie by putting a squad of gym members through intense strength training and cardio circuits custom-selected by a personal trainer. We're talking everything from kettlebell squats and pull-ups to rowing and burpees. "This approach makes every single person on the team accountable to each other to show up each day and really push themselves," says Sweitzer. The Team Training classes at her gyms also display each member's heart rate on huge screens during interval sessions. "Besides establishing a level playing field, seeing their heart rate shows the team how to feel when they're really burning calories."
Group think: Like other group training programs, CrossFit offers short, intense workouts that include everything from running and rowing to deadlifts and bench presses, though it doesn't focus on heart rate like Team Training or Orange Theory.
Best for a strong core
"Pilates is a great way to increase core stability," says Rueger. "Especially when you combine it with an abs shredder class focused on building strength." Pilates gets results because it involves both simple and compound movements, which means numerous joints and muscles are engaged in each move. The strength you gain through Pilates comes with better flexibility. And the nonstop movement can burn some serious calories.
Group think: PiYo classes are a sort of athletic yoga that moves to the beat of the music. "It's a combination of Pilates and yoga that's focused on stability and dynamic flow," says Briehler.
Best for building endurance
While spin classes are a great way to burn calories and build lower-body strength, they also boost your cardio endurance without putting your joints through the wringer. And a new breed of spin classes supercharges your endurance even more by mixing in weight training and calisthenics to engage more muscle groups and strengthen a wide range of smaller muscles that tend to tire out quickly. "The idea is to jump off the bike to do squats and push-ups then jump back on without taking a break," says Rueger. Called Total Body Spin or Spin and Pump, this new approach to spinning can take your overall fitness to the next level.
Group think: Kickboxing classes are a great way to work out aggression while supercharging stamina through a series of punishing drills.
Best for sore joints
"Barre classes appeal to a lot of people because there's no impact on the body," says Briehler. Barre merges ballet conditioning with light weight work and some yoga to strengthen your muscles while also stretching them, especially the core and smaller muscles in the legs and rear. "It's very isometric, very isolated," says Briehler. "You get your heart rate up, while still reaping the benefits of the cardio. You get a lot of strengthening because there's a lot of body resistance you're using, and it's fun."
Group think: Since yoga uses your own bodyweight for strength-building purposes and engages numerous joints and muscles in each move, it provides a reliable way to tone muscles while building openness in your joints. Done regularly, yoga can even improve your posture and make you feel longer and leaner.