Almost three decades ago, Lisa Bieber David spent her first summer at Camp Harlam in the Poconos. Now, as the camp's first female director, she says the overnight camp experience is needed more than ever to give kids the chance to unplug and make lasting connections.
Of the seven Lisas in her middle school grade in Fairless Hills, Pa., Lisa Bieber was perhaps the shyest of them all. Under a spray of spiralling brown curls, she was quiet and uncertain, so she followed the rules and the crowd to avoid standing out.
To encourage her to stretch her wings, her parents sent her, when she was 11, to Camp Harlam, a Jewish sleepaway camp tucked in the foothills of the Pocono Mountains. Even though she immediately liked her counselors and the other girls, on her first night there, Lisa felt a little scared and homesick when she lay on her bed to go to sleep. "This girl Rachel [Cohen] was in the bed next to me, but there was a cubby between us. Once I let myself be vulnerable and say, 'This is scary, and I'm away from home,' she said, 'Yeah, I'm a little scared, too,'" Lisa recalls. "That night, we made up a secret code where we would knock on the cubby when we were feeling afraid. Knowing I had that support and the validation of how I was feeling allowed me to connect with someone. That was really amazing, and it's something I think about all the time."
The experiences she had at camp and the friends she made were transformational, and changed the course of Lisa's life. Friends at camp were a little different from what she knew—they didn't expect her to fit in a box, and instead of being known for her insecurity and shyness, Lisa came to be known for some of her more unique qualities. She was a good listener and  a caring friend, and she would surprise her peers and counselors with her wit and humor. The confidence to express those qualities started with a new name. "I loved my counselor, Jyl Skolnick. She was so cool, and she gave me my first nickname. She called me 'Biebs,' and it stuck—that's what everyone called me after that," Lisa says. "It almost named the persona I had at camp. It was this fresh slate. Jyl knew me and named me, and that was really powerful."
Nearly three decades later, it's funny to think of that first summer and how much the camp experience came to mean in all facets of her life. Rachel became a lifelong friend, and Lisa married a man—Ben David—she met at camp when they were 11 years old, and together they have a daughter and two sons. Then, 2 years ago, after 15 years working on education initiatives and inclusion for Union for Reform Judaism (URJ), Lisa became the first female director in the camp's 60-year history.
First as a camper, a staff member, then as a supervisor, and now director, Lisa has experienced the positive impact of overnight camp for all kinds of kids. "Being in a new environment as a camper and living and playing around peers and adults really cultivated the best version of myself. It was eye-opening, and it changed the course of my life personally and professionally," Lisa says. "Having young-adult role models who saw value in me because I was a caring friend or a good listener was really empowering. I was probably still shy and quiet at times, but I returned home with new strengths and belief in myself."
Being in a new environment and around peers and adults who really cultivated the best version of myself was eye-opening and wonderful and changed the course of my life personally and professionally.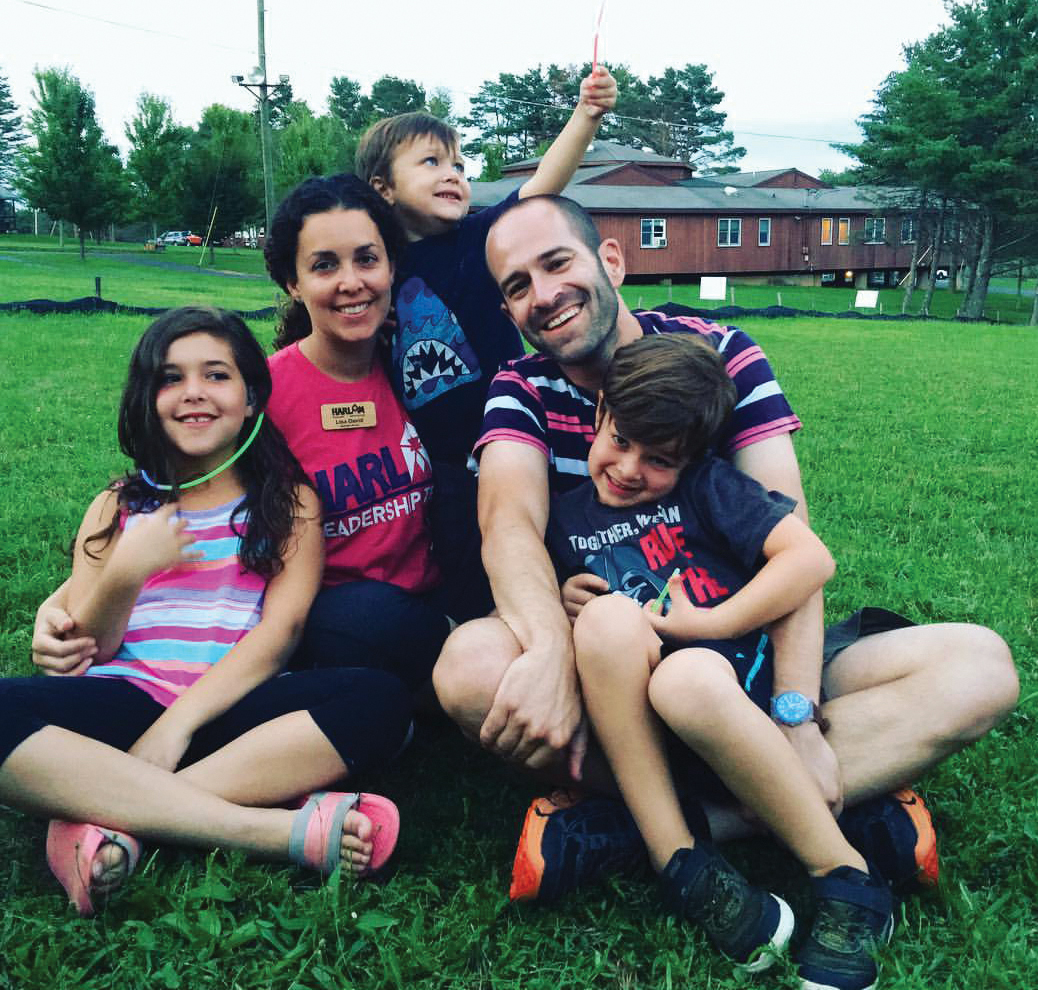 Why Camp Still Matters
As ever, summer camp remains about building independence and resilience and giving kids a chance to separate themselves from some of the negative influences outside, Lisa says. Today, those concerns may be video-game addiction, cell-phone dependency, or even social media, but young people still have identity issues to overcome, whether they are related to body image, the temptation to take drugs, or family problems, like divorce and illness. "As a parent of three young kids, I feel like there's an even greater value to camp. As our culture has changed, there's something camp offers that's hard to find elsewhere. There's no screens allowed at camp, and there's lessons you learn there that are unique to camp, especially overnight camp," Lisa says. "At home, most kids have the opportunity to immerse themselves in social media and hide out in a virtual world, but at camp you have to deal with whatever issues you encounter head-on. Camp is seen as all fun and recreational, but there are also challenges and value in learning how to live with people. We help them through so it can be a good, positive growth experience."
Lisa discovered those benefits firsthand as a camper in high school when her dad was fighting cancer, and now she fosters an environment in which other kids can lean into the friendships they make at camp to help them through their own challenges at home. "At the most difficult times in my life, my relationships with camp friends helped me through. Honestly, I didn't tell my high school friends that my dad had cancer, but my camp friends got me through that time very literally," Lisa says. "I remember everyone was getting their driver's licenses, and I didn't have one because my dad wasn't there to teach me to drive, so my camp friends drove me around. They really were there for me."
Even in her adult life, Lisa leaned on her relationships with camp friends and co-workers to help her through the most frightening periods of her life. In January 2016, her husband, Ben, whom she'd met during her first summer at camp and started dating during her senior year of high school, was diagnosed with lymphoma at 39 years old. Ben ran the congregation as a rabbi at Adath Emanu-El in Mount Laurel, NJ, and with three young children, their lives were already demanding. Although his cancer treatment was aggressive, Ben's prognosis was good, and within 6 months his overall health was good enough that Lisa was inspired to pursue a role at camp that would make history. She sat down with her supervisor at the time, and they worked together to restructure the whole organization.
The reorganization resulted in Lisa becoming the sixth director in the camp's history and the first woman to take the helm. "Being the first woman in the role was important to me personally, but it was also really gratifying to see how much it mattered to others. Last summer, about 2 weeks into training the staff, a female staff member pulled me aside and asked if we could talk a minute. When I walked into the room, all the females on the leadership team were there wearing "The Future Is Female" T-shirts, and they had prepared remarks about me, but also about what it meant for this institution to be led by a woman," Lisa recalls. "There's power and value in that, but it's not just about me. It's about people having role models and the perspective that I bring to everything we do."
While there may be pressure associated with being the first woman to run the camp, Lisa recognizes the distinct opportunities for teaching young people in this particular moment in time, keeping pace with what's happening in the broader culture. For example, Lisa and her leadership team are well into their planning for the summer curriculum, which will include in-depth discussions about the #metoo movement. "As with everything at camp, we try to make it an opportunity for learning. It's a conversation that will be front and center this summer," she says. "We'll be training our leadership and all of our staff, and talking to the campers about what it means to speak up, advocate for yourself, and what our expectations in terms of them treating each other respectfully and fairly."
While camp is still mainly about having fun and getting a break from the rigors of school and the pressures of being an adolescent, Lisa says teaching about social justice in a tangible, hands-on way is a significant part of the overall experience at Harlam. While she knows she can't reach every kid, she never forgets that there's probably a shy, curly haired Biebs headed to Kunkletown, Pa., this summer, just waiting for her chance to thrive.
Culture of Inclusion
Something that's been really important to me personally is creating an open and safe community, being intentional about the inclusion of kids with disabilities, interfaith families, and those with families on the LGBTQ spectrum. In order to do that effectively, we've infused resources. We've added to our professional staff people with that expertise. We've built trust with families. We've created accommodations. The concept is straightforward—everyone has value, and we try to live that way. There's a difference between including people because it's a nice thing to do for them versus the idea that our community is actually diminished when they are not represented. It's not something we do out of pity—we need them here.
At camp, we try to create natural proportion, so we have representation from groups that might be marginalized that is equal, percentage-wise to their presence in the larger community. We also talk about universal design at camp—if we're talking about making an accommodation for a camper with a disability or a camper who has a mental health concern like anxiety, generally what we do is good for everybody. One example would be a program where we need to use a microphone because a camper has hearing loss—everyone benefits from hearing things clearly. We have these principles we apply to the work, and then we bring in professionals who can put those things in place. So, it's been about changingpolicy, changing culture, investing resources, building trust so we have a good reputation, and then bringing talented people into the mix. —Lisa David