Patrice Banks left a career with DuPont that was on cruise control to become a mechanic. Now, she is on a quest to teach women everything they should know about their cars.
Car repairs can be daunting. Between exhaust manifolds, coil-over-plugs, and harmonic balancers, you sometimes feel like your mechanic is speaking a different language. This all makes it hard to know if you really need the repair your mechanic is suggesting. Patrice Banks knows exactly how you feel. Just a few years ago, the one-time auto neophyte hated bringing her car to the mechanic. "I always felt taken advantage of," says the 35-year-old Phoenixville, Pa., native. "Growing up, I was taught how to drive the car, but not how to take care of it." She adds that there are plenty of women who feel this way and are told to just ask a guy for help.
Unfortunately, being unfamiliar with the ins and outs of your engine comes at a price. According to a Northwestern University study, women are more likely to be charged more, on average, than men for similar repairs, especially when the woman demonstrates that she doesn't know much about cars. "I didn't like feeling powerless," says Banks. "I had my own house, and I had my own car. I had my own money, my own career." At the time, in 2011, she was making six figures as a materials engineer at DuPont, determining how equipment at chemical-processing plants, like centrifuges, breaks down. And she gave it all up to learn how to fix cars.
With women making up only 1.4 percent of the automotive technicians in the U.S., Banks saw an opportunity to upend the industry. "As I started doing research, I realized women are the number-one customers in the automotive industry, by far," she says. "There are more women drivers than men, across all age groups. Women influence up to 95 percent of the car-buying decisions. And women take their cars in for repairs more than men." She envisioned a car-repair shop stocked with women mechanics that catered to female drivers and provided resources to educate and empower women to feel more confident about their cars. "I was tired of being an unempowered female driver, and knew I could do something about it."
I was tired of being an unempowered female driver and knew I could do something about it.
—Patrice Banks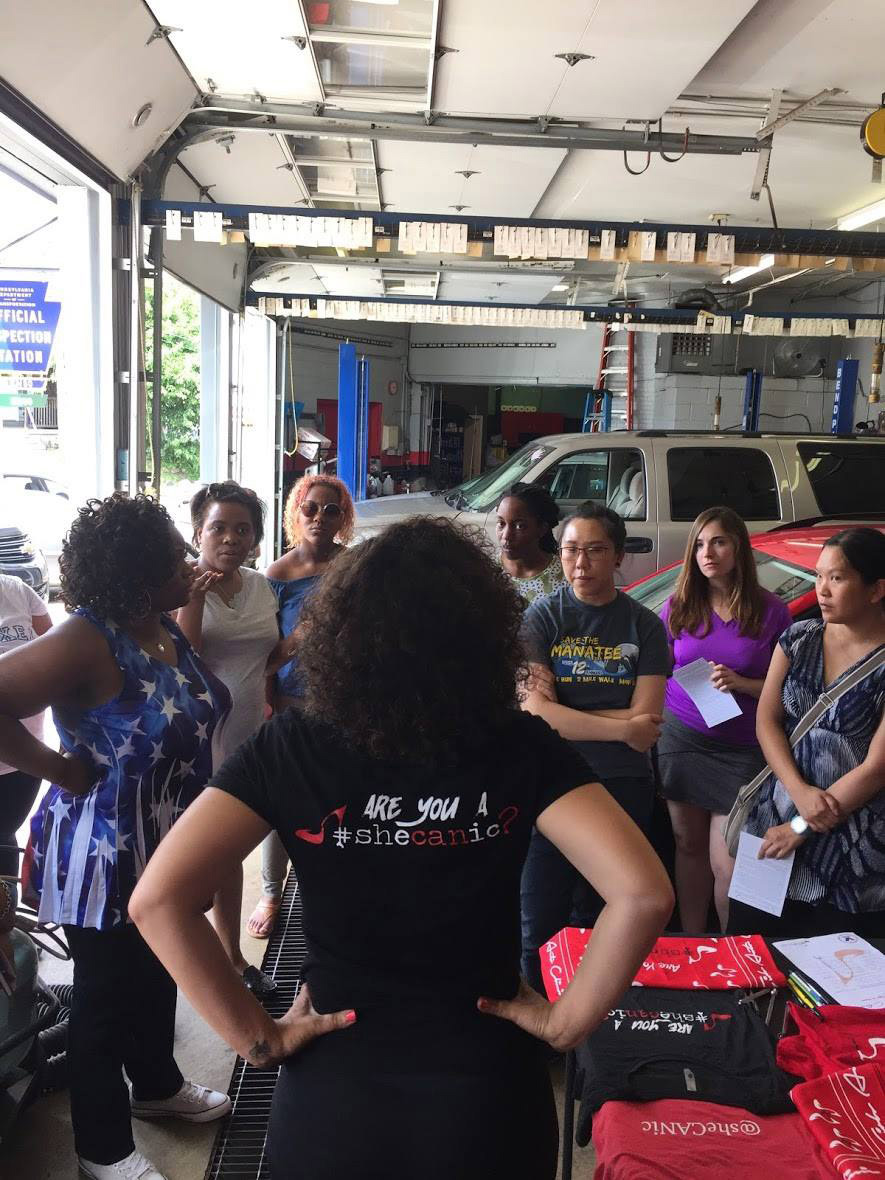 The Girls Auto Clinic is a local business with a big message about changing the relationship women have with their cars.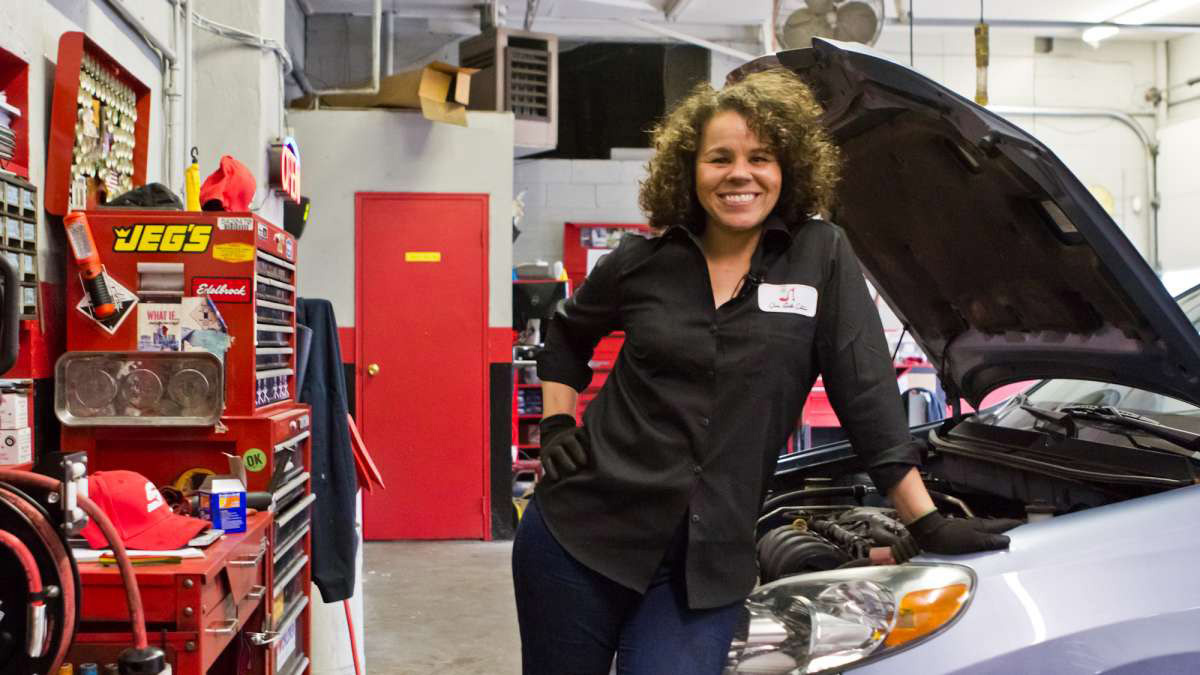 Patrice Banks teaches women how to care for their cars through her auto-repair shop and instructional clinics.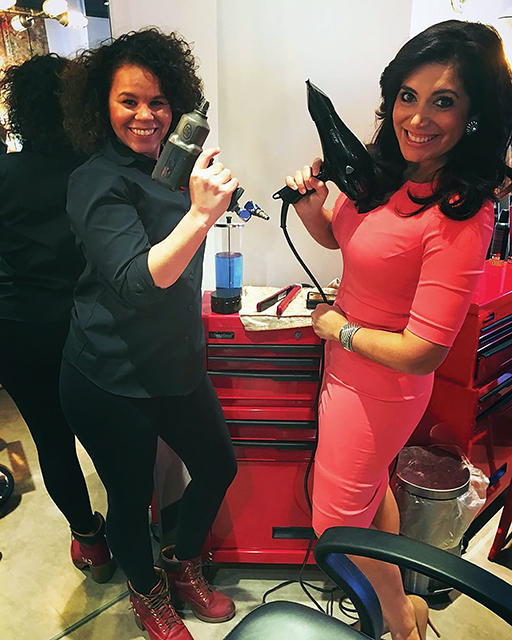 Beyond the Nuts and Bolts
Yes, the Girls Auto Clinic Repair Shop will fix your car. But it also boasts a full-service salon that offers manicures, pedicures, and hair styling to fill the time during an oil change or tire rotation. "I got that idea when I was at DuPont and would go on my lunch break to the Jiffy Lube that was next to a nail salon," says Banks. "Then I could get my nails done while I was getting my oil changed." Since her first workshop, Banks had been telling her audiences that she would open a repair shop someday, and so, when the doors finally opened, she had hundreds of area women calling to make an appointment. "I love it when they bring their kids and say, 'I've never seen a woman working on a car,'" she says. "That's empowering."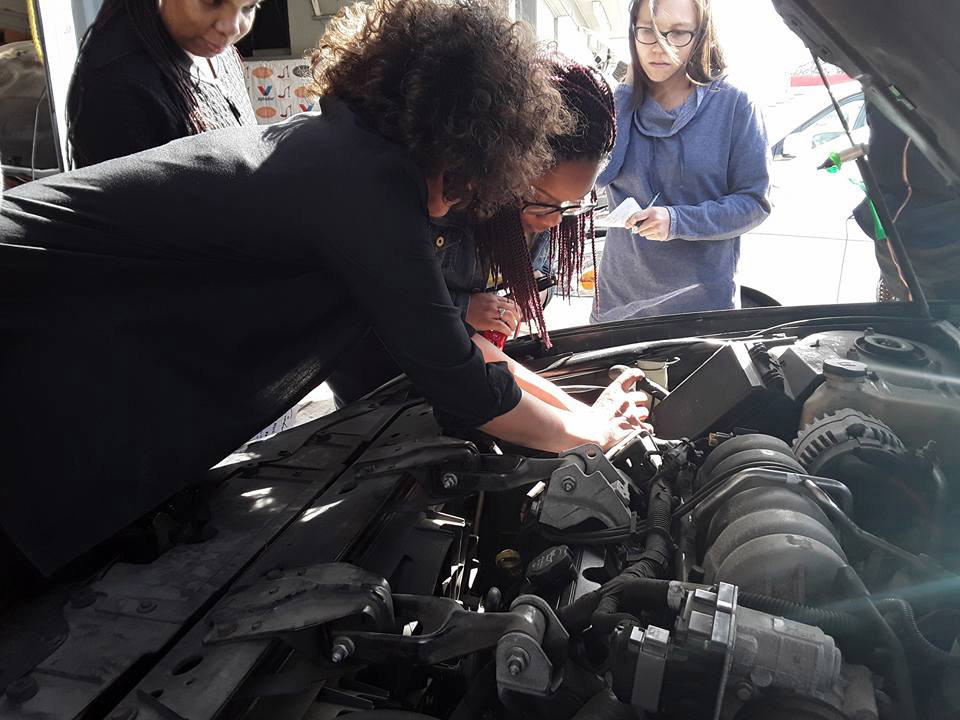 Patrice Banks staffs her repair shop with women mechanics to help female drivers.
Yes She Can
In 2013, Banks received her degree in automotive technology, got a job at a local repair shop, and set about creating Girls Auto Clinic, a website and an online community for fellow SheCanics. "That's when I started blogging car tips in ways that would be relatable for women," she says, adding that her goal was to write about boring mechanical details in a way that wouldn't make her readers' eyes glaze over. "I would say things like, 'Think of your engine like a vagina,' or, 'Does your car have boogies?' or, 'Your car battery is like a cellphone, and your alternator is like a wall charger.'" Making these kinds of connections has paid off.
The Girls Auto Clinic online community quickly became a safe place for women to learn about how their cars work and to get answers to questions that they couldn't ask elsewhere. "We would get women posting stuff like, 'Hey, my mechanic's telling me I need this, and it costs this much. Does that sound right?'" says Banks. "Or we would get, 'My car's making this noise, and I'm scared. I have no idea how much it's going to cost and what it means. Can you ladies help me?' or, 'How do I know that I need this for my car?'" Along with Banks, a network of female mechanics scattered around the country promptly put together knowledgeable responses to all the questions posted online. The result is a Web resource that's accessible, deeply sourced, and completely personable.
"Being a former auto airhead, I know all the mistakes you can make with your car," says Banks. "I can take my experiences and say, 'This is what you need to know to make the right choice, and everything else is just noise.'" Her focus has always been on being funny, when possible, and staying on point, an approach she calls everything less, and nothing more. Explaining automotive technology works especially well when Girls Auto Clinic conducts free monthly car-care workshops, in which Banks covers the nuts and bolts of vehicle upkeep. "When I started doing them in 2013, one or two people would show up. Now, they fill up in a matter of hours." In the past 4 years, she's run workshops for sororities, Girl Scout troops, and local business groups.
Banks admits that she was uneasy when she first started out in the car-repair industry, but the longer she kept at it, the more expert knowledge she acquired. "I came in saying that I was going to change this industry and that we need more women mechanics, and I believed it," she says. "But I had to make mistakes and be wrong sometimes. And I learned that there are always going to be people out there trying to stop me." But she knew in her heart that she was onto something, and that helped keep her going.
Banks's perseverance paid off when, earlier this year, she opened her own full-service repair shop in Upper Darby, Pa. "Owning a shop is a lot of work, a lot of money, a lot of employees, and I needed to get some experience under my belt before I took that on," she says. "I wanted to work a few years in the industry before I did it." The Girls Auto Clinic Repair Center fulfills her vision of a shop staffed by women that caters specifically to the female driver.
The Write Stuff
It's been a long journey for this girl from Phoenixville. "Growing up, I never felt like I was good enough," says Banks. "Not because I was black or because I was a girl, but really because I was poor, and didn't have the same access to resources as other people." Being naturally good at math and science led to honors classes and a broadening of her expectations of what she could do: "I wasn't one of those girls who put limitations on myself. If I saw something, and it looked interesting to me, I just went out and did it."
This was true even if it involved immersing herself in the male-dominated field of engineering. In college and throughout her career at DuPont, Banks was often surrounded by guys who wanted her to feel like they knew more than her. "They believed they knew everything, so they wouldn't stop talking, and then they would start talking over you," she says. "It can be intimidating, but my experience has always been that there are also men out there that get it—they support you and know how capable women can be." Now that she's working in a different industry, she's ready to embrace the change in atmosphere. "Sure, I'm in a male-dominated field again, but it's one that I have a strong voice in," says Banks. "Now, I need to start leaning in, as Sheryl Sandberg says."
Like Sandberg, Banks has written a book, published by Simon and Schuster, that provides a do-it-herself guide to auto maintenance as well as advice for women on how to get honest car service at the garage. Working on the book while launching her one-of-a-kind repair shop has been equal parts grueling and rewarding for Banks. "I found that I didn't have to be the best writer in the world—I just needed to be authentic," she says. "You have a voice and you can say stuff that people want to read." She's taken the same approach with her repair shop: "You don't have to be the best mechanic in the world to fix a person's car, but you can be authentic and want to help people and solve problems." Then, she says, the rest falls into place.
Banks says that her experiences being poor and being a minority have helped her achieve more than she ever expected. "I have a competitive advantage over people who don't have those experiences," she says. "When you can embrace your individual experiences, in terms of who you are and how you think, you understand what makes you stand out and what makes you valuable." Matching that authenticity with a passion project can make things truly explode. "When you find something that's in your heart, that's in your mind, that excites you, that you like to do. That's your sign that it's yours, that it's meant to be for you." She adds that there are always going to be obstacles, people who are going to get in your way, and problems to overcome.
"You just have to face those things, be aware of them," says Banks. "Not be afraid. Be confident in yourself, and know that you're going to learn from this experience. It's going to make you better; it's going to make you stronger."
Banks attributes much of her success to her softer skills—not giving up, going outside her comfort zone, being disciplined in her studies, her practice, and her work. She says these are things anyone can do: "They have nothing to do with what color you are or how much money you have. While that does help, that's not a necessity for success. The reason that I'm able to do all of this stuff is just because I believe in myself and I'm authentic. I'm not out here acting like I'm the only one with the answers, or that I know what I'm doing. I don't know what I'm doing, and I tell people that every day. I have no idea what I'm doing, but I know I can figure it out."
At the end of the day, Banks has created a place for women to get straight answers about their cars and launched a one-of-a-kind business that's generated a lot of interest across the country. And she stands a good chance of upending the car-repair industry before she's finished. "I'm already getting a ton of requests to expand and start franchising," she says.
Being a former auto airhead, I know all the mistakes you can make with your car. I can take my experiences and say, 'This is what you need to know to make the right choices.'
—Patrice Banks