Food fads may come and go, but the ones with staying power can truly change the way we eat.
When it comes to eating healthy, food prep is key. Making meals from scratch using whole ingredients like fresh fruits and vegetables, lean meats, and seafood is ideal—but in today's fast-paced world, it's not always feasible. Add to that an increase in dietary restrictions—either personal or health-related—and you have a recipe for total surrender in the kitchen. (And by total surrender, I mean picking up the phone and ordering pizza.)
Fortunately, there are a number of food innovators looking for new ways to prepare nutritious meals and potentially meet specific dietary regulations easily. We look at three culinary innovators who are helping shape the way we prep our meals—making it easier to eat healthier.
Under Pressure: Robert Wang & The Instant Pot
Between schlepping the kids to practice, the dog to the vet and yourself to work, finding time to not only buy good-for-you foods at the grocery store but also to prep (and, ugh, clean-up) an entire meal can be a Herculean task on a hectic day. Enter the Instant Pot.
A multicooker for the modern world, the Instant Pot has developed a cult following for its easy-to-use, preprogrammed functionality, and that's a savior to time-crunched cooks. The New York Times writer Kevin Roose cheekily referred to the device as a new religion, describing it as "a line of electric multicookers that has become an internet phenomenon and inspired a legion of passionate foodies and home cooks."
Here's why: the Instant Pot is a slow cooker, pressure cooker, rice cooker, steamer, yogurt maker, browning pan and warming pot all in one. The company bills itself as a product for "health-minded individuals, those with special dietary restrictions, the do-it-yourself food enthusiasts and anyone looking to save time in the kitchen providing nutritious, well-balanced meals." Devotees have even taken to blogs to proclaim the Instant Pot as the secret to their weight loss, including Brittany Williams, mom of three, whose blog instantloss.com chronicles her weight-loss journey and includes recipes.
Much of the product's success is owed to viral marketing. Its inventor, Robert Wang, CEO of Instant Pot's parent company Double Insight, eschewed venture capital and traditional advertising when bringing the Instant Pot to market in 2010, and instead relied on word-of-mouth and social media. In its early stages, the company decided to put the device on Amazon and sent test units to 200 influential chefs, cooking instructors and food bloggers. The company has a community on Facebook—with 1.4 million members and growing—and, of the 27,684 Amazon reviews of one of the devices, 82 percent are 5-star. (The Instant Pot sold an amazing 215,000 units on Amazon Prime Day 2016.) Recipes are also promoted on the brand's website, ranging from traditional jambalaya to spiced rubbed cauliflower steaks.
Of course, pressure cookers have been around for some time now, but they did make some home chefs nervous because of their reputation for being unsafe and unpredictable. But the Instant Pot features several sensors that make it safer, better regulating temperature and pressure. Think of the beauty of the slow cooker's
"set it and forget it" credo, but in a fraction of the time.
Blended Famlies: Tess Masters "The Blender Girl"
Most people use their blender for two things: making margaritas and making smoothies. But if Tess Masters has anything to say about it, she'll have you blending everything from soups and marinades to delicious desserts.
Masters's, aka The Blender Girl, showcases the myriad of ways you can use your blender to prepare easy (and sometimes portable) meals, focusing on vegan, gluten-free recipes. Her blog, The Blender Girl, theblendergirl.com, evolved from an online community into a series of cookbooks—The Blender Girl, The Blender Girl Smoothies, and The Perfect Blend—as well as The Blender Girl Smoothies app she co-created with Random House.
Masters started her blog in 2010 with the goal of sharing recipes and tips about healthy living. "At the time, there were so many amazing websites out there, but I wanted to do something that was a little bit different. I was sitting there drinking my green smoothie, and I was looking at my blender that I used every day, and I thought, Well, there's something to that," she says. "Blending as a method of food prep, it quickly became this metaphor for how we live our lives. We blend different notes and flavors and philosophies, cultures, work, loving relationships to find the perfect blend for health and happiness."
A self-taught chef, Masters says the blender "levels the playing field in the kitchen. You can literally whip up these dishes with very little skill and even less time." She even tests her recipes on teenage chefs—"If a teenager can't make it, it doesn't make my website or go in my books."
Her recipes span the gamut, from homemade skincare and cleaning supplies to burgers, quick salsas, spreads and dips to instant rice pudding and kneading dough. "I think most people aren't using their blenders to their full potential," she says. "That's what the blog and books are about, helping people realize that they can use it for more than just completely pureed foods."
For beginners, Masters recommends starting out with smoothies. "It's hard to mess them up and I've never tasted a smoothie that I couldn't bring back from the depths of undrinkable despair,"—then move on to soups, salad dressings and sauces. "They don't have to be complicated recipes." As for needing one of the expensive, high-speed blenders popular on the market (think Vitamix and Ninja brands), Masters says it depends on your lifestyle. If you use your blender a few times a day and want to use recipes with dates and nuts and fibrous produce like beets and carrots, then she recommends investing in one. But if you pull it out for the off cocktail or smoothie, she says you can get by with an entry-level blender.
Inspiration for her recipes comes from Masters's desire to push the boundaries of flavor and food combinations. "That's what excites me about using the blender; it's the alchemy that's created between ingredients. For example, when I discovered when you blend strawberries and red bell peppers together, you get the most incredible, complex flavor—it was the happiest day I had in years!" She also likes the challenge of recreating food she has tasted while traveling or making a cultural favorite healthier, vegan or dairy free. Recipes on her blog include: strawberry rose almond milk, vegan lime coconut rice pudding, vegan abundance bowl with curried cashew sauce and Indian chickpea crepes.
She also offers a vegan Thai pumpkin soup that she calls mind-blowing. "I'm getting bombarded with emails from people going, 'this is literally the best soup I have ever tasted in my entire life," she says. "It's that good."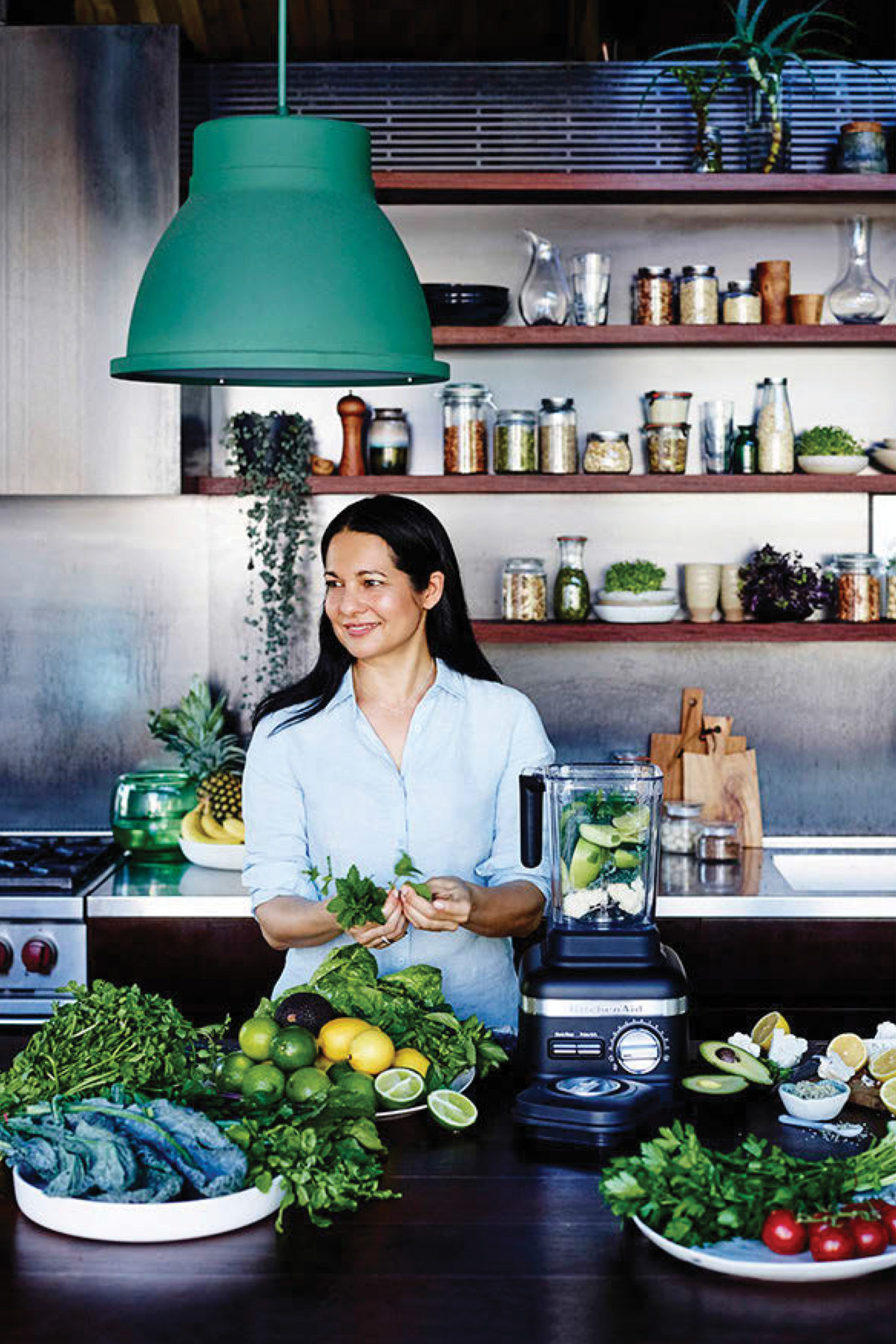 Blending as a method of food prep quickly became this metaphor for how we live our lives. We blend different notes and flavors and philosophies, cultures, work, loving relationships to find the perfect blend of health and happiness.
Going Spiral: Ali Maffucci & Inspiralized
By now you've probably seen them in the supermarket: spiralized "noodles" made from vegetables like zucchini, yellow squash, and carrots. While pre-packaged may equal easy, it's not always cost-effective. And as Ali Maffucci has proven, spiralizing vegetables at home doesn't have to be hard.
Maffucci, founder of the blog Insprialized, the device Inspiralizer, and author of two cookbooks, Inspiralized and Inspiralize Everything, started transforming vegetables and fruits into noodles thanks to her mom. A type-1 diabetic, her mother purchased a spiralizer while experimenting with a raw vegan diet and invited Maffucci over for a spiralized meal. "I took one bite and couldn't believe it was this good," she says. She borrowed the device from her mother to make a meal for her husband and he agreed.
Maffucci started playing with recipes, which at the time were largely limited to the raw vegan community. "I was having fun. I was inspired. And I said, "I'm so inspired to spiralize that I'm inspiralized.'" In June 2013, her blog, Inspiralized, was first born.
Maffucci wanted to build a community and did so using hashtags. Within three to 6 months, she had her first 10,000 followers on Instagram, and within a year, a cookbook deal. In 2015, Maffucci decided to create her own spiralizer—the aptly named Inspiralizer—which she designed, created and now manufactures. She wanted to create a slim, sleek version suitable for urban dwellers that displayed well on the counter. It also has two strong suction cups to help with tough vegetables, and its four blades can be changed with the twist of a knob. Owners also get access to a private Facebook community.
If you haven't joined the spiralized trend, Maffucci says that it's a great way to get vegetables into your diet. "You get to eat this hot bowl of pasta but it's really veggies," she says, adding that it can help with weight loss and eating seasonally. She suggests starting with zucchini noodles—"Make your favorite pasta dish, then sub in zucchini noodles."
Her other tip is to be mindful of the vegetable you are using. "If you are making a pasta dish, use the appropriate noodle. Maybe put marinara over sweet potatoes." Also, make sure the vegetable is at least an inch and a half in diameter at a minimum (2 inches is ideal), and that it is solid, with firm flesh. "Nothing squishy or soft," she cautions. "You can't do an avocado." Raw beets, on the other hand, go really well with salads with goat cheese and pecans.
If you worry that spiralizing can take up too much time at the end of busy day, fear not. Maffucci says that you can prep veggies ahead of time and store most for about 5 days.
Have a favorite Instant Pot, Blender Girl, or Spiralized recipe? Share it with us on the new and improved realwomanonline.com.