Whether it's giving birth or climbing Half Dome, in the course of most of our lives, we ask a lot of our bodies. But swimming, cycling, and running for more than 14 hours straight seems impossible, and for many of us, it is. But that is what Pennington, N.J.'s Elizabeth Savino's body did last August, pushing her to the finish line of the Ironman Chattanooga in 14 hours, 13 minutes, and 39 seconds.
Merely thinking about the hours, the effort, and the energy it takes to finish an Ironman triathlon is exhausting. In the case of the Ironman Chattanooga, the distances involved are 2.4 miles (swimming), 116 miles (cycling), and 26.2 miles (running). Considering that a full day lasts on average about 16 hours, Savino was in constant motion almost the entire time she was awake. And when you ask her why she did it, she says she was simply looking for a challenge. Before the 52-year-old mother of two completed the Ironman Chattanooga, she did another in Lake Placid, as well as several sprint and Olympic distance triathlons, nine marathons, and a dozen half-marathons. Every time she crossed the finish line she learned a little more about herself.
For most people, tackling a race that goes more than 140 miles seems impossible—and it may very well be beyond the physical capabilities of many of us. But even if your idea of long distance is a 10-K run or a 30-minute bike ride, training for and completing a race that truly challenges you pays off with the kind of increased physical stamina and mental fortitude that will help you succeed when the going gets tough. It might just save your life too.
A number of studies have found that endurance training, especially cardio or calisthenic weightlifting, improves the efficiency of each heartbeat. "Endurance training not only improves your ability to exercise but also increases your energy levels during normal day-to-day activities," says Michael Ast, M.D., director of Outpatient Joint Replacement at Mercer Bucks Orthopaedics and an orthopedic surgeon at Capital Health. "Increasing efficiency of your heart and lungs has also been shown to make you less likely to suffer from long-term chronic illnesses, like heart disease, which can lead to premature death."
But beyond the health benefits, what Savino and thousands of other women have discovered by putting their bodies through grueling endurance races like triathlons, marathons, and even Tough Mudders is just how awe-inspiring and strong they can truly be. "I now know deep down that I can do anything," says Savino. "And from watching me, my daughters have learned that they too have tremendous reservoirs of strength."
The sense of accomplishment she got from completing two Ironman triathlons has carried over into everything she's done since. "These races have changed me as a person because they showed me how resilient I truly am, and that's something that I earned," she says. "I own it, and this strength gives me the confidence to overcome any obstacle."
Taking the Plunge
To understand the magnitude of her feat, you need to know that it wasn't too long ago that Savino couldn't really swim, and she was afraid of the water. She had a friend who kept telling her how fun triathlons were, but she couldn't see herself doing one because getting out in the open water terrified her. Her friend finally convinced her to face her fears and get her feet wet at a local sprint triathlon with manageable distances—a half-mile swim, 13.6-mile bike ride, and a 3.1-mile run. Fast forward a few months, and Savino was in the middle of Lake Nockamixon in Bucks County, Pa., facing a full-blown panic attack.
"I had spent the 3 months prior learning how to swim in a pool, but I had never swum in open water before," says Savino. "It was a huge mistake because when I went into the dark water everything felt totally different. I panicked and ended up clinging to one and then another and then another of the kayaks along the course." As she swam between the boats she managed to finally calm her breathing and settle into her stroke. "It wasn't pretty, but I finished and that's what counts," she says.
This feeling of panic is common when we face something new and challenging, says Stefanie Ziev, a New York City-based life coach. "When you aren't in a centered space, then everything feels out of your control." That's when action can be the antidote to fear, she adds, because your energy and your thoughts can then shift into the task at hand instead of all the obstacles and uncertainties keeping you from it.
In the case of tackling the swim leg of her first triathlon, Savino found herself surrounded by hundreds of swimmers all kicking, elbowing, and flailing through the water en masse. When she recognized the panic attack coming on, she moved to the side of the course to let the other swimmers pass while she trod water. When Savino started swimming again, she used a steady mantra to help push out all the self-defeating thoughts in her head. "With every stroke, I would say, I am strong. I am strong. I am strong."
Like so many other tough challenges, competing in a triathlon—even one that lasts 14 hours—is largely mental. "If you relate to a challenge as insurmountable, then it will remain insurmountable," says Ziev. "Our thoughts are very powerful, and they dictate our intention." Without a clear intention, you risk setting a goal and then not achieving it. Then, despite months of training, that little voice in your head will keep saying you won't make it. "If your intention is clear and there's no doubt in your mind, then your results will be what you want them to be." As long as you train smartly and consistently, of course.
Listen to Your Body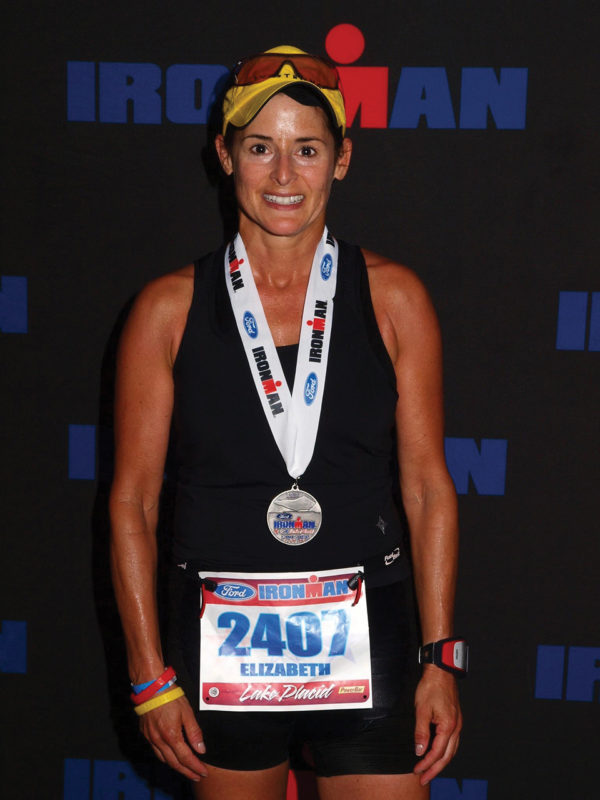 Ironman training is a yearlong commitment, Savino says, with the first 3 months about staying in shape and the next nine about building up your training distances. "I tend to be a natural endurance person," she says. "I'm more steady and methodical, so that part comes easy." When she's putting in long mileage, either in a training run, a weekend bike ride, or during a race, she likes to focus on staying in the moment and not thinking too far ahead. "I like to break things up into 30-minute chunks," she says. "Otherwise, everything feels overwhelming. If you think in terms of how many miles you have left to go, you'll go crazy."
For triathlon newcomers, Savino recommends starting out with easy distances and moving up over time as they get comfortable. And when it comes to training, the best approach to building up your mileage is to take it slow, says Arjun Saxena, M.D., a Capital Health orthopedic surgeon with Trenton Orthopaedic Group. "Never increase your weekly mileage more than 10 percent from the previous week. That means if you run 10 miles one week, you shouldn't exceed 11 miles the next week." This approach takes a little patience, especially when you're cross-training he says, but in the end, your body will be stronger and fitter.
"It takes a lot of training to get used to the discomfort that comes with longer distances and to be able to relax into pain when it comes because it won't last forever," says Savino. While the cross-training aspect of triathlons often increases the training time for each race, it also ends up reducing the wear and tear on your joints. "The variety is helpful for the body because you're using different muscle groups and all of them can work synergistically," says Dr. Saxena. "When you're just running, then it's a constant pounding on the knees, ankles, feet, and hips." Whether you're training for a triathlon or not, he adds that having an exercise program that works different parts of your body on different days is much better for the body and the joints in the long run. "It's also vitally important to have a recovery day each week," says Dr. Saxena.
Every sport has injuries that are common to it, says Hari Bezwada, M.D., of Princeton Orthopaedic Associates and medical director at Capital Health's Marjorie G. Ernest Joint Replacement Center of Excellence. "Running has IT band syndrome, for instance, and swimming has rotator cuff tendinitis," he says. "It's important that when an athlete does feel sustained pain that she listens to her body and gets it evaluated."
Take It All In
Over her 20 years of training and racing, Savino has found that repetition takes a lot of the guesswork out of race day. "When you do things the exact same way every time you train, you reduce the number of surprises." She had to train herself to regularly check her pace on her watch, to take a drink every mile, and to eat something every 5 miles because otherwise, she would forget. "Nutrition is a huge part of both training and racing. If you don't find the right formula, you risk falling apart out there."
This was complicated last year when Savino was diagnosed with lymphocytic colitis after her last Ironman. "That helped me understand why I had so much gastrointestinal distress during my races. "Now I'm dairy-free and gluten-free, and I have to watch how much I eat at one time."
During her time off from triathlons, Savino has been focused on getting 100 percent healthy, which is something that has become even more important as she gets older. She's sure she'll return to racing eventually because she says, it's a lot of fun. "Every time I finish a race, I feel like I can do better."